How Did 'Schitt's Creek' End?
The COVID-19 pandemic has made one thing clear: comedy is important. In fact, laughter is practically essential to well-being. That may be part of the reason why Schitt's Creek earned itself such a large following during the pandemic. Although the show was big before the virus, it gained fans left and right during lockdown. But everything must end, even great Canadian comedies. According to Indie Wire, Schitt's Creek ended on a high note. 
'Schitt's Creek' was full of heartfelt humor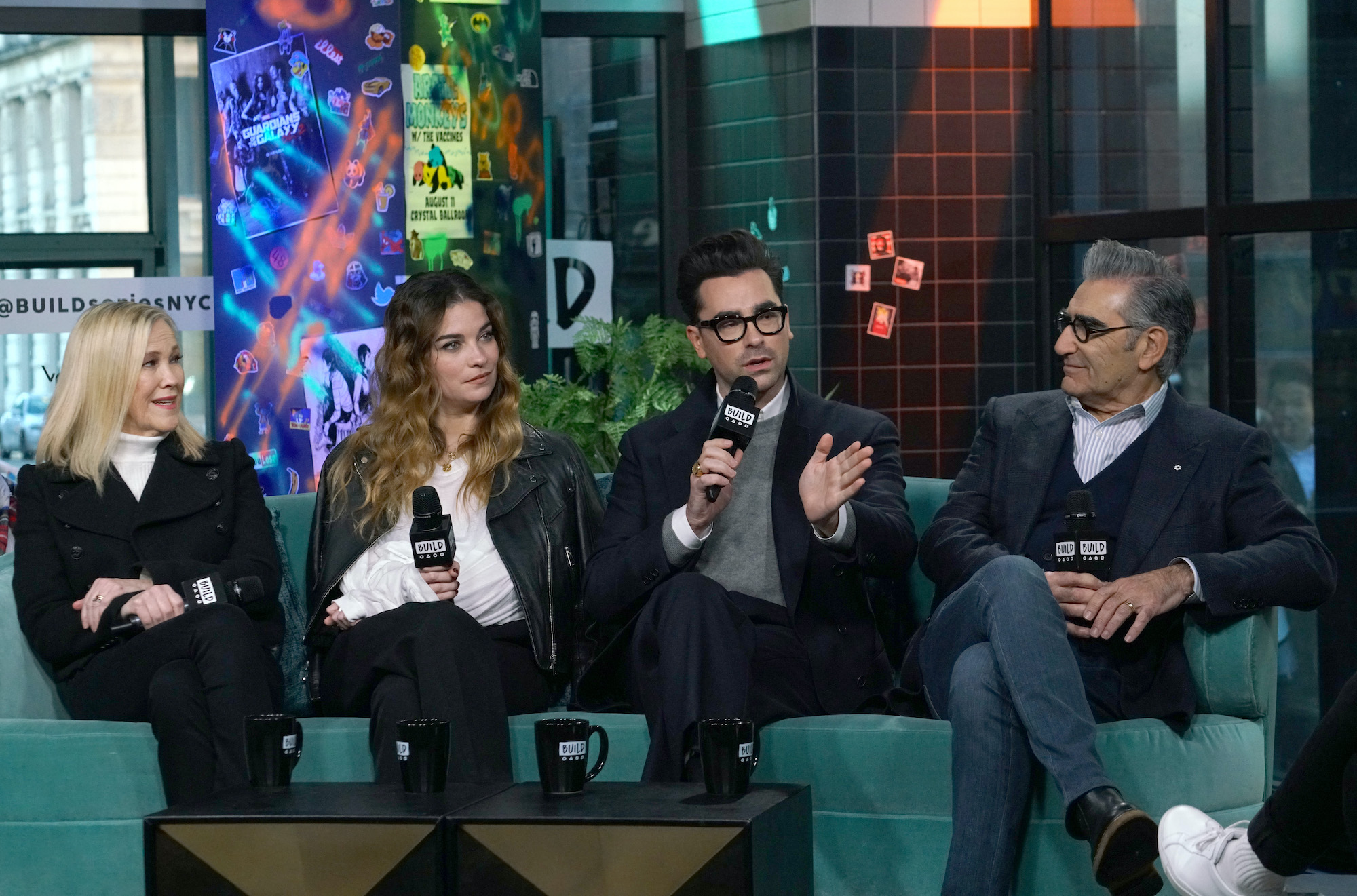 In the first episode, fans meet the Rose family. The patriarch, Johnny Rose, has made millions off of his video empire. But they are in the process of losing it all. Moira Rose, the mom, sits on the floor screaming about her wigs. Son David and daughter Alexis Rose wonder what their impending poverty will mean, and try to weigh their options.
The Rose family is forced to stick together, for the first time in their lives. Their one remaining possession is a motel in the town of Schitt's Creek, which Johnny Rose bought as a joke because of the town's absurd name. The Rose family has been brought down, and the result is both hilarious and heartfelt. Fans laugh as the Rose family navigates life without money, but the show isn't straight comedy. The Roses grow closer than they ever were before, and learn that they have what it takes to make it, no matter what.
Dan Levy gave 'Schitt's Creek' a happy ending
It's no wonder that this comedy has strong family themes. It is entirely a family affair. The creators and two of the stars are father and son. Dan Levy plays David Rose, while his real life father Eugene Levy plays his on-screen dad, Johnny Rose. Eugene Levy's daughter also stars in the show, as Twyla the town waitress, and later bestie to Alexis Rose.
The show is clearly personal to creator Dan Levy, and he gave the show a heartfelt, personal, and happy ending. The final season made it clear where the finale was going. All members of the Rose family were set up on different paths. Moira, Johnny, and Alexis are leaving Schitt's Creek to pursue other opportunities. All that's keeping them in town is David's wedding.
In a lot of ways, David's wedding is symbolic of the trajectory of the Rose family itself. What is meant to be a perfect wedding is ruined by a series of unfortunate accidents. In the end, David has a perfect wedding, even if it wasn't the one he imagined. Just like the Roses themselves were thrown off track, but found their way to a better future.
Fans are already clamoring for more 'Schitt's Creek'
The final chapter of Schitt's Creek gave the characters a happy ending, but not a definitive one. Fans of course would love to see the show return, but for now Dan Levy may be too busy. Schitt's Creek has made him a huge name in the entertainment industry, both as a writer and an actor.
All that new found fame has landed Dan Levy a new production deal with ABC. According to Screenrant, the Schitt's Creek star will be producing at least three projects for the network. As far as what kind of projects, that's anyone's guess. Dan Levy isn't limiting himself to feel good comedies. He claims he could even go the thriller route.
The other stars of Schitt's Creek are also in high demand. All of them have new roles lined up. Annie Murphy, who played Alexis Rose, will be starring in a new show with another raunchy title, Kevin Can F*** Himself.
RELATED: What to Expect From the 'Schitt's Creek' Documentary That Will Air After the Series Finale