How Did Shawn Mendes and Camila Cabello Meet?
Shawn Mendes and Camila Cabello are two of America's hottest pop artists. They both have very successful solo careers. However, the few times that they have decided to collaborate on a song together, the songs have always instantly gone straight to the top of the Billboard charts.
These two are not only great artists, but they have also been best friends for many years. Since the duo first collaborated on the song "I Know What you Did Last Summer," many fans were hoping that the two were dating. Both Mendes and Cabello have remained tight-lipped about their romantic feelings for each other, but recently, the couple had a hard time keeping their relationship a secret.
Being that these two do seem to be so close, many fans are also wondering how long they have known each other.
So, where and how did Shawn Mendes and Camila Cabello meet? Here is what we know.
How did Shawn Mendes and Camila Cabello meet?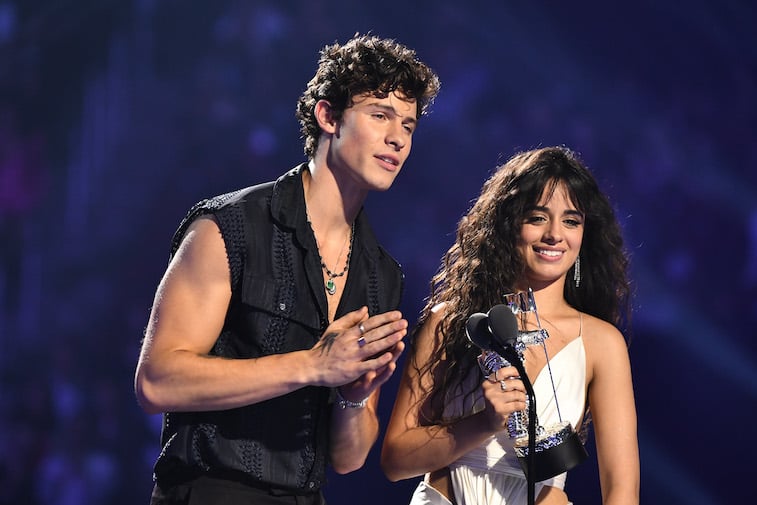 Back when Cabello was still with the popular girl group, Fifth Harmony, she had first met Mendes while they were both touring together on Austin Mahone's tour in 2014. In an interview with V Magazine Cabello and Mendes reminisced about their first meeting. Cabello remembers Mendes being very shy on their first few meetings, and Mendes remembers thinking that Cabello was crazy.
'"I remember I wanted to hang out with you, but you were always on the tour bus, just learning guitar," Cabello had sad to Mendes. The Treat You Better singer confirmed that he had never talked to anybody on the entire tour except for Cabello. She was the only one that was willing to take the time to try and get to know him better.
"I thought you were out of your mind," Mendes told Cabello. "I'd be in my bus where no one could see me. I'd be looking through the window and I'd see you, like, flying around on a scooter and jumping and doing cartwheels. I'd be like, 'She's insane.' Close the window and go to sleep."
Are Shawn Mendes and Camila Cabello officially dating?
For years, there have been many rumors that had suggested that the two were dating. Especially when they would get on stage together and sing. Every song that they would sing together would showcase their high level of chemistry. However, the two were adamant about the fact that they were just strictly friends.
The couple had been spotted on the Fourth of July weekend this year showing some serious PDA. After they had been spotted looking a lot cozier than two friends usually look together, they could no longer deny the rumors. And recently, Mendes finally admitted that the two are, in fact, dating and have been an official couple since July 4, of this year.
Today, the Mendes and Cabello are still together and a source had told ET that their relationship had started off as being just another "summer fling." But the two ended up falling in love with each other and they are now happier than ever.
How are Camila Cabello and Shawn Mendes handling a long-distance relationship?
Cabello and Mendes try to spend as much time as they can together. However, because they both have such successful careers, they are forced to spend a lot of time on the road, which means that they have to frequently spend a lot of time apart.
However, the couple has come up with a super sweet way to cope with having to be apart from each other.
Recently, Mendes had been spotted wearing a black bracelet that is actually a Bond Touch bracelet. Both he and Cabello have one. They are supposed to wear it at all times and whenever one of them starts missing the other, they just simply touch their bracelet and the other bracelet will light up to let them know that they are being missed.