How Did Taylor Swift and Joe Alwyn Meet?
Publicly Taylor Swift has never spoken about her relationship with her actor-boyfriend, Joe Alwyn. The two keep their relationship private, which naturally makes the world want to know more.
Here's what we know about their relationship and how they met.
They've been dating since 2016

Swift and Alwyn have been dating since 2016 and continue to keep a tight lid on their relationship. It wasn't until May 2017 that reports of them dating surfaced, according to Elle. A source talked about their relationship with The Sun:

"This isn't a new couple alert or a secret relationship – the only people this has been a secret to is the media because all of us, Taylor and Joe's closest friends and their families, were aware they have been together for several months and have known each other for a long time."
The two made a joint decision to keep their relationship underwraps.
"After her 1989 tour and all the attention Taylor received, she learned she had to be more protective of her personal life and she and Joe decided early on to keep their private life private," the source added.
Summer 2017: Paparazzi snap pictures of them
Twice in the summer of 2017 do the paparazzi catch the couple together. The first time was on June 5, 2017, in Nashville, Tennessee. They were photographed sitting on a balcony together and were supposedly there for Alwyn to meet Swift's parents.
The second time was on July 25, 2017, leaving Swift's New York City apartment. To be as inconspicuous as possible, the two decked themselves out in black sweatshirts with the hoods pulled tight over their faces as they left the apartment.

They (sort of) went to the BAFTAs together

Swift skipped the Grammys to attend a BAFTA Film Awards after-party with Alwyn in January 2019. Alwyn had a role in The Favourite, which won seven BAFTA awards, according to E! News.

Alwyn walked the carpet before the ceremony alone but Swift joined him for the after-party. She shared a picture on Instagram of herself donning a blue Stella McCartney gown captioning the post, "AHHHHH @thefavouritemoviejust won 7 @bafta awards !!! Bout to go give some high fives – thanks @stellamccartney for this dressss 😆."

How Did Taylor Swift and Joe Alwyn Meet?

There are two different theories about when and where the two met.
The first revolves around her song "Dress" from her latest album, Reputation. The lyrics go, "flashback to when you met me, your buzzed cut and my hair bleached."

The theory is that Swift met Alwyn at the Met Gala on May 2, 2016, and the dress referred to in her song is the Louis Vuitton dress she wore to the event, according to Elle.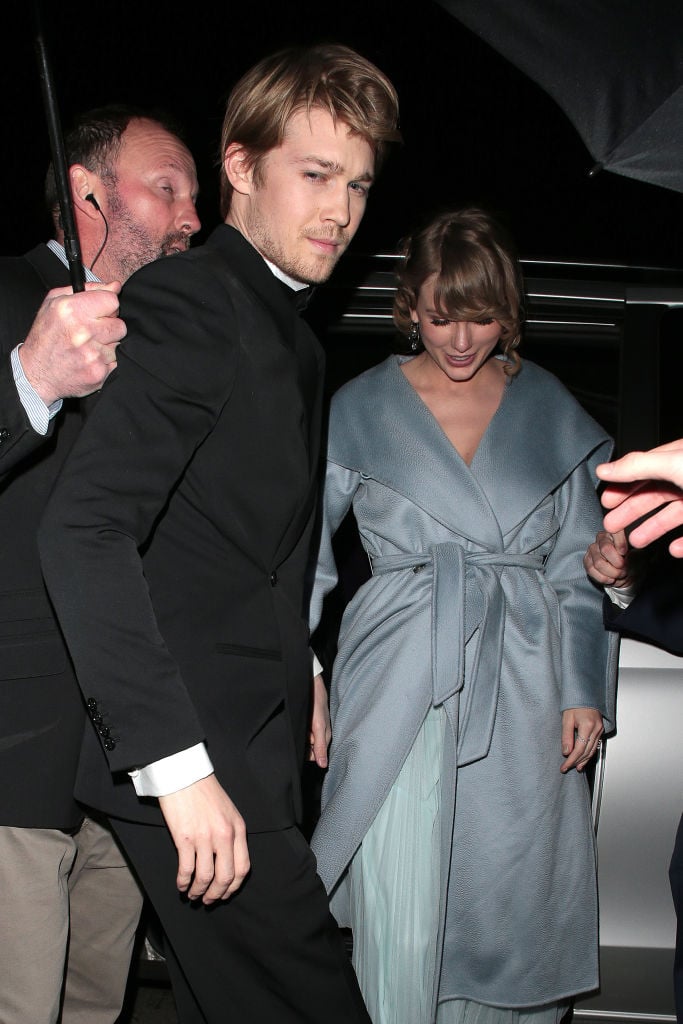 At the time she was still dating Calvin Harris. It was the same night Swift danced with Tom Hiddleston, who she rebounded with after dating Harris.

The second theory involves a secret concert, according to Bustle. Supposedly, the two met at a secret Kings of Leon concert held in New York on October 12, 2016. A Swift fan site later shared a video of Alwyn at the concert, suggesting they may have met there.