How Does Netflix's 'Fuller House' End? (And What a Future Spinoff Series Could Explore)
Netflix has been axing series left and right. On June 2, 2020, Fuller House became one of the latest to come to an end. The sitcom had quite a following. Read on to learn how it concluded and what the future might hold. [Spoilers for Fuller House Season 5]
'Fuller House' is a spinoff of 'Full House'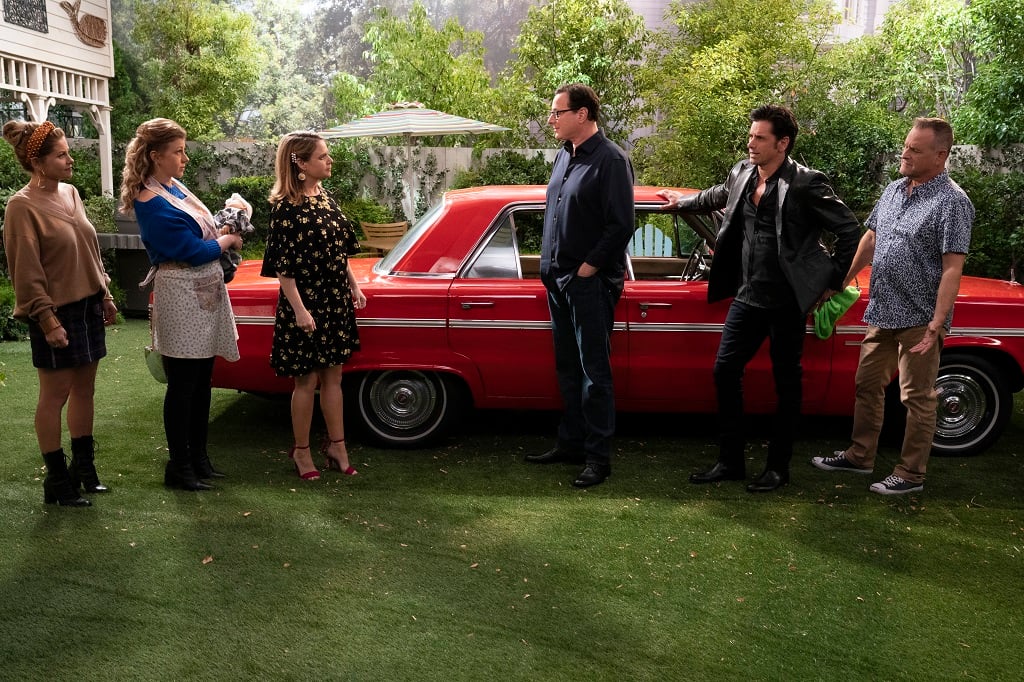 Fuller House was, of course, a spinoff itself. The original sitcom, Full House, aired on ABC for eight seasons in the '80s and '90s. It features Bob Saget as Danny Tanner, a widow with three daughters. His best friend, Joey Gladstone (Dave Coulier), and brother-in-law, the girls' Uncle Jesse (John Stamos), come to live with him to help him raise them.
Fuller House takes the concept and reverses it. Danny's now-adult daughter, D.J. Tanner-Fuller (Candace Cameron Bure), becomes a widower herself. She moves into her childhood home to raise her three sons and is joined by her younger sister, Stephanie (Jodie Sweetin), and lifelong best friend, Kimmy Gibbler (Andrea Barber).
It aired for five seasons on Netflix
RELATED: Was 'Fuller House' Canceled? Why the Show Will End After Season 5
The series kicked a little less than 30 years after the original. It follows much of the same dynamic, as type-A D.J. mirrors her dad, musician Stephanie follows the path of her rock star uncle, and eccentric Kimmy is a bit like goofy comedian Joey. And there are many more obvious callbacks to Full House, including plenty of cameos.
Also similar to the preceding series is the show's trajectory. By the end, all of the women have become one (even larger) family. While they were living together out of necessity at the start, this concept no longer makes much sense by the end. And so it was clearly time that Fuller House concluded its run.
Here's how 'Fuller House' ended
Unlike Full House, the last episode of which made for a good season finale, but not a series conclusion, Fuller House wrapped things up in exactly the way you might expect. Kimmy, Stephanie, and DJ have a triple wedding, all officially becoming family (as Stephanie married Kimmy's brother).
At the same time, Stephanie and Kimmy both have reasons to leave the house, moving to other nearby towns with their respective husbands and children. However, after a tearful goodbye, both return and tell D.J. they want to continue living there with her.
Candace Cameron Bure on continuing the series
RELATED: Candace Cameron Bure Says Goodbye to 'Fuller House,' But Hints There Could Be More to Come
Candace Cameron Bure, who portrayed D.J. in Full House and Fuller House, was "really sad" to bid farewell to the character she has played for so many years. In fact, she told Access in October 2019 of the spinoff series, "It shouldn't be ending! I don't know why it's ending."
She continued, saying, "It's beloved by millions and millions of people. And I think there's so many more stories that we could tell." Bure added, "I don't know, maybe we'll be back!" However, she did enjoy the "closure" at the end of it, adding that she thinks "people will be happy [with it], but I think will also want to know where they keep going!"
What could happen in a future revival?
At this point, there's no reason to believe Fuller House is coming back. But for speculation's sake, we wonder what they might explore if it did? The final moments left the future open-ended for the three families to continue to interact under one big roof.
What seems most likely is that there would be more focus on the younger generation. With a happily ever after in place for the grownups, there's a lot on the horizon for the Fuller boys and the Gibbler girls. Jackson and Ramona have college on the horizon, which could make for an interesting storyline. If fans are lucky, maybe Fullest House could become a reality sooner rather than later.