How Does Nicki Minaj Really Feel About Her Husband's Recent Arrest?
Nicki Minaj's husband, Kenneth Petty, is now a registered sex offender in California.
After failing to add his name to the list of convicted sex offenders upon his relocation to Los Angeles from New York, Petty was arrested and ordered to register as such since he was convicted of first-degree attempted rape back in 1995.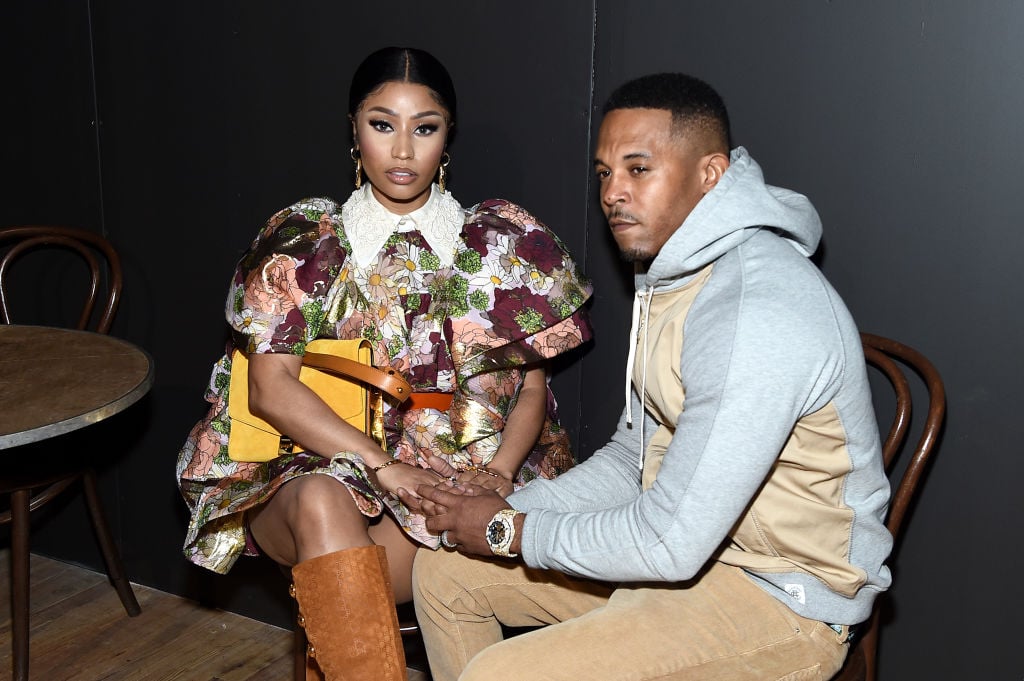 Though he could potentially face prison for his prior crime, Minaj isn't letting this setback affect her marriage as she continues to stand by her hubby through and thin.
Her husband's recent arrest doesn't faze Minaj
While getting arrested would be the ultimate dealbreaker in many relationships, Petty's recent detainment isn't negatively effecting his marriage with Minaj.
On Mar. 4, the U.S. Marshals confirmed on Twitter that the "Anaconda" rapper's husband self-surrendered himself over to officials after failing to register as a sex offender in California.
Though a grand jury previously indicted him for his offense, Petty plead not guilty. He is currently out on a $100,000 bond and awaiting trial, which is set for Apr. 28.
If convicted, the 42-year-old could potentially face up to 10-years in prison.
Although this situation is far from ideal, Petty and Minaj aren't letting his legal troubles come between them and are continuing to put up a united front.
According to HollywoodLife, the Grammy nominee is "standing by" her hubby despite his recent arrest and doesn't view him any differently now that he's a registered sex offender.
"Kenneth's arrest is embarrassing but it is not a relationship killer whatsoever. She has known Kenneth forever and knows the person he is and is in love with him and she wants this to go away as quickly as possible," a source told the outlet. "She will likely address it in some way during a future Queen Radio but again she would rather have this not to have happened but it is not going to be something that will alter her relationship with him negatively."
This arrest doesn't change the rapper's feelings towards Petty
Even though he's in hot water, Minaj isn't holding Petty's past actions against him.
Instead, the rapper continues to love her husband unconditionally and doesn't consider this mistake to be a dealbreaker in their marriage.
"She's known Kenneth almost her entire life and knows that people make mistakes, but that doesn't mean she's going to leave him for it," a second source told HL.
Coming to her husband's defense isn't a first for the rapper.
When fans first learned of Petty's distasteful past and began disapproving of this relationship, Minaj quickly fired back at the criticism, claiming that he's not the terrible person people were making him out to be.
"He was 15, she was 16… in a relationship. But go [off] internet," she wrote on Instagram in 2018, referencing Petty's accuser. "Y'all can't run my life. Y'all can't even run y'all own life. Thank you boo."
Though many weren't too thrilled that Minaj continued dating the convicted felon, she and Petty eventually shut down the haters by obtaining a marriage license in July 2019.
Three months later, the couple made their marriage official and announced the exciting news on Minaj's Instagram.
While there are still some fans who disapprove of the rapper's relationship, she continues to be unfazed by people's opinions.
Even though he's still viewed in a negative light, Minaj knows the type of person Petty really is and will continue to love and support him through his current legal troubles.