How Dolly Parton Really Became Porter Wagoner's 'New Girl Singer'
How Dolly Parton came to perform on 'The Porter Wagoner Show' and how Porter Wagoner convinced the audience to welcome Parton with open arms.
Dolly Parton got her big break by starring in The Porter Wagoner Show in 1967. After a rocky beginning, Parton and Wagoner went on to perform hit after hit together for nearly a decade. But how did the future Queen of Country become Wagoner's "new girl singer?"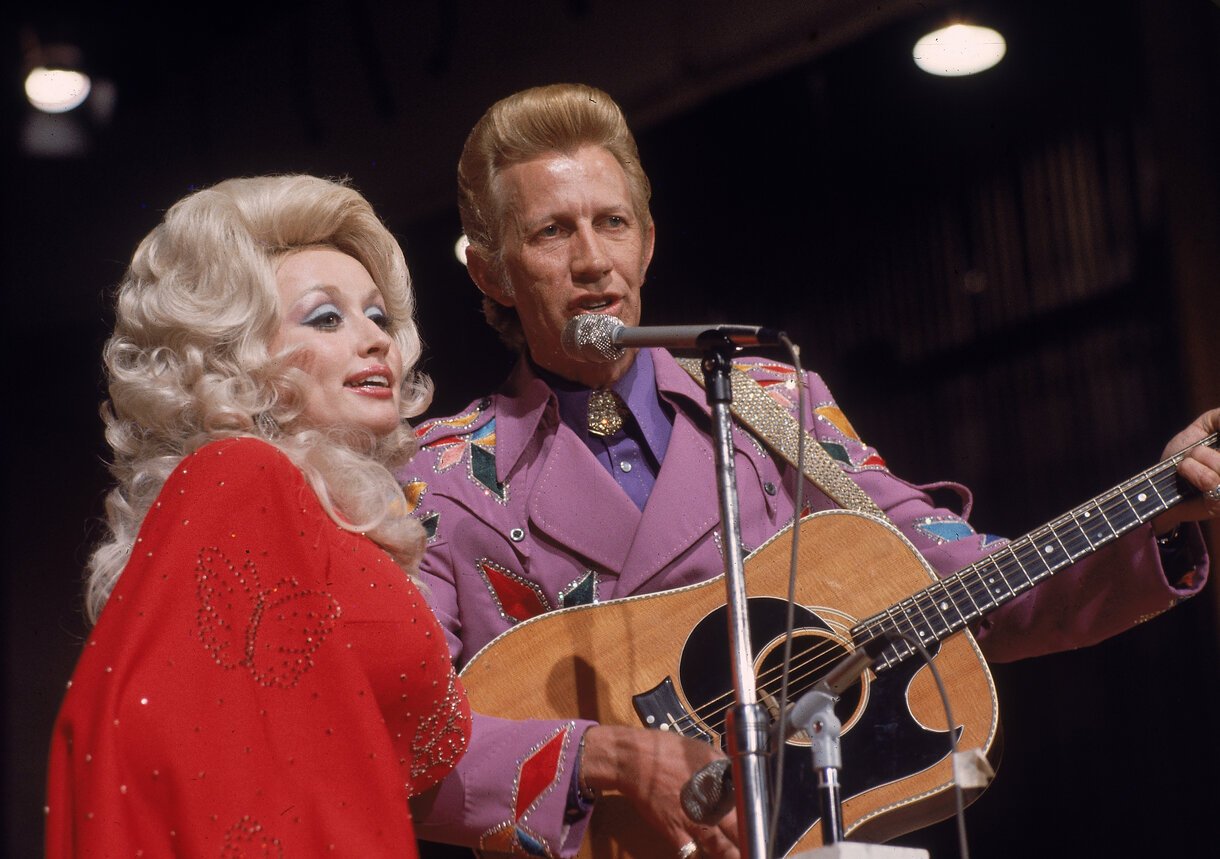 Dolly Parton was struggling in Nashville until Porter Wagoner gave her a call
Parton moved to Nashville to begin pursuing a career as a musician after she graduated high school. For the first few years, she wasn't having much luck. That is, until she got the opportunity to perform the song "Dumb Blonde" on TV. After that performance, she received a call from Wagoner that would change her life. Though, at the time, she thought the King of Country was giving her a call to ask her about writing songs for the show — after all, Parton has always considered herself a songwriter first.
When she got to Wagoner's office, she began to play a few songs she thought would be great for Norma Jean Beasley, Wagoner's then-co-star.
Porter Wagoner offered Dolly Parton Norma Jean Beasley's part on 'The Porter Wagoner Show'
Wagoner stopped Parton from playing.
"Then he just told me that Norma Jean, she was leaving his show," Parton said in an interview with Jad Abumrad for the podcast, Dolly Parton's America.
As for why Beasley was leaving the show, Parton said she doesn't know their personal story.
"The story at that time, that she was going to marry and move back to Oklahoma City," she said.
The other story at the time was that Beasley and Wagoner had had an affair and things became complicated.
"He just told me that Norma was leaving the show and would I be interested," said Parton.
According to Abumrad, Wagoner specifically asked her if she'd "be interested in being his new girl singer."
The pay was $60,000 a year. Parton said yes.
Dolly Parton did not receive a warm welcome from the audience of 'The Porter Wagoner Show'
Parton's first appearance on the show took place on Sept. 5, 1967. About 4 million people tuned in.
How about it? Right now I want you to meet the little lady on our show. You know Miss Norma Jean has been with us for many, many years, had to leave our show, because we work so much on the road and do so many TV shows, to have a little time at home for her personal life. I looked a long time and thought of many, many folks that we all liked and thought that you would like, and here's a little gal that I know you're going to really learn to love, because she's a fine singer, and one of the finest little gals that I've ever met. Let's give her a great big welcome as she sings a song that she had a big hit on called Dumb Blonde. She ain't no dumb blonde though. Pretty Miss Dolly Parton!

Porter Wagoner introducing Dolly Parton on 'The Porter Wagoner Show'
The performance was not well received. Parton was just so different from Beasley. Beasley's voice was low and rich; her style and demeanor were more conservative. Parton's voice was high and animated, and she was flashy.
"When I first started with Porter's show, people were still calling for Norma Jean," said Parton. "They didn't like me."
The first time Parton and Wagoner went on the road, Parton got booed.
But then Wagoner had the idea to start performing duets with Parton in an effort to win over the audience. It worked. The blend of their voices was undeniably something special.