How Elle Fanning Prepared for Her Role in 'The Great'
If you're looking for a fictional drama series on the early life of Catherine the Great, then you'll find nothing better than Hulu's The Great. It's a hilarious alternative take with a twist. Read on to learn how Elle Fanning prepared for her role as the young Catherine on the verge of greatness.
What's 'The Great' about?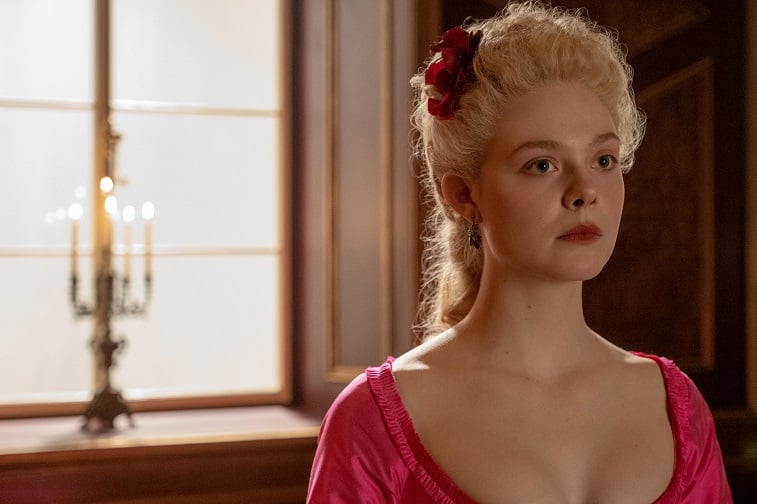 The Great was released on Hulu on May 15 and all 10 juicy episodes are available now. Catherine arrives in Russia with high hopes, which are quickly dashed when she realizes who her husband is and how he chooses to rule. She gets an idea that maybe she would be better off ruling on her own.
According to Hulu, the series "is a satirical, comedic drama about the rise of Catherine the Great from outsider to the longest-reigning female ruler in Russia's history. A fictionalized, fun, and anachronistic story of an idealistic, romantic young girl, who arrives in Russia for an arranged marriage to the mercurial Emperor Peter."
Will Catherine manage to find love and hold onto power? She just might have to take matters into her own hands as the Empress on the rise.
How did Elle Fanning prepare for her role in the series?
RELATED: Will There Be a Season 2 of Hulu's 'The Great'?
Fanning spoke with Harper's Bazaar about the new series on Hulu and she was asked how she prepared for her role as a young Catherine the Great. Did she research thoroughly or did she just add her own spin on this fictional story? It seems it's a combination of both.
"I read things about her, of course. It's inspiring too. But I think for this, your imagination has to take over at some point," Fanning revealed. "I read that she invented the roller coaster. Who knew? She must've been an extremely fun woman. I looked up her handwriting, just to see what that looks like. Obviously, it's in Russian, but that was cool to get closer to her."
Fanning made the role her own
Fanning says she realized that she had to create her own Catherine for this role, since it's a fictionalized story of what actually happened. She made it her own unique character because the whole idea was to keep the series from being a "stuffy period piece." She brought different layers to the role to show the many sides of Catherine.
"But then at a certain point I realized I had to create my own version of her," Fanning continued. "I let my imagination take over at that point. I felt very free that we weren't doing a like stuffy period piece. We were so anti that. Completely anti. And there was a real comfort in that, that I felt like I could really just be a real human being. Like, I could just be a woman and bring all of her complications and complexities and her strengths and a lot of her weaknesses too."
All 10 episodes of The Great are available on Hulu now. Whether you're a fan of history or just looking for some comedic relief, this series has it all.