How Faith Hill Surprised Husband Tim McGraw for His 55th Birthday
Country superstar Tim McGraw recently celebrated his 55th birthday with a sweet surprise from his wife Faith Hill.
Country superstar Tim McGraw recently celebrated his 55th birthday with a sweet surprise from his wife Faith Hill. McGraw shared a video of the surprise on Instagram. As he warmed up before a concert, you can see Hill sneaking up behind him with a cake. Hill and the crew sang the country star "Happy Birthday," while McGraw smiled at his wife. 
How others celebrated Tim McGraw's birthday
Hill wasn't the only one who gave McGraw a birthday shoutout. His opening acts, Russell Dickerson, Alexandra Kay, and Brandon Davis, all made sure to say happy birthday to the star.
"It's been such an honor and a pleasure opening for you," Kay said. "I hope you have the best day ever, you deserve it." 
Davis said he hoped McGraw's birthday was "the greatest," while Dickerson had his audience sing "Happy Birthday" to the country star during his opening performance. Dickerson also posted a video message for McGraw, saying, "This is going to be your best year yet my man."
Hill's birthday celebration for her husband is no surprise. She and McGraw are one of country music's "it" couples and have been since the '90s. 
Tim McGraw and Faith Hill's love story starts in 1994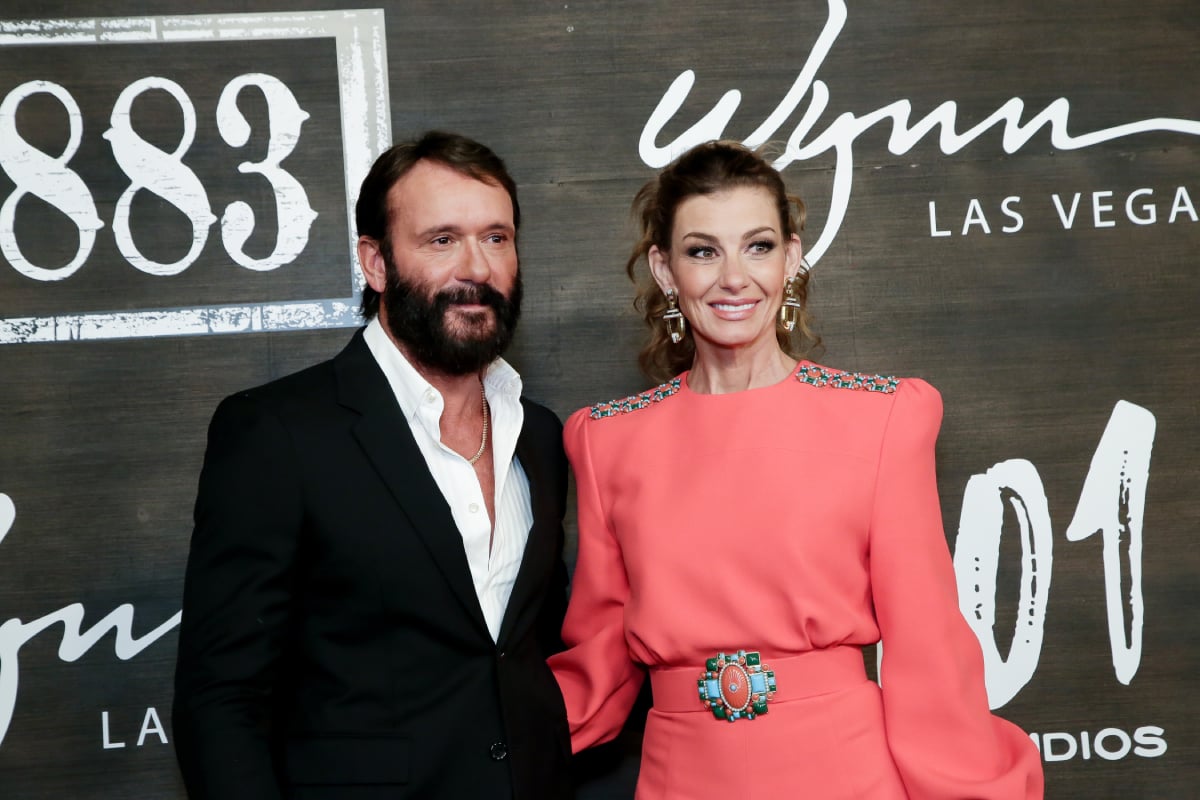 Hill and McGraw met in 1994, while they were both working on their country careers. At the time, they were involved with other people; McGraw was with Kristine Donahue, and Hill had just finalized her divorce from Daniel Hill. 
Two years later, the pair teamed up for McGraw's Spontaneous Combustion tour. McGraw and Hill fell in love while on tour and tied the knot in October of 1996 in a surprise ceremony. The couple invited family and friends to what they said was a softball game and concert but turned out to be their wedding. 
Recalling the proposal, McGraw said, "It was raining and stuff and we'd been on tour for a while together, and I joked around with her about getting married," he said in a nostalgic video. "I looked at her, grabbed her by the hand, and dropped forward [on my knees] onstage. She had already done her show. And I said, 'I'm really serious. I want you to marry me.'"
When he came back to his dressing room, McGraw got his answer: "I looked at the mirror. In lipstick it said, 'Yes! I'm gonna be your wife. And we still have that mirror. And it was the best day of my life, that's for sure."
The couple welcomed their first child, daughter Grace, in 1997 and their second daughter Maggie, the following year. Their third child, Aubrey, came along in 2001. 
Faith Hill and Tim McGraw's work together
McGraw and Hill have continued to tour together over the years and are always supportive of each other, walking red carpets for McGraw's acting roles and performing together at award shows. 
Their most recent collaboration is Yellowstone prequel, 1883. The country music couple play settlers James and Margaret Dutton. It's the first time McGraw and Hill have appeared on screen together. 
Hill's birthday surprise for McGraw is just the latest in a long line of public displays of affection the pair have shown for each other over the years.