How 'Glee' Predicted the Future For 2 of Its 'Super' Stars
The hit musical dramedy Glee featured many young stars. Airing from 2009-2015, the series acted as a vehicle for its musically talented cast to show off their abilities on TV. And while some have continued that trajectory in the five years since its cancelation, others have gone in a different direction.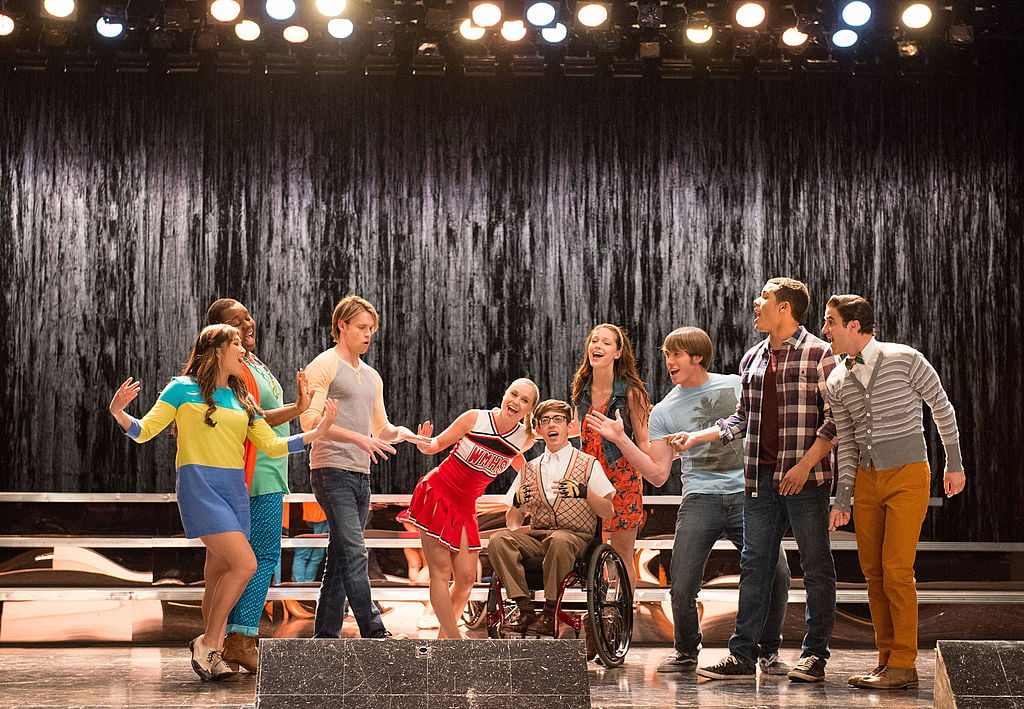 For two actors who gained recognition from Glee, the show propelled them to new heights as the stars of their own superhero series. And, as evidenced by a YouTube video, the series managed to oddly predict this.
Grant Gustin portrayed Sebastian Smythe
RELATED: 'The Flash': Why Grant Gustin Almost Quit After Season 2
After getting his start on Broadway, Grant Gustin landed the recurring role of Sebastian Smythe in Glee. Sebastian is a Dalton Academy Warbler who first appears in the season 3 episode "The First Time." He is initially introduced as an adversary but later becomes friendly with some of the main characters.
Gustin didn't appear in the last two seasons of Glee. This may have been because he was too busy leading a series of his own. Since 2014, he has portrayed Barry Allen in the CW superhero series The Flash. Gustin has also made guest appearances in the other shows in the network's DC canon known as the Arrowverse.
Melissa Benoist played Marley Rose
RELATED: 'Supergirl' Star Melissa Benoist Reveals Past Domestic Violence — Here's Who Fans Think She's Calling Out
Like Gustin, Melissa Benoist's time on Glee began as a recurring character and was her first notable TV role. She played Marley Rose, a new student in season 4 who joins the New Directions. Marley is portrayed as the shy, humble talent who reluctantly takes the spotlight, gaining confidence over time.
Benoist was upgraded to a series regular for season 5. However, season 6 saw Marley and the rest of the "new" New Directions transferred to other schools. But this was a blessing in disguise for Benoist, who was then cast as Kara Danvers in Supergirl. Though initially airing on CBS, the show later joined the rest of the Arrowverse on the CW.
Sebastian's network connection
In the season 3 episode "Hold On to Sixteen," Blaine (Darren Criss) and Kurt (Chris Colfer) are preparing for sectionals at the coffee shop. Sebastian, who is interested in Blaine and wants him back at Dalton Academy with the Warblers, sits down. And when Blaine gets up to get more coffee, Kurt confronts him.
While naming things he doesn't like about Sebastian, Kurt references the network the actor would go on to work for, saying, "I don't like your obnoxious, CW hair." Notably, Criss would go on to guest star in an episode of The Flash. (And let's be real — they all have the same hair.)
Marley's dislike of superhero attire
The season 4 episode "Dynamic Duets," (which, coincidentally, also has a storyline involving Sebastian and the Warblers), features a more direct call to Benoist's future role. The New Directions do a duet challenge inspired by the school's superhero club.
When Jake (Jacob Artist) asks Marley if she's "jumping on this superhero bandwagon," she replies, "A club where you had to wear full-body spandex? Not really my thing." Despite this, she later dons a costume, which is comparable to the one Benoist wears on Supergirl.