How Harry Styles is Keeping Calm in Quarantine
The current global pandemic has just about everyone confined to their home in quarantine. That includes celebrities. Not all members of the entertainment community are so happy about this. Some are taking it better than others. Harry Styles is among those who are handling this new adversity with aplomb.  Harry Styles is up to "classic …
The current global pandemic has just about everyone confined to their home in quarantine. That includes celebrities. Not all members of the entertainment community are so happy about this. Some are taking it better than others. Harry Styles is among those who are handling this new adversity with aplomb. 
Harry Styles is up to "classic quarantine things" 
Styles is taking quarantine in stride. In a recent radio interview (which he gave from the comfort of his home, of course) Styles seemed upbeat about being stuck inside. 
He's keeping things light and using this time wisely. He's learning new things, including sign language and Italian. He's listening to some of his favorite music and pampering himself. According to Styles, "It's a very strange time but we're just being careful, listening to music, playing games, doing some face masks — you know, the classic quarantine stuff!"
The coronavirus (COVID-19) pandemic is unprecedented, so there aren't really any established quarantine activities that could be considered "classic quarantine stuff," but Styles is a trendsetter. After fans hear what Styles has been doing, he'll make his quarantine pastimes instant classics. 
Styles' not wasting time with his quarantine. He's trying to learn new skills, too. "Now is the perfect time to learn a new skill and try a new hobby or something, right? We have nothing but time. I was learning Italian and doing some sign language classes."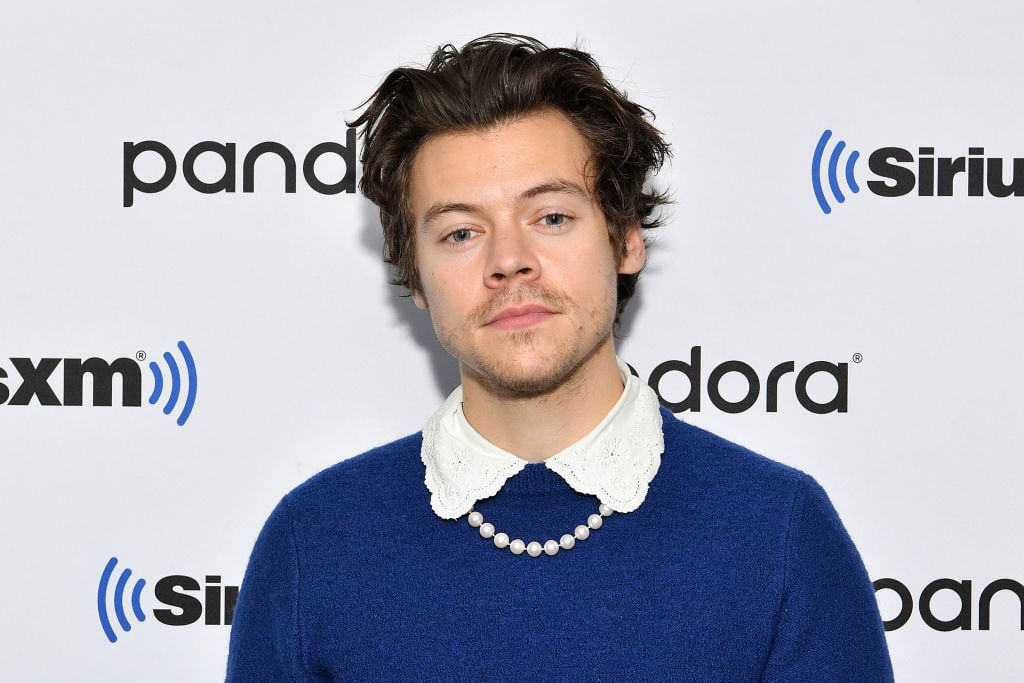 Harry Styles wasn't always in such a good place 
He may be facing adversity with a positive attitude now, but Styles hasn't always been in such a good place. He's admitted to struggling with anxiety in the past, especially when he was touring with One Direction.
Styles left the band that made him famous in 2016 after he had mostly gotten over the crippling stage fright that he was plagued by during his time touring with the band. He felt extreme pressure to be perfect. "I was constantly scared I might sing a wrong note. I felt so much weight in terms of not getting things wrong."
But Styles would be the first to say that it wasn't the band that was the problem. Styles is adamant that his time with One Direction was great for him. Despite the fact that he was sharing the spotlight with his bandmates, he was still able to be true to himself. He had fun, and that's what matters. "If I didn't enjoy it, I wouldn't have done it. It's not like I was tied to a radiator."
Harry Styles solo career allowed him to be even more himself 
Styles was able to be himself in One Direction. He was able to grow and develop his sense of style. His solo career has been a continuation of that growth. His most recent album, Fine Line, proves that he has staying power as a solo artist. 
Styles' new album plays with some hot topics, like sexuality. Fans thought that some of the singles on his new album implied that the singer is bisexual. Even though Styles has often had high profile relationships with women, the theory that he is bisexual has been circulating since his One Direction days. 
Styles recently appeared in Beauty Papers Magazine, where he again played with gender expectations. He wore fishnets and loafers for his photoshoot, and he looked gorgeous. 
Sometimes silence speaks volumes. Styles has been asked outright if he is bisexual on multiple occasions, and he's made it clear that he is not going to give an answer. He has said that he wears what he wears because it looks cool. He's not hinting at anything with his music or fashion choices, he's just being true to himself. 
He's also not going to answer the sexuality question because he doesn't think sexuality is that big a deal. He just doesn't think people should care so much, so while he doesn't mind being asked, he will never answer.