How Hoda Kotb's Relationship With Joel Schiffman Was Outed After Two Years
Hoda Kotb of the "Today Show" only referred to her boyfriend Joel Schiffman by a nickname for two years to keep their relationship under wraps, yet their romance went public thanks to some pics from the paparazzi.
Hoda Kotb of the Today Show is in the midst of planning her wedding to longtime boyfriend and now fiancé Joel Schiffman. The two met in 2013 and have since moved in together and adopted two daughters, Haley Joy and Hope Catherine.
Since Kotb had previously been married and went through an unpleasant divorce, she wanted to keep her relationship with Schiffman under wraps for a while. Then unbeknownst to her, a media outlet snagged some pics of the couple and spread the news of their romance.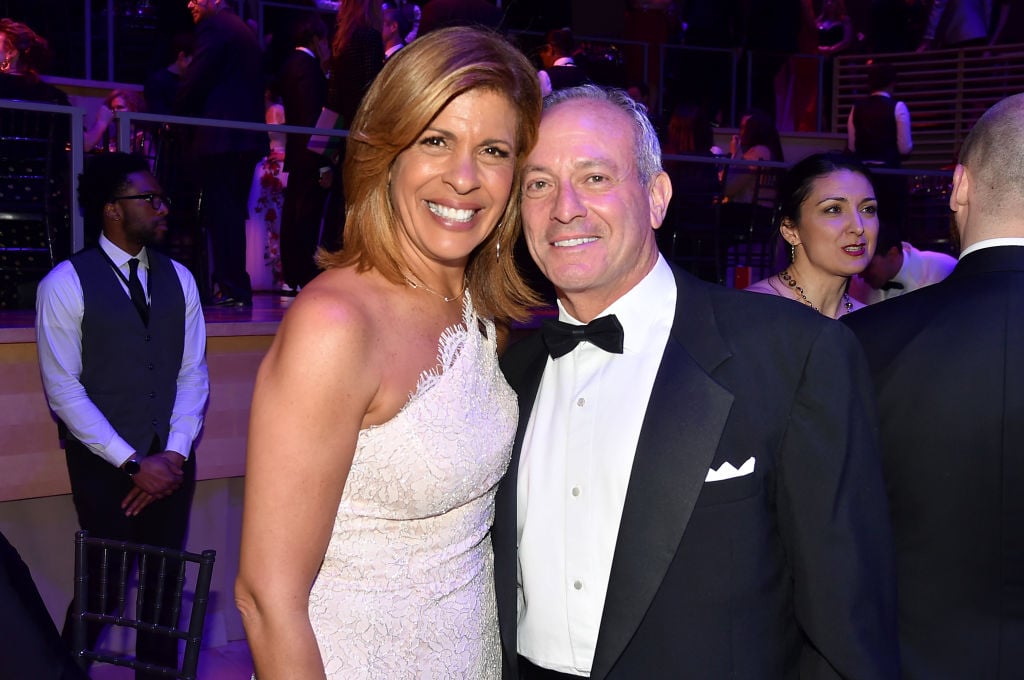 How Kotb and Schiffman met
When Kotb held a book signing in 2013, she was approached by Schiffman, a successful financier. She described their initial meeting in an interview with Bethenny Frankel on her talk show at the time.
"It was one of those events they ask us to speak at and it was pouring rain and it was a bunch of Wall Street guys. I didn't even want to go," Kotb said, according to Good Housekeeping. "They asked me to sign some books and one guy is like, 'Can you sign it to my grandma?' And this guy walks up and he's like, 'I'll take a book.' And I was like, 'Who do you want me to write it to — your girlfriend, your wife, your aunt?' And he goes, 'Write it to me.'"
Following the exchange, the two emailed back and forth and then had their first date, which turned into true romance.
Going public
Though her co-host at the time and close pal Kathie Lee Gifford knew of the relationship, Kotb would refer to her significant other by the nickname of 'Boots' when on the air to keep his identity a secret. Despite her efforts, Kotb's hidden romance was made public by the paparazzi after two years of keeping it private.
"I'm looking at the Daily Mail online, and they're outing you and your boyfriend!" then-co-host Billy Bush said to Kotb when filling in for Gifford during the Today fourth hour broadcast. "This is two years going you've protected this guy and they're outing you on the beach!"
At that point, Kotb decided to take the unveiling in stride and was even a bit happy that she didn't have to keep her relationship a secret any longer.
"Here's the thing … you know when you're keeping something so close to the vest?" the Today star explained. "And I have kept this so close to the vest, I didn't even say his name. We called him Boots forever because we just showed his shoes [on the show]. It's almost been two years, so you know what we decided: Why not? Joel is out from the shadows! I feel some relief. I talked to him this morning and he said, Who cares? Who cares!"
Making it legal
In October 2016, the couple decided to move in together. "Joel and I are getting an apartment together, so we went to see it with the measuring tape," Kotb revealed. "It's a little weird to be in your 50s and we're like Hey, we're moving in! It's like your kids. It's so weird. I was afraid to tell my own mother that I was moving in with my boyfriend."
The couple got engaged in November, where Kotb shared the happy news on the air with her co-hosts and viewers.
"We ended up having a little dinner on the beach," she told her colleagues and the audience at home. "And he was like, 'I have something else I would like to say,' and he said some beautiful things, and then he got down on one knee. Then he said, 'Would you be my wife?"'
Though an official date hasn't been set, Kotb has commented that the event will take place soon. Fans can't wait to see the pics!