'How I Met Your Father': Where the 'HIMYM' Characters Are in 2022 — Could They Run into Sophie?
'How I Met Your Father' and its predecessor, 'HIMYM,' have overlapping timelines. Where are Ted, Robin, Lily, Marshall, and Barney in 2022?
What would How I Met Your Mother characters Ted, Robin, Lily, Marshall, and Barney be up to in 2022? It's certainly fun for longtime viewers to fantasize about where the iconic crew would fit into today's world. Thankfully, the show's many flash-forwards into the future have somewhat provided an answer to that question. Here's where the HIMYM gang is now, and whether there's a chance for them to appear in Hulu's new spinoff How I Met Your Father.
[Spoiler alert: The following story contains spoilers for How I Met Your Father Episode 1.]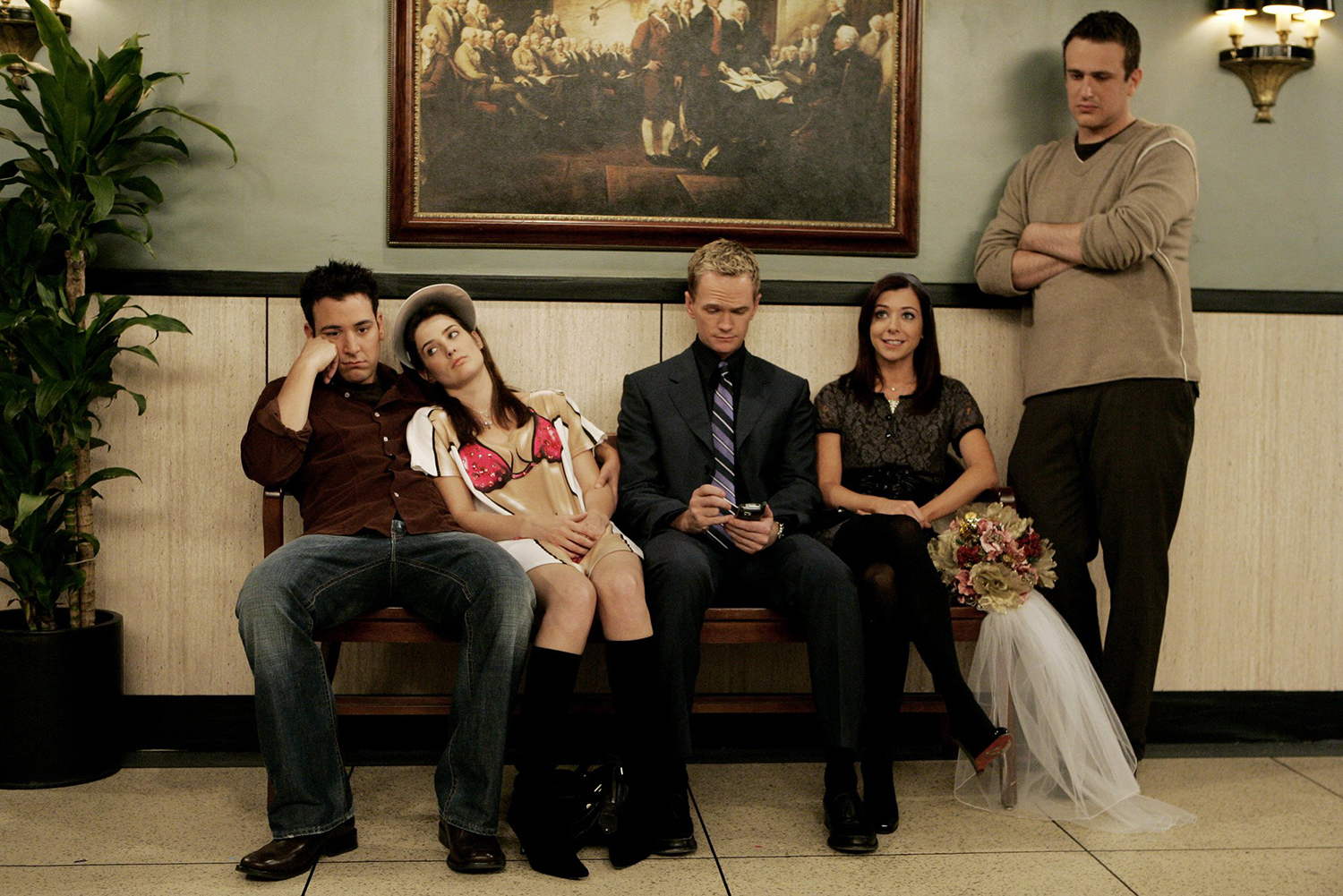 'How I Met Your Mother' and 'How I Met Your Father' timelines overlap
As fans of the original CBS series may know, How I Met Your Mother tracks events between 2005 and 2013. The story begins with Ted Mosby (Josh Radnor), Barney Stinson (Neil Patrick Harris), Lily Aldrin (Alyson Hannigan), and Marshall Eriksen (Jason Segel) meeting Robin Scherbatsky (Cobie Smulders) for the first time. Years later, it ends with Robin and Barney's wedding weekend.
However, in addition to the present-day events, HIMYM features several flash-forwards going up to the year 2030. These flash-forwards offer a glimpse at how the rest of the characters' lives play out.
Meanwhile, How I Met Your Father, which follows protagonist Sophie's (Hilary Duff) quest for love alongside her friends, starts in 2022. The timeline continues until 2050 when an older Sophie (Kim Cattrall) tells her son how she met his father.
What the 'HIMYM' characters are doing today
So, where are the HIMYM characters at the beginning of Sophie's story in 2022? They're all still living in New York, just like Sophie and her pals.
As HIMYM's flash-forwards reveal, Marshall is currently in his second year as a New York State Supreme Court justice. He and Lily have long moved out of Ted's iconic apartment and are now living in a bigger space with their three children. Meanwhile, Barney's daughter is now 2 years old, and Robin still works as a journalist. Ted and his wife, Tracy (Cristin Milioti), are happily married with two kids.
'How I Met Your Father' has already teased a connection to 'HIMYM'
Some of the HIMYM gang has already crossed paths with the HIMYF gang, at least off-camera. In How I Met Your Father Episode 1, Sophie's new pal Jesse (Chris Lowell) invites everyone to his apartment, which happens to be the very same space that Ted, Lily, Marshall, and Robin once occupied.
Jesse teases that he got the apartment "from this old married couple who posted it on the Wesleyan alumni group," referring to Lily and Marshall. He even still has a pair of swords hanging on the wall, just like Ted and Marshall once did.
Although the connection might seem small, it verifies that How I Met Your Father and its predecessor exist in the same universe. It also opens the door for other Easter eggs, and maybe even cameos from the HIMYM cast.
Will any 'HIMYM' characters return for 'How I Met Your Father' in 2022?
Thankfully, fans might not have to wait long at all to see familiar HIMYM faces in How I Met Your Father. Duff recently teased to USA Today that the spinoff series "may or may not have one of them in the season this year." She didn't reveal any names, but the tease certainly gives viewers something to look forward to in future episodes.
New episodes of How I Met Your Father premiere on Hulu every Tuesday. All episodes of How I Met Your Mother are also available on the streaming service.