'How I Met Your Mother': Every Halloween Episode
'How I Met Your Mother' ran plenty of holiday specials in its nine-season run, but how many Halloween episodes were there?
How I Met Your Mother was always down to celebrate a holiday. The CBS comedy's nine-season run followed Ted Mosby and his friends through several holiday-themed episodes, from New Year's Eve to St. Patrick's Day to Christmas. The show had a particular penchant for Thanksgiving, with a Thanksgiving-themed episode in most of its seasons. But what about Thanksgiving's predecessor? Surprisingly, How I Met Your Mother didn't feature too many Halloween celebrations, but there were a few episodes for fans to enjoy during the spooky season.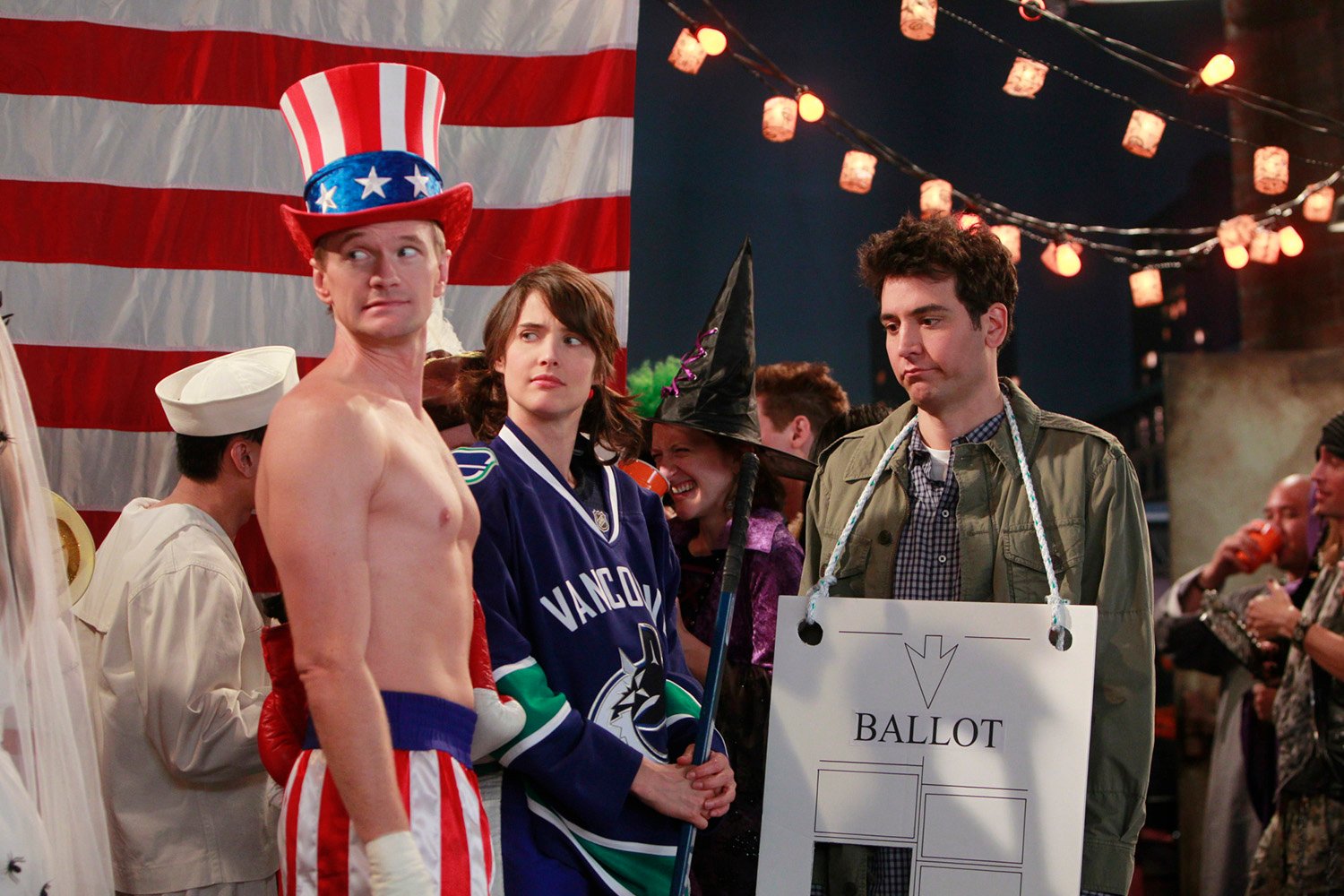 Season 1 episode 6: 'The Slutty Pumpkin'
The first Halloween celebration arrived early in How I Met Your Mother Season 1. Ted (Josh Radnor) and Barney (Neil Patrick Harris) attended the annual Halloween party on the roof of Ted's apartment building, with Ted once again wearing his Hanging Chad costume.
Every year, Ted visited the same party with the same costume in the hopes of seeing a woman he met there once before. At the time, he lost the candy wrapper with her phone number on it, so he could never call her. He never knew her name, so Ted and his friends referred to the woman as "slutty pumpkin" based on her costume. Barney tried to convince Ted that he'd never see the woman again, but Ted never lost hope.
Meanwhile, Lily (Alyson Hannigan) and Marshall (Jason Segel) went on a double date with Robin (Cobie Smulders) and her new boyfriend, Mike (Jeremy Gabriel). Marshall and Lily wore a couple's costume in the hopes of winning the contest at MacLaren's Pub. Robin realized she wasn't into "couple things" like her friends were, causing Mike to get frustrated and leave.
Season 6 episode 7: 'Canning Randy'
The following Halloween celebration aired in season 6, but the holiday was a secondary focus in the episode. "Canning Randy" followed the gang on Nov. 1 as they tried to figure out where Robin spent her Halloween night. Everyone assumed she had a one-night stand with someone but couldn't figure out with whom. They later concluded that it must've been Marshall's quirky employee, Randy (Will Forte). Robin said it was true, but her friends discovered that she actually spent the night filming an adult diapers commercial.
Season 7 episode 8: 'The Slutty Pumpkin Returns'
The last Halloween episode, "The Slutty Pumpkin Returns," aired in season 7. Ten years after Ted's first meeting with the "slutty pumpkin," he finally found her costume at a local shop and tracked the rental records to find her. As it turned out, Naomi (Katie Holmes) remembered Ted, and she couldn't wait to go out with him.
The two went on a few dates, including the rooftop Halloween party, where they wore the same costumes from their first meeting. However, Ted soon felt something off about the relationship. He didn't click with Naomi as well as he thought he would and struggled to decide if they should break up. He ultimately chose to tell her about his concerns, and she felt the same way.
All episodes of How I Met Your Mother are now streaming on Hulu.