How Is Andy Cohen Getting Jimmy Fallon Ready for His First Dead & Company Show?
Its friends helping friends as Andy Cohen won't let pal Jimmy Fallon attend his first Dead & Company show without a solid musical education. Fallon announced on Twitter he planned to attend his first show on Halloween night and asked fans for song suggestions leading up to the concert.
"Preparing to see my first @deadandcompany show on October 31st at @TheGarden," Fallon tweeted. "My friend @Andy is helping me prep by sending three songs a week to listen to and learn. What is on the must listen list?"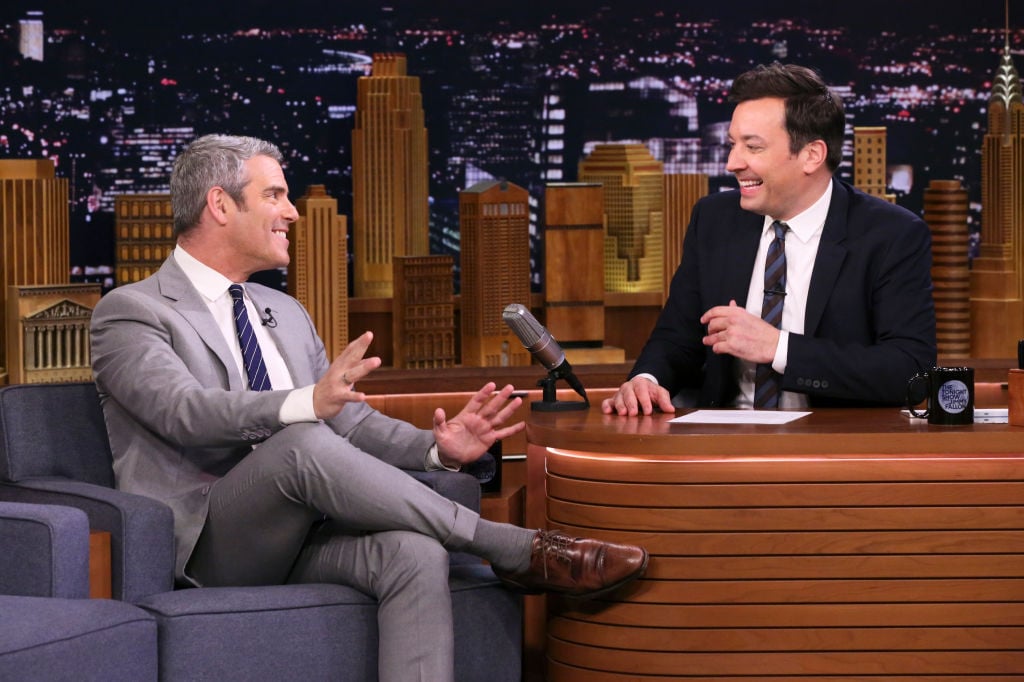 Fans had a number of suggestions, plus loved the fact Fallon planned to go into this show fully educated. "YOURE STUDYING FOR A CONCERT. omg stop. this is too cute," one fan wrote. But Cohen, a true Deadhead, has it fully covered. How is he preparing Fallon for the big night?
Seeing this show is months in the making
Cohen loves sharing his passion for The Dead with his friends. So when he learned Fallon was down to see a show he dedicated a section on his Instagram that would chronical Fallon's Dead musical education. "@Jimmyfallon and I have been discussing my taking him to his first @deadandcompany concert since before Christmas …," Cohen shared along with a photo of the two in front of a Christmas tree.
"But the task of diving into the @gratefuldead catalog seemed somewhat insurmountable to him. Where to begin? How to proceed? We made a deal …," Cohen continued. Since Cohen likes a good challenge he decided to create an initiative that would allow him to provide Fallon with everything he's going to need in preparation of seeing the show on October 31 at Madison Square Garden.
Jimmy's #DeadOnArrival Challenge!
A month before the show, Cohen playfully created the #deadonarrival challenge for Fallon in order to give him ample time to soak in and absorb all the necessary Dead vibes.
He wrote, "In which every Sunday, I assign @jimmyfallon Jimmy three @gratefuldead songs for total immersion for the week ahead. I required him to go deep into several live versions of each song. The project culminates with seeing @bobweir @johnmayer & @deadancompany at MSG on 10/31!"
His education kicked off with some classics
Cohen decided to ease Fallon into his Dead education with some of the band's beloved classics. "We began just before Labor Day!" Cohen wrote. "Week one: 'Althea,' 'Uncle John's Band,' 'Fire on the Mountain.' This is a good intro to the band. Again, the assignment requires Jimm to listen to multiple live versions of each song."
One draw for many Dead enthusiasts is the complexity of the live versions. "Part of the group's staying power is due to the mysterious vastness that exists outside the bounds of their official studio recordings, a live canon shaped by generations of the still-active Deadhead music trading network," according to Pitchfork.
Cohen likely wants Fallon to listen to live variations of each song because the Dead has an uncanny ability to perform the same song a different way to the delight of the audience. "While the Dead got more popular every year in their later decades—and continued to generate jam surprises and bold performances aplenty—new listeners will likely want to start with the band's earlier epochs," Pitchfork recommended.
Fallon is well on his way
Fallon already has some classics under his belt. For week two, he listened to "Bertha," "Shakedown Street," and "Scarlet Begonias." But when week three arrived, Cohen wrote that he switched it up a bit with "three sweet, mellow classics from the Dead archive that James can learn on his acoustic guitar." These tunes included "Ripple," "Brokedown Palace" and "He's Gone."
Hopefully, Fallon is following Cohen's direction to seek those live versions. Cohen added, "This week I'm reiterating that James must find alternate live versions of each song … also note that 'China Cat' and 'Rider' are played almost exclusively back-to-back live." In addition to "China Cat Sunflower" and "I Know You Rider," Fallon was assigned to listen to "St. Stephen" too.