How Is Kelly Clarkson Doing 'The Voice' and Her Own Talk Show at the Same Time?
Kelly Clarkson is a judge on 'The Voice' and hosting her own talk show. How is the singer managing to juggle two TV shows at once?
If you think that Kelly Clarkson seems to be everywhere, you're not wrong. In fact, Clarkson may very well wish there were two of her this month when she'll have to start pulling double duty. In addition to her responsibilities as one of the coaches on The Voice, Clarkson also started hosting her own daytime talk/variety show. As she often sings: "What doesn't kill you makes you stronger." 
What kind of show does Kelly Clarkson have?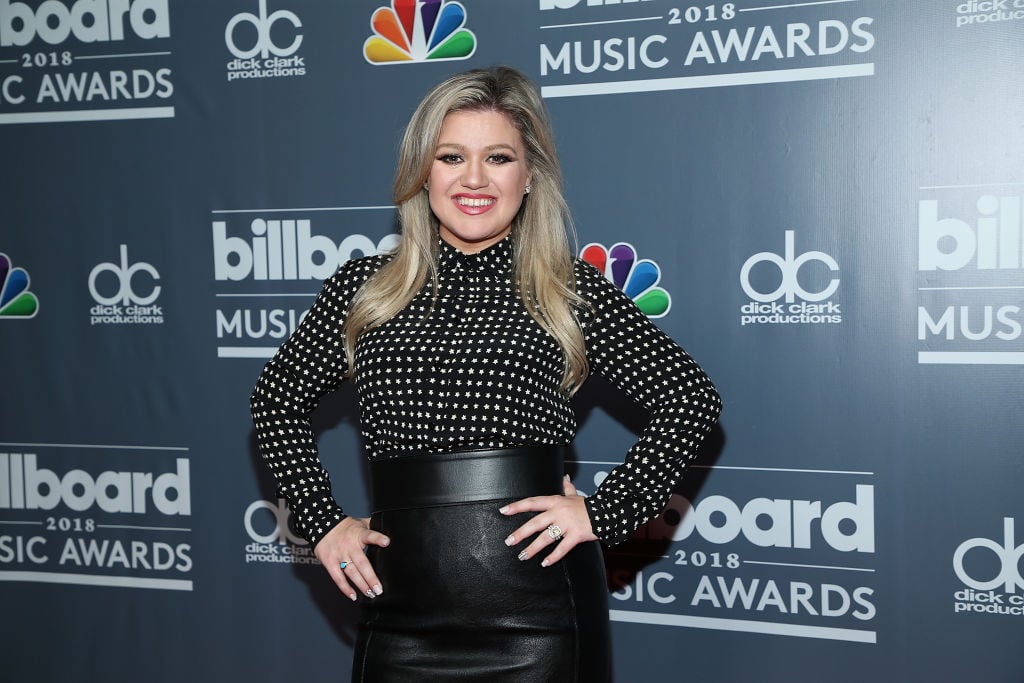 The Kelly Clarkson Show debuted on NBC on Sept. 9, and is a sort of a hybrid between the kind of daytime talk show that Ellen DeGeneres does and the types of the nighttime talk show hosted by the likes Jimmy Fallon, Stephen Colbert, and Jimmy Kimmel. Clarkson admitted to Parade that she never dreamed of having a talk show, but she intends to make the most of it. 
So what makes Clarkson qualified to host a talk show? Besides her innate talent, she has tons of experience being on the receiving end of many a talk show. And she can bring something different to the table by being a host and a singer. She'll open her talk show with a song, and she has indicated that she'll occasionally join her musical guests. 
"We're opening up every show with music and highlighting artists we love," Clarkson told Parade, advising her potential audiences to be ready for  "anything and everything to happen," whether she's prepared for it or not. Clarkson found that out when her very first scheduled guest, Kevin Hart, couldn't make it because he's recuperating from a car crash, so his Jumanji co-star Dwayne Johnson stepped in. 
How will Kelly Clarkson do both the talk show and 'The Voice?'
Doing a talk show can be a grind in and of itself, as can appearing on a singing competition show. So some may be concerned that Clarkson is biting off more than she can chew. Still, she's determined to make it work. 
She described the first season of American Idol as "the ultimate boot camp," where she was not only singing but trying something that was new to her. She'll be doing the same sort of thing here, and she'll be using a golf cart to shuttle between The Kelly Clarkson Show and The Voice.
"It's going to get a little tricky, but I think we figured it out," Clarkson said. 
The Kelly Clarkson Show came about largely because of her husband, Brandon Blackstock, who is also her manager. He was encouraging her to branch out and try something new. Clarkson was initially reluctant but was also game to try, she told People on its YouTube channel. 
"It just seemed like a new adventure, honestly, and my husband's a really good salesman," Clarkson said. "He's really good at pointing out things that will maybe push me out of my comfort zone, which is why we're really great partners in life as well."
What will Kelly Clarkson take from other talk shows?
Knowing so many people in the business and having experienced the media blitz herself, Clarkson knows that on a talk show you have to be prepared for anything. 
"The thing I've learned from people like Jimmy [Fallon], Seth [Meyers] and Ellen is don't plan too much because life takes hold of the show and things start happening," she told Parade. 
Clarkson also went on DeGeneres' talk show, where Clarkson was so, well, talkative that DeGeneres sometimes had to strain to get a word in. Clarkson told her: "You were one of the first that believed in me." DeGeneres responded: "Yes, I thought for sure you should have a talk show."
Clarkson told DeGeneres she has watched many of her shows and joked that DeGeneres would watch her "epically fail" but DeGeneres insisted: "No, I am rooting for you. You're my lead-in, and I want you to succeed for so many reasons."