How Is Prince Harry Doing After the #Megxit Drama? His Body Language Is So Revealing During This Appearance
Prince Harry made his first public appearance since the drama surrounding his announcement with Meghan Markle to "step back" unfolded — and it looks like he's feeling pretty happy about things. Prince Harry's body language at Buckingham Palace on Thursday, where he hosted the Rugby League World Cup 2021 draws for the men's, women's and wheelchair tournaments, was quite revealing.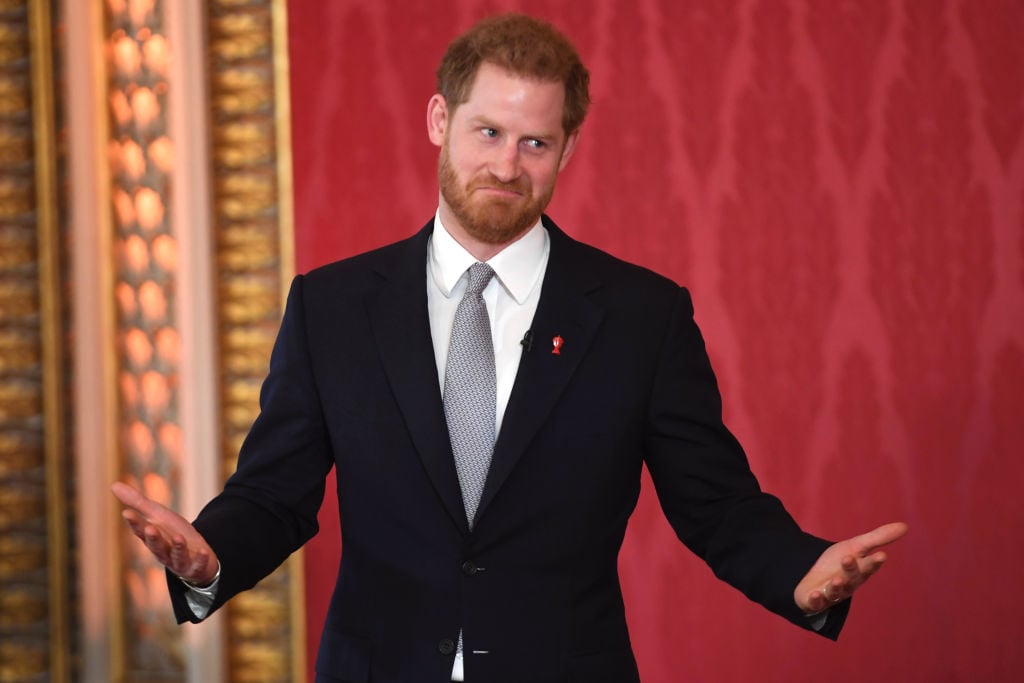 Prince Harry and Meghan Markle made a huge announcement
On Jan. 8, 2020, Prince Harry and Markle took to Instagram to share some big news — their plan to "step back" from their royal duties and spend their time between the UK and North America.
The queen called a special meeting to hammer out some of the specifics, releasing a statement that offered her full support of Prince Harry and Markle's request to exit the royal family.
She noted in her statement: "Today my family had very constructive discussions on the future of my grandson and his family. My family and I are entirely supportive of Harry and Meghan's desire to create a new life as a young family."
She continued: "Although we would have preferred them to remain full-time working Members of the Royal Family, we respect and understand their wish to live a more independent life as a family while remaining a valued part of my family."
Prince Harry's playful and "naughty kid' body language was on display
Prince Harry and Markle no doubt felt some relief with receiving the queen's blessing and Harry's body language at the Buckingham Palace event seemed to reinforce that.
Body language expert Judi James shared with MailOnline how Prince Harry's joking around at the event suggests that he's a bit of a "naughty or rebellious kid who is currently wanting to be seen on his best behavior."
James also called attention to the way Prince Harry fiddled with his wedding ring, sharing: "It's a self-comfort gesture that usually suggests someone is coping with potential pressure by 'summoning' the virtual support of people who love them, in this case presumably Meghan although the gesture can also suggest he's missing his son Archie too."
She called his body language "energetic and upbeat," explaining that he has "lost the signs of protective, watchful anxiety without his wife and baby to worry about in front of the Press."
Prince Harry had a laugh at the event
Royal fans enjoyed Prince Harry's joking and relaxed attitude at the event, with James pointing out: "His joke about minding the grass or he'd get into trouble placed him firmly in empathy mode as the naughty kid of the Royal Family. His body language made him look like that popular supply teacher who can be in charge but also one of the kids themselves."
She continued: "The mud-checking was another gesture that suggested Harry sees himself as a bit of a naughty or rebellious kid who is currently wanting to be seen on his best behavior. It also suggests he sees himself as a bit of a visitor at the Palace and slightly in awe of the place but with a sense of good humor too."
Harry didn't answer any questions about Megxit
Naturally, the press had questions for Prince Harry about his future with the family, but he didn't offer any answers.
James noted: "Harry utterly blanked the press question and the one handed barrier gesture had started before it was shouted, so his technique appeared to be to ignore the press and continue as though he hadn't heard it."
Overall, she found Prince Harry showed "staccato movements" and a "desire to be relaxed and more active and casual," noting: "After all the pressures of the last few days Harry's grin was back at long last in this solo public appearance, along with a splayed chest and signature jaunty walk, although his staccato movements and the pace he set also suggested a man in a hurry to get things done, too."
She added: "His splaying made him look very much the host at the Palace as he used directive pointing gestures to steer his guests in the garden. His anxiety, self-comfort rituals appeared to have diminished and instead of using the 'paper clip' hand as a barrier gesture to suggest a desire to hide as he has in the past, he soon converted it into an unbuttoning gesture as he let his jacket fall open, hinting at a desire to be relaxed and more active and casual here."