How Jada Pinkett Smith's Alleged Ex, August Alsina, Feels About Fans Saying He's 'Irrelevant Again'
Jada Pinkett Smith's alleged romantic interest, August Alsina, has more to say about his "entanglement" with the actress. 
Alsina brought Pinkett Smith and her husband, Will Smith's marriage into the spotlight in July 2020. During that time, Alsina revealed he was involved in a relationship with Pinkett Smith when she was in a rocky place with Will. The announcement resulted in multiple memes and comments on social media. Pinkett Smith also opened up about the ordeal on Red Table Talk.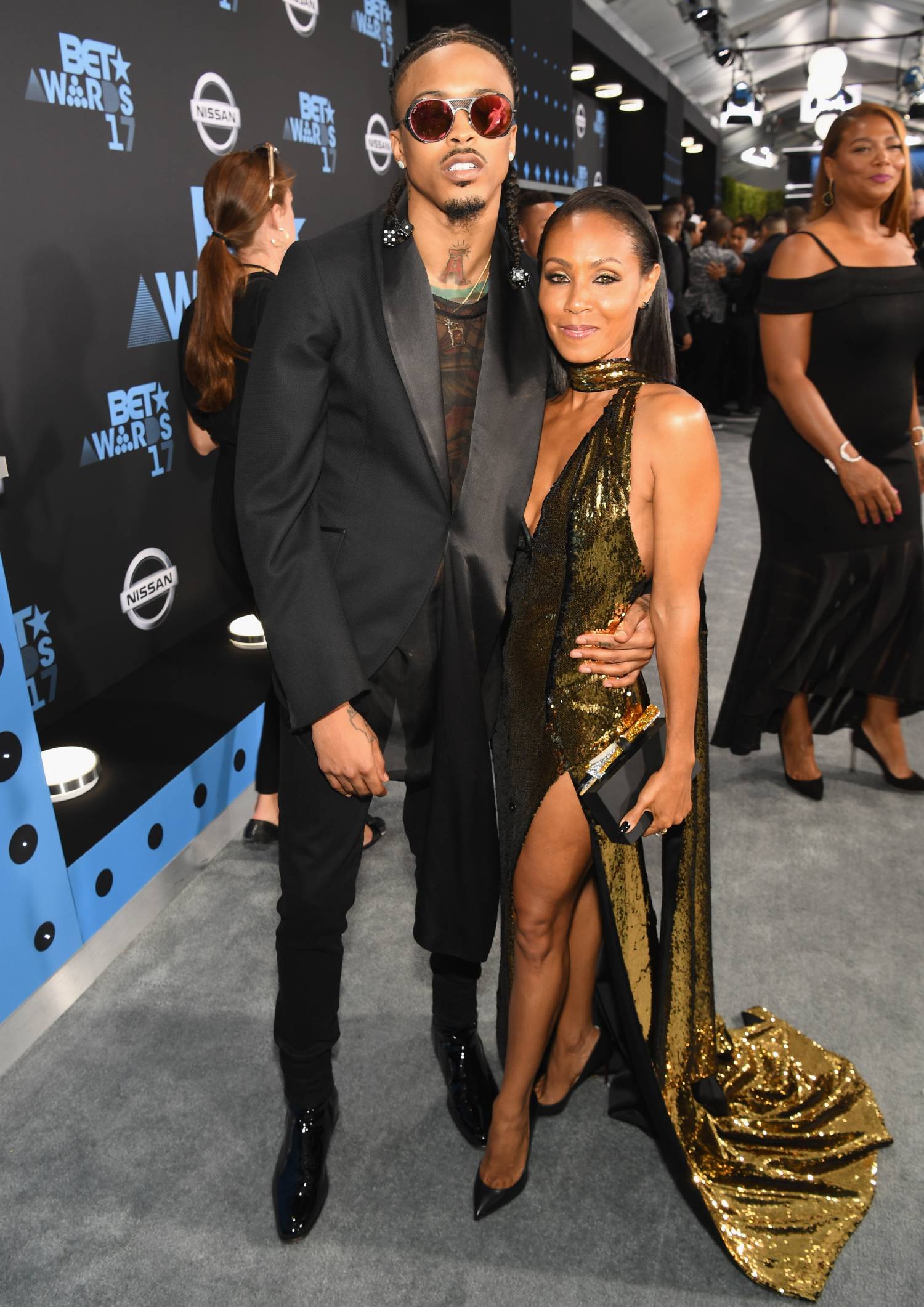 August Alsina responded to social media remarks that he's 'irrelevant again' since the Jada Pinkett Smith scandal
Alsina discussed rumors about Pinkett Smith while being interviewed by The Breakfast Club host Angela Yee. The artist discussed his album, The Product III: State of Emergency, and the emotional turmoil he endured outside the public eye. When Yee asked Alsina about Pinkett Smith during the sit-down, Alsina said dated Pinkett Smith for three years under Smith's advisement. Before their romance, Alsina and Pinkett Smith became close friends after Jaden Smith introduced them. 
Shortly after his reveal, Alsina released a song with Rick Ross called "Entanglements" Social media users popularized the word after Pinkett Smith used it to refer to her relationship with Alsina on Red Table Talk. However, multiple Twitter users shared that Alsina is "irrelevant again" since the scandal occurred and hasn't released any new music since "Entanglements."
Alsina responded to the criticism on his Instagram account in October 2020 and said he isn't concerned about the opinions from his non-fans. He said he's focused on other things in his personal life and doesn't feel pressured to release new work continually. 
"I want to say this to the young world; look, don't feel pressured to constantly be on the internet, or whatever. When you feel like you need to take a break, for whatever reason it may be– your spiritual maintenance, mental health, whatever it is– do that shit, man." He then continued, "It's weird 'cause it's kind of an oxymoron, 'cause I'm irrelevant, yet…still in your mouth. Make that make sense."
Jada Pinkett Smith and Will Smith's conversation about the alleged August Alsina affair produced record-breaking numbers for Facebook
Once Alsina shared his truth with the world, Pinkett Smith's fans waited to see if the actress would respond to his claims. After several days of keeping her viewers guessing, Pinkett Smith revealed she would "bring herself to the table" and discuss the alleged affair. Pinkett Smith sat down with Smith on Red Table Talk and admitted she dated Alsina while she and Smith were separated but living together. She also shared she hadn't talked to Alsina several years after she and Smith decided to repair their marriage. 
"I got into a different kind of entanglement with August," Pinkett Smith said on Red Table Talk. "One thing I want to clear up that was swirling around in the press was you kind of giving permission. The only person that can give permission in that certain circumstance is myself. But what August was probably trying to communicate… I think he wanted to make it clear that he's not a homewrecker."
According to Variety, onlookers viewed the sit-down between Pinkett Smith and Smith more than 15.4 million times within the first 24 hours of its premiere, which were record-breaking numbers for Facebook Watch. 
Jada Pinkett Smith has seemingly moved on from the August Alsina scandal
After using her platform to discuss her past relationship with Alsina, Pinkett Smith has seemingly moved on. She and Smith redefined their relationship and are reportedly committed to staying married. 
While Pinkett Smith and her family have focused on other things since Alsina's reveal, her daughter, Willow Smith, briefly discussed the situation during a September 2020 episode of Red Table Talk. As Pinkett Smith reflected on her public discussion about her past, Willow said the segment showed her how committed Pinkett Smith is to her marriage to Smith. 

"To be able to see you and Dad do that, for me, that was like: 'Okay, that's the real deal,'" Willow shared. "That's real love. Like, when you can be like: 'I'm with you. I'm going to stand by you, and I'm gonna hold your hand because I love you'… that's really important."