How Jaden Smith Felt About Attending Kim Kardashian West and Kanye West's Wedding
Jaden Smith's fashion choice at Kim Kardashian West and Kanye West's wedding reflected how he felt about attending the "I do's."
The son of Will Smith and Jada Pinkett Smith was one of the exclusive guests at the West's 2014 wedding in Italy. Smith is a longtime friend of Kylie Jenner's, so his appearance at the ceremony didn't come as a surprise to their fans. Although he would turn heads another way at the wedding, Jaden shared why he doesn't have any regrets regarding his look.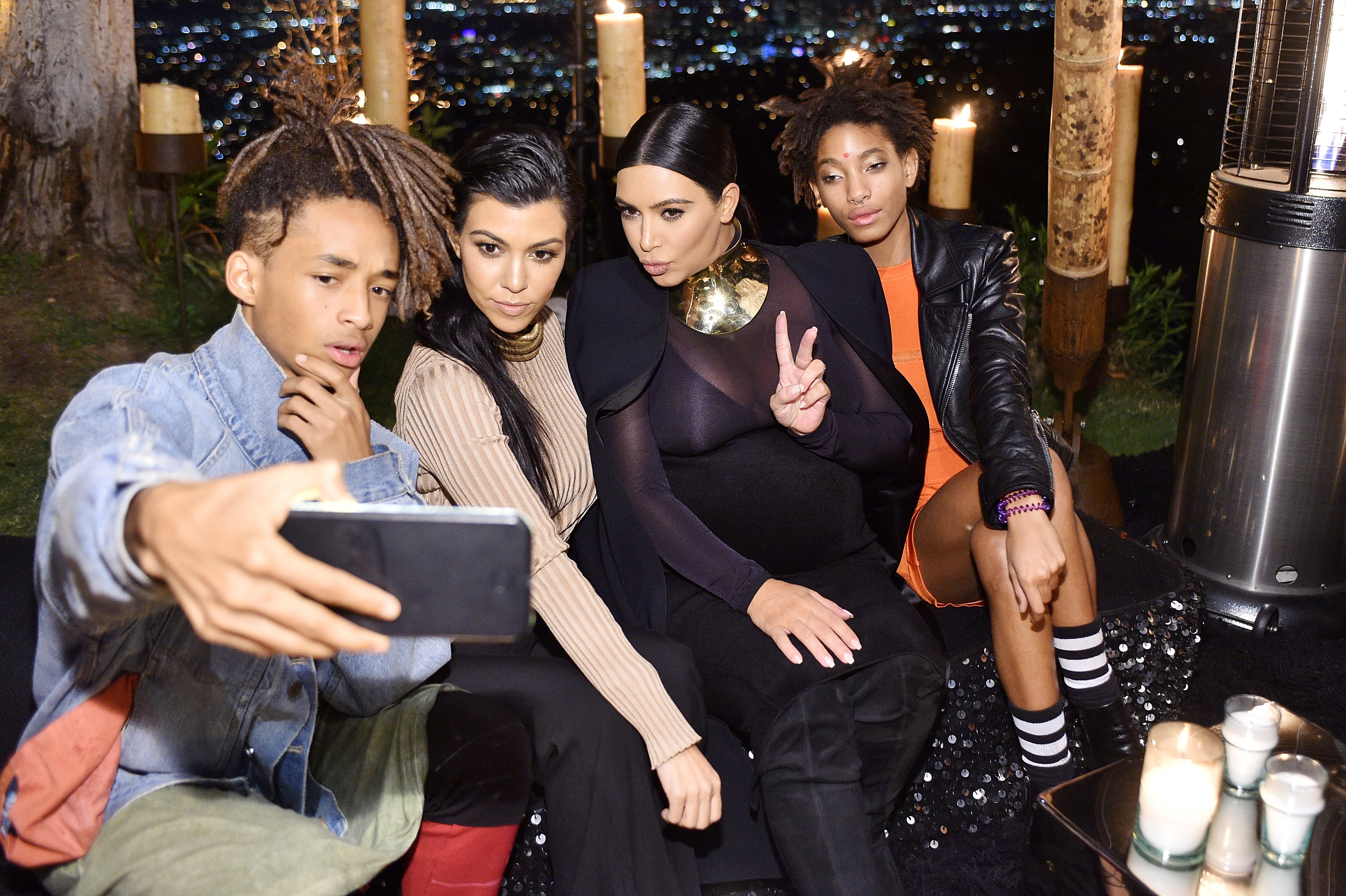 Jaden Smith felt he 'needed to protect everyone' at Kim Kardashian West and Kanye West's wedding
Kardashian West and West's wedding took place in May 2014. Keeping Up With the Kardashians featured the ceremony on multiple episodes. It also had a wide array of guests. According to PopSugar, Serena Williams, NeNe Leakes, and André Leon Talley were among some of the Wests' friends who attended their lavish prewedding dinner at the Palace Versailles. They also had 200 guests at the nuptials, which included several more of their celebrity friends. 
RELATED: How Jaden Smith And Willow Smith Feel About Attending College
In an interview with GQ magazine, Smith said he thought the wedding required him to wear extra armor throughout the occasion. Smith shared he felt he had to shield the guests, so he attended the wedding in a white Batman costume. 
"I wore the Batman suit to heighten my experience at the wedding and prom which was fun," Smith recalled. "But also at the wedding, I felt as though I needed to protect everyone there and needed to have the proper gear to do so."
Jaden Smith and Kylie Jenner reportedly kissed at Kim Kardashian West and Kanye West's wedding
Smith's outfit choice wasn't the only thing that he made headlines for at Kardashian West and West's wedding. According to E! News, the wedding filled him and Kylie Jenner with love after watching her older sister tie the knot. The friends, who were allegedly an item at the time, escalated the rumors at the wedding. Cameras reportedly saw them "making out" during the ceremony. Photos of the two also surfaced of Smith joining the Kardashian-Jenner family as they headed back to Paris after the wedding. 
RELATED: Why Jaden Smith Decided To Wear Skirts Against Will Smith's Wishes
Although fans have often wondered if Smith and Jenner were ever really a couple, Smith shed light on their relationship one year before their alleged public display of affection. In a May 2013 interview with Hello! Magazine, Smith said he and Jenner had a strong connection but didn't confirm if they were together. 
"She's one of my best friends," Smith shared of Jenner.
Jaden Smith credited Kanye West as one of his fashion icons
Smith's decision to wear a Batman costume at Kardashian West and West's wedding also allowed him to pay homage to two of his style icons. When asked who inspires his fashion looks, Smith said the iconic superhero and "Robin, Nightwing, and Superman" are his other influences. He ended the answer by saying he looks up to West's fashion sense as well. 
RELATED: Jaden Smith Says He Was Offered Food By Random People After Will Smith And Jada Pinkett Smith Staged An Intervention
In addition to being close friends with Jenner, Smith also developed his relationship with West. Their relationship seemed solid up until Smith opened up about it in a 2018 interview with Complex. During the interview, Smith claimed artists like West and Drake no longer wanted to work with him once he began establishing himself as an artist more. 
"It's really changed. I always felt like Little Homie before and that allowed me in all of their circles," Smith explained. "But now that I'm on the charts next to them, I'm not really Little Homie anymore."It's more like, 'You can't hang out with us anymore. We didn't know you were making an album this whole time. We thought you were just Little Homie giving us free water and shit. You're not really cool with us anymore."'