How Jennifer Aniston Still Refers to Lisa Kudrow and Courteney Cox as Their 'Friends' Characters
Jennifer Aniston, Lisa Kudrow, and Courteney Cox became close friends as they starred in Friends together. Their careers went down different roads after the show, but they still hang out. Find out how Aniston still refers to them as their characters and the newest picture she posted with them on Instagram.
There might be a 'Friends' reunion in the works
The cast of Friends has reunited before, but fans still can't get enough. There might be another reunion in the works given the show is also moving from Netflix to another streaming platform called HBO Max.
"I got [the cast] to do the James Burrows tribute special when I was at NBC. And all I will say is, 'We're talking about it.' We've been drilling down on what it could be and trying to see if everybody's really on board and interested. And if so, can we make the right deals for everybody. We're starting it as a special," Robert Greenblatt, chairman of WarnerMedia Entertainment revealed to The Hollywood Reporter.
He added, "It's possible there could be something ongoing, but it would be in steps. We're far from that." Friends will be available once HBO Max debuts in May 2020.
Jennifer Aniston, Lisa Kudrow, and Courteney Cox ate lunch together every day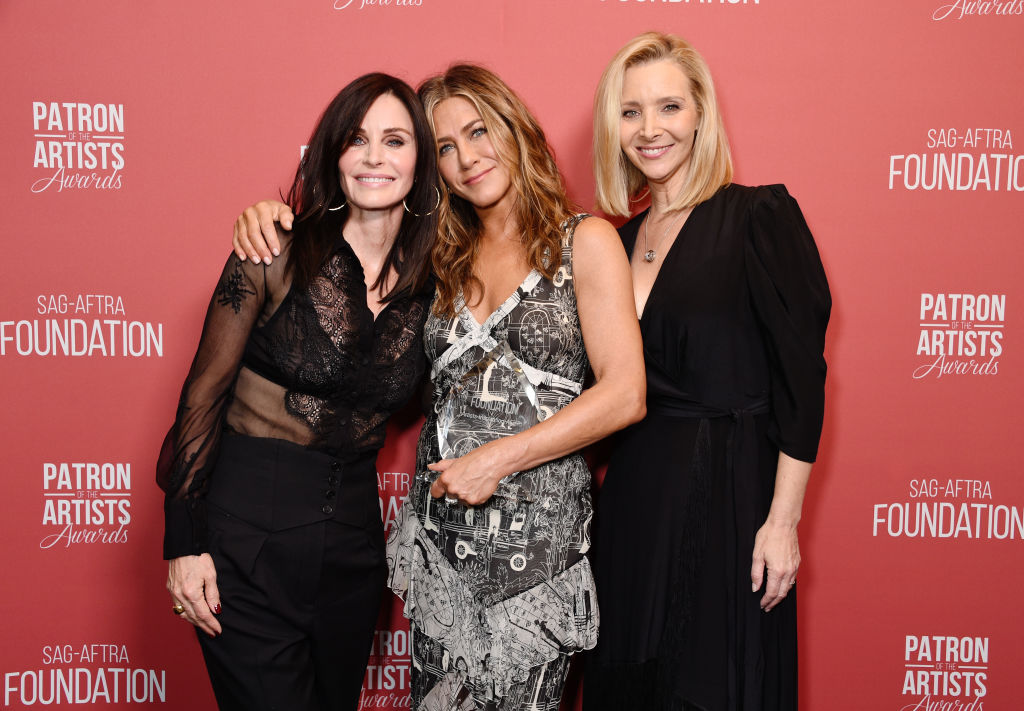 It's not a secret that the Friends cast was very close. They worked together for years and created routines behind the scenes.
"And we ate the same food: a Jennifer salad," Cox told the LA Times. "Jennifer [Aniston] and Lisa [Kudrow] and I ate lunch together every single day for 10 years," she explained.
The recipe is a twist on a very common salad. "We always had the same thing — a Cobb salad," she explained. "But it wasn't really a Cobb salad. It was a Cobb salad that Jennifer doctored up with turkey bacon and garbanzo beans and I don't know what. She has a way with food, which really helps."
The former cast members don't get to eat lunch together every day now. Aniston is now starring in the show, The Morning Show. Kudrow has been voicing the character, Judy Elk in the show, Human Discoveries. Cox is making smaller appearances in different TV shows. But they do still find time to get together.
She posted they're still the girls across the hall
Aniston is still keeping her fans up to date with her life and her former co-stars. She posted a new picture on Jan. 12 showing that she is spent more time with Cox and Kudrow on Instagram.
The three actresses look pretty close together at a restaurant or bar. She captioned the photo with "Hi from the girls across the hall."
Other stars commented on the post. Isla Fisher wrote, "SISTERS." Michelle Pfeiffer commented with three heart emojis. Derek Blasberg joked, "This'll tithe me over the next six months until Friends is streaming again."