How John Krasinski Almost Blew His Audition for 'The Office'
"The Office" alum John Krasinski recalls a blunder he made when going to audition for the role of Jim Halpert.
John Krasinski has proven his skills as a top actor, screenwriter, and director. Currently promoting his film A Quiet Place 2, Krasinski spent his time completely behind the camera for the sequel to his 2018 blockbuster with wife Emily Blunt heading the cast.
Even with his thriving movie career, Krasinski will most likely always be thought of as the lovable nice guy Jim Halpert from NBC's The Office. Fans of the show may not realize that the actor almost didn't land the role that made him a household name.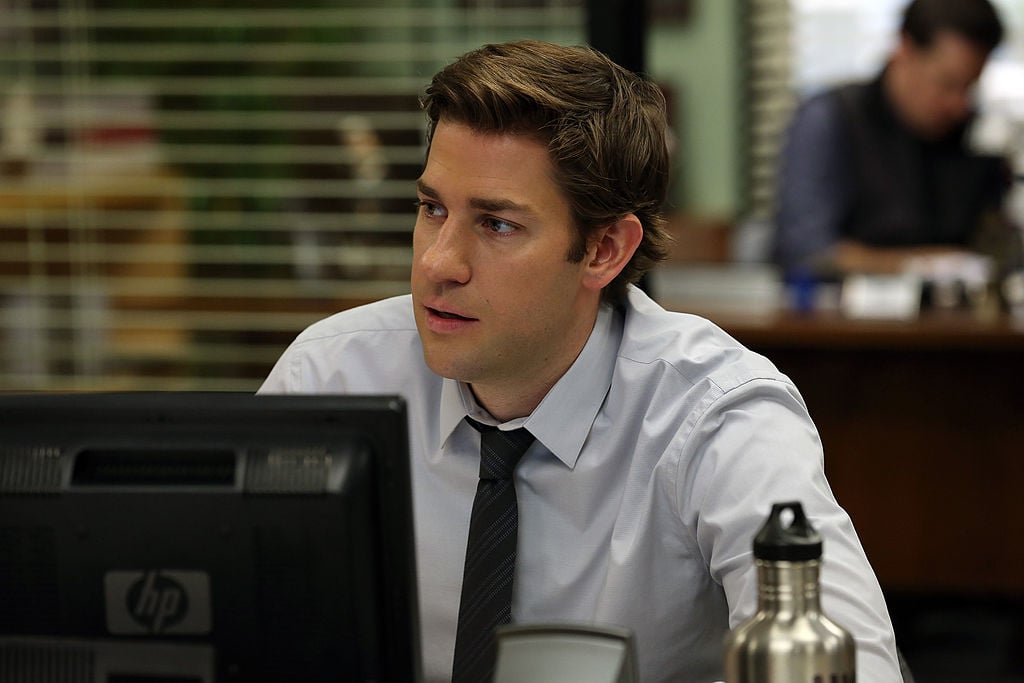 Krasinski as Dwight?
When casting began for the now-iconic sitcom, several good-guy type actors were considered for the role including Paul Rudd and Steve Zahn. When Krasinski was called to audition, it was originally for the part of offbeat, uptight salesman Dwight Schrute.
Yet when the actor wanted his manager to tell casting directors that he wanted to read for the part of Jim, his idea was rejected, and not delicately. Basically, Krasinski was told to "shove it up his a**" since "this dude's done nothing, he's lucky to be coming in," according to Buzzfeed.
Fortunately, Krasinski was eventually asked to try out for the Jim Halpert role and crushed it. When the show began casting for the part of Dunder Mifflin's receptionist and Jim's love interest, the actor knew instantly that Jenna Fischer was the one to play Pam Beesly.
"You're my favorite Pam. I hope you get it," Krasinski told Fischer during the audition process, which worked out perfectly since Fischer was routing for the 13 Hours star to play her future on-screen husband.
Foot-in-mouth syndrome
Krasinski was a fan of the original British sitcom created and directed by Ricky Gervais and Stephen Merchant. Going in to read for the American version of the series, Krasinski was concerned that the show in the U.S. wouldn't do justice to the one in the U.K. Waiting to read for the part, Krasinski began speaking with a stranger about his audition.
"This guy sits in front of me with his salad and people are coming in and out and he goes, 'Are you nervous?'" Krasinski recalled, as reported by the Huffington Post. "And I was like, 'You know, not really. You either get these things or you don't.'"
Then the Office alum may have overshared about what was causing him some anxiety. "What I'm really nervous about is this show," Krasinski told the gentleman. "It's just I love the British show so much and Americans have a tendency to just really screw these opportunities up. I just don't know how I'll live with myself if they screw this show up and ruin it for me."
Turns out Krasinski had been talking to one of the people in charge of casting. "He's like, 'My name's Greg Daniels, I'm the Executive Producer,'" the actor revealed. "And I was like [vomit noise]. I actually threw up in my mouth."
The Quiet Place director already had the casting team laughing before he even read for the part since they caught wind of what he had said to Daniels. "Is this the jackass that told you the show was going to be ruined?" they asked the executive producer when Krasinski entered the room. "Go for it kid!"
Krasinski didn't need to worry since he nailed the part of Jim and The Office is now a staple in television history.
'Office' reboot?
The actor still treasures his time on the beloved sitcom, seeing it as his entrance into stardom.
"The Office was absolutely everything to me," Krasinski told Esquire in February. "I mean, it is my beginning and my end. I'm pretty sure at the end of my career I'll still be known for Jim. That was my first experience with Hollywood. It was the first creative family I've ever had."
While fans still cry out for a reboot of the NBC comedy, nothing is lined up yet to bring the cast back together. Should show producers start putting a reunion back together, Krasinski is totally on board.
"In many ways, they will always be the most important people in that most important experience in my career," he said. "So yeah, if they did a reunion, I would absolutely love to do it."