How Kanye West, Kim Kardashian West, and Brandy's Connection Goes Beyond Kim's Relationship With Ray J
It's no secret that Kim Kardashian West once dated Brandy's little brother, Ray J. The two were in a relationship for three or four years. Shortly after their split, a tape of their most intimate moments was released to the public and the world was introduced to Kim and her family in the form of a reality show months later. Since then, the world hasn't been able to stop keeping up with her.
Kim's husband Kanye also has ties to Brandy's family. Through music and being in the same industry, it's almost impossible for the two families to avoid each other. But just how deep does their history go? They've all be interconnected for some time and fans have questioned where their relationship stands today. 
Kim Kardashian West worked as Brandy's personal shopper/stylist; Khloé Kardashian also worked as Brandy's personal assistant
Most people tend to focus on Kim's infamous tape with Ray J as the foundation for her fame she was working well before then. Kim has been open about her ambition and worth ethic since her start on KUWTK, explaining that while her sibling chose college, she began working for her father's record company back in the day. 
She also had successful clothing boutiques, DASH and Smooch, that she ran with her sisters starting in 2006. Prior to the boutiques, Kim worked as a celebrity stylist and closet organizer.
One of her clients was Brandy, the sister of her ex-boyfriend Ray J. Khloé worked as Brandy's personal assistant, keeping the business all in the family which has become the Kardashian trend. 
Kanye West met Kim Kardashian West when he collaborated on a song with Brandy
Kim and Kanye were friends long before they began dating officially post her split from retired NBA player Kris Humpries. She recalled meeting him on the set of a music video for a song of Brandy's that he was featured on during the 10-year anniversary special for KUWTK.
"I met him, I think, in 2002 or 2003. He was recording a song with Brandy, and I was her friend. I vividly remember hanging out with him, and then they did a video together, so I'd see him a few times," she revealed. "He was asking his friends, 'Who is this Kim Kardajan?' He didn't know what my name was."
The music video was actually shot in 2004 for Brandy and Kanye's "Talk About Our Love." The song was a single for Brandy's fourth studio album Afrodisiac and was written and produced by Kanye. He also starred in the video as Brandy's love interest.
Brandy's relationship with the Kardashians soured when she accused them of theft
Sometime after the 2004 music video shoot and after Kim and Ray J's relationship ended, things with the Kardashian family and Brandy's family went array. Sonja Norwood, Brandy's mother and her manager, sued the Kardashian clan and also listed their businesses in the suit accusing the family of spending over $120,000 of unauthorized charges on Brandy's credit card.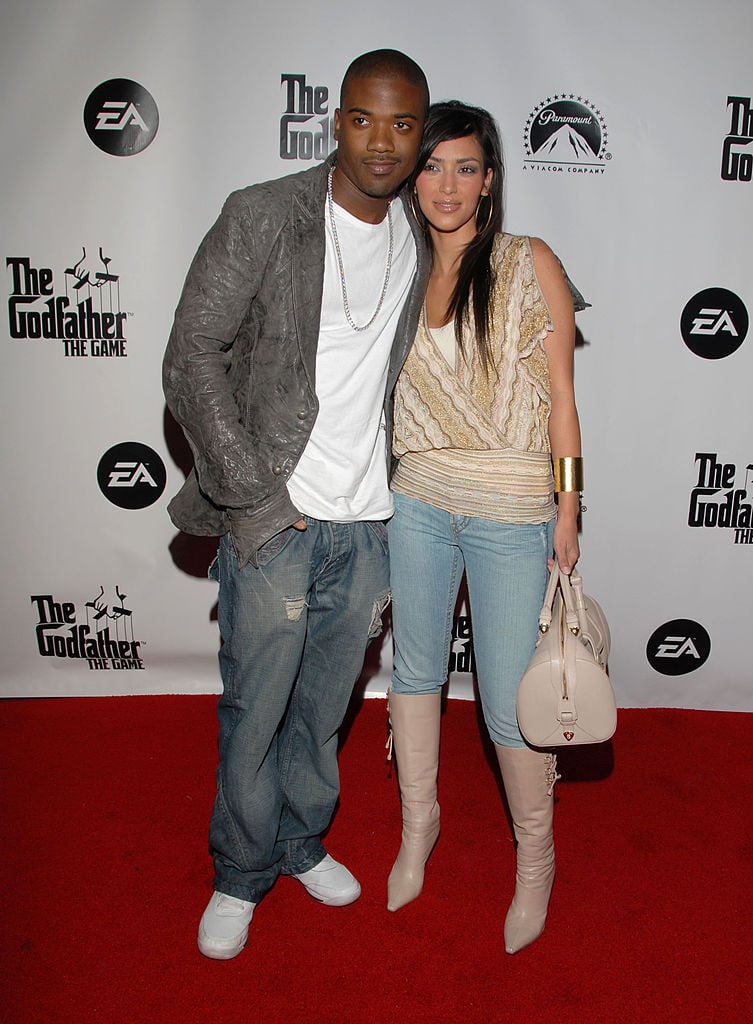 RadarOnline reported on the secret lawsuit in a 2015 article. The suit confirmed Kim was working as Brandy's personal shopper/stylist and was authorized to make one purchase on an American Express card in 2004. Instead, Norwood alleged that Kim gave the credit card information to various members of the Kardashian family who used the card without her consent…even after their business relationship ended.
The publication notes that Norwood claimed the Kardashians spent at least $60,000 on the card in 2006, and at least $57,000 in 2007. The Kardashians businesses were listed in the suit as Norwood says she discovered the card was used for transactions at their boutiques. 
The Kardashians denied any wrongdoing and Norwood requested the lawsuit be dismissed without prejudice in 2009, claiming it was settled out of court. Still, the damage was done.
Brandy later explained that her and Kim "grew in different directions" but also admitted in a 2012 interview with Wendy Williams that she "missed her friendship" with Kim. it's unclear where they stand today.