How Kate Middleton Is More Prepared to Be Queen Than Her Majesty Queen Elizabeth
Queen Elizabeth has worn the crown longer than any other King or Queen in British history, but there are ways in which Kate Middleton is more prepared to be Queen than Her Majesty. It might be a long time before her husband, Prince William, sits on the throne, but Kate, Duchess of Cambridge, has spent years preparing for the day she becomes Queen Consort. Here is a look at how Kate is more prepared for the day she sits beside William on the throne.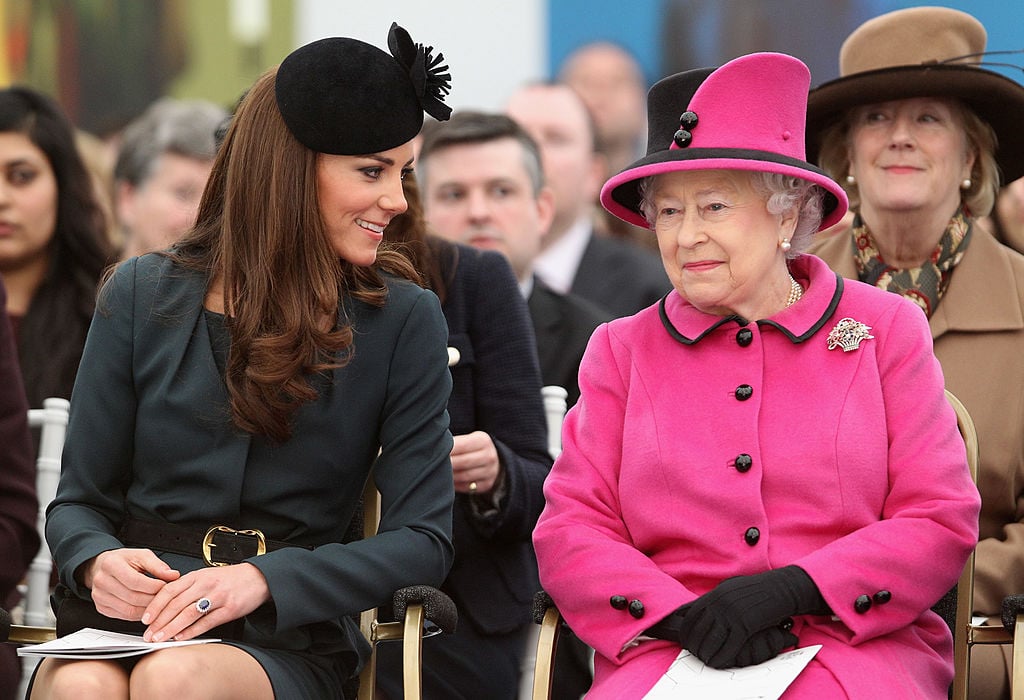 Queen Elizabeth enjoys a long and successful reign
Queen Elizabeth officially became the longest-reigning monarch in British history in 2015, overtaking Queen Victoria's previous mark. A few years ago, she also became the first British sovereign to enjoy a Sapphire Jubilee, an event that celebrates 65 years at the head of the monarchy.
Over the years, Her Majesty has navigated some pretty tricky waters with her children, including multiple divorces, cheating scandals, and, more recently, Megxit.
Despite all the drama the royals have faced during her reign, Queen Elizabeth remains an iconic figure throughout the world. And it 2022, she will celebrate 70 years on the throne, a record that will likely remain intact for many years to come.
While Queen Elizabeth has quite a bit of experience as the ruling sovereign, there is one thing that Kate has that she doesn't, and it might make the Duchess of Cambridge more prepared for her coming role as Queen Consort.
Kate Middleton has this one thing Queen Elizabeth lacks
Once William is crowned the King of the United Kingdom, Kate will receive the title of Queen Consort. This will give her similar powers to William, including being treated with the same respect as the ruling sovereign.
Ever since she tied the knot with William in 2011, Kate has been preparing for her future role within the ranks of the royal family. According to Express, one thing that has prepared Kate for her royal duties is the fact that she has a degree from a university.
In fact, Kate will be the first Queen in the history of the British monarchy to have a post-secondary degree. And if she had not attended St. Andrew's University in the early 2000s, there is a good chance that Kate and William would have never met at all.
Kate received a degree in art history at the school, where she first crossed paths with William. The two dated for a number of years before getting engaged in 2010. Next year, they will celebrate ten years together and currently share three children – Prince George, Princess Charlotte, and Prince Louis.
Like many of her predecessors, Queen Elizabeth did not go to a public university for her education. Instead, she taught at home by various tutors.
Kate Middleton has years of training to prepare to be Queen
There is another advantage that Kate has over Queen Elizabeth when it comes to being prepared for her future role. Since tying the knot with William in 2011, Kate has already had nearly a decade of training for the day she becomes Queen Consort.
With Charles next in line to the throne, Kate may have several more decades to prepare herself. This should give her plenty of time to adjust to having more royal responsibilities in her schedule.
Queen Elizabeth, on the other hand, had an unexpected journey to the throne. When she was born, her father, George VI, was second in line to the throne. He took the crown following the death of his father in 1936 and after his older brother, Edward VIII, abdicated to marry an American.
When King George VI passed away in 1952, Queen Elizabeth had only recently started to take on more responsibilities within the royal family. Unlike Kate, her transition to the throne was swift.
That said, Queen Elizabeth has done an amazing job as the Queen of the United Kingdom over the years and Kate has surely learned from her reign.
Kate Middleton has not commented on the reports surrounding her future in the royal family.