How Kate Middleton Tried to Defuse Tension Between Queen Elizabeth and Meghan Markle
Kate Middleton reportedly tried to difuse the tension between Meghan Markle and Queen Elizabeth during their final royal engagements.
Kate Middleton and Prince William reunited with Prince Harry and Meghan Markle this week, bringing together the Fab Four one last time. Royal watchers were expecting a happy reunion from the couples, yet it turned out a little more awkward than the royals had hoped. But ahead of the big engagement, Kate, Duchess of Cambridge, did her best to defuse tension between Queen Elizabeth and Meghan, Duchess of Sussex, who is officially done with her royal duties as of March 31.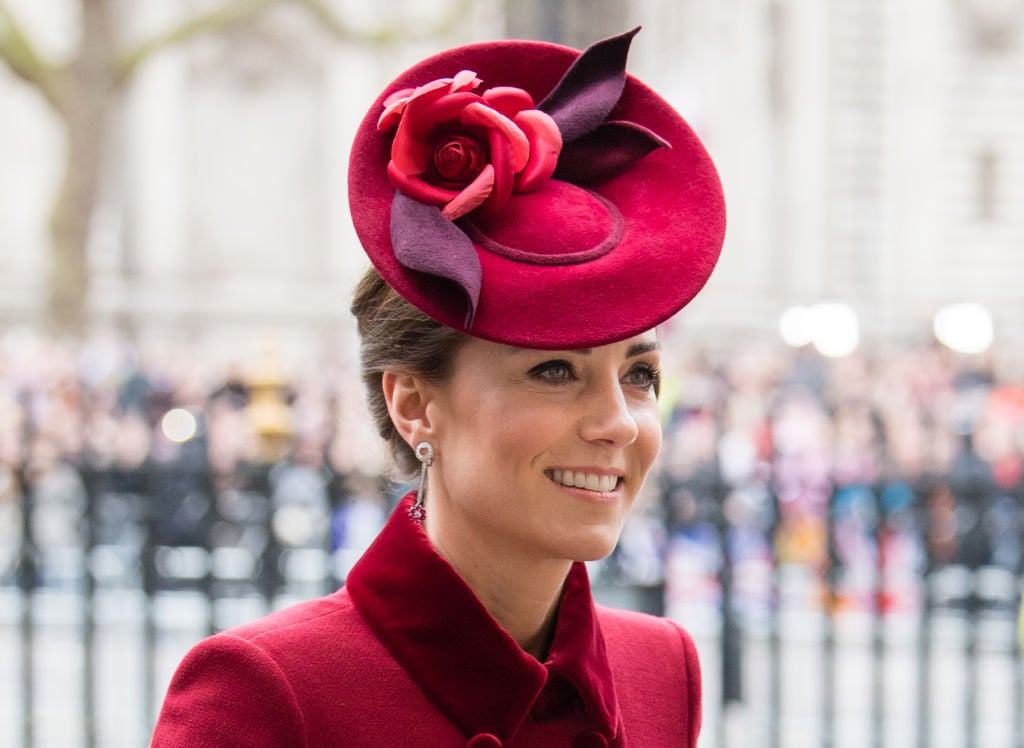 The Fab Four back together again
Kate Middleton and Prince William appeared alongside Harry and Meghan for the Commonwealth Day service, marking the last time we'll see the Sussexes in an official capacity before their exit becomes official.
Although nothing major happened during the service, inside sources claim that things were different behind the scenes. According to Mirror, one insider says that Harry and Meghan were "upset and emotional" once they learned they would not be a part of Queen Elizabeth's procession.
Instead, the two were escorted to their seats after the rest of the guests had arrived. For reference, Harry and Meghan took part in the procession last year.
The pair will be leaving the ranks of the royal family after March 31. This probably has something to do with why Queen Elizabeth did not want them in the procession, though Buckingham Palace has yet to comment on the decision.
Kate Middleton tried to defuse the tension
With Harry and Meghan not taking part in the march, William and Kate did their best to defuse the tension. To that end, the pair dropped out of the procession at the last minute and took their seats shortly after Harry and Meghan.
The decision was made late on Sunday, which means Kate and William were still listed in the order of service that was printed for the event.
While Kate Middleton and Prince William clearly did their best to smooth things over, it did not go as planned. When the Cambridges took their seats on Monday afternoon, they only exchanged a quick greeting with Harry and Meghan before turning their attention elsewhere.
Until the service started, Meghan and Harry spent most of their time chatting with Prince Edward and Sophie, Countess of Wessex, who were seated next to them.
Kate and William, meanwhile, were one row in front of the Sussexes and pretty much kept to themselves while everyone waited for Queen Elizabeth to arrive.
Kate Middleton offers a kind greeting to Meghan Markle
Although they did not interact much, Kate did offer Meghan a quick greeting when she and William arrived at their seats. We do not know what the couples said to each, but it appears as though Harry and Meghan both said "hello" to the Cambridges.
Last year, Kate Middleton and Meghan Markle exchanged a warm kiss at the event. The circumstances surrounding this year's event are totally different, however, and everyone was a bit more reserved.
The engagement comes at a pretty rough time for the royals. Apart from Harry and Meghan's drama, the family is also dealing with the fallout from Prince Andrew's sex scandal.
After stepping down from his royal post a few months ago, Andrew was not present for the Commonwealth Day service.
Did Kate Middleton and Meghan Markle coordinate their outfits?
Despite all the tension behind the scenes, Kate and Meghan managed to wear complementary colors during the Sussexes' final royal outing.
Meghan looked stylish in a green dress and hat from designer Emilia Wickstead, matching Harry's suit jacket lining.
For her part, Kate dazzled onlookers in a red outfit and hat from Catherine Walker. As fans may recall, the Duchess of Cambridge wore the same dress on Christmas Day in 2018 (which was Meghan's first Christmas with the royals).
While Harry and Meghan will be returning to Canada now that their royal duties are completed, the year is just getting started for William and Kate.
The Duke and Duchess of Cambridge have a packed schedule ahead of them and are expected to take on more responsibilities in light of Harry and Meghan's exit. Prince William and Kate Middleton have not commented on their decision to back out of Queen Elizabeth's procession.