How Kelly Clarkson's Divorce Could Affect Her Relationship With Blake Shelton
Kelly Clarkson and Brandon Blackstock have officially called it quits. The pair just announced their divorce after almost seven years of marriage in a move that shocked many of the couple's fans. With Clarkson and Blackstock being well connected to the music industry, their split could affect some of their close friends — including her The Voice co-star Blake Shelton.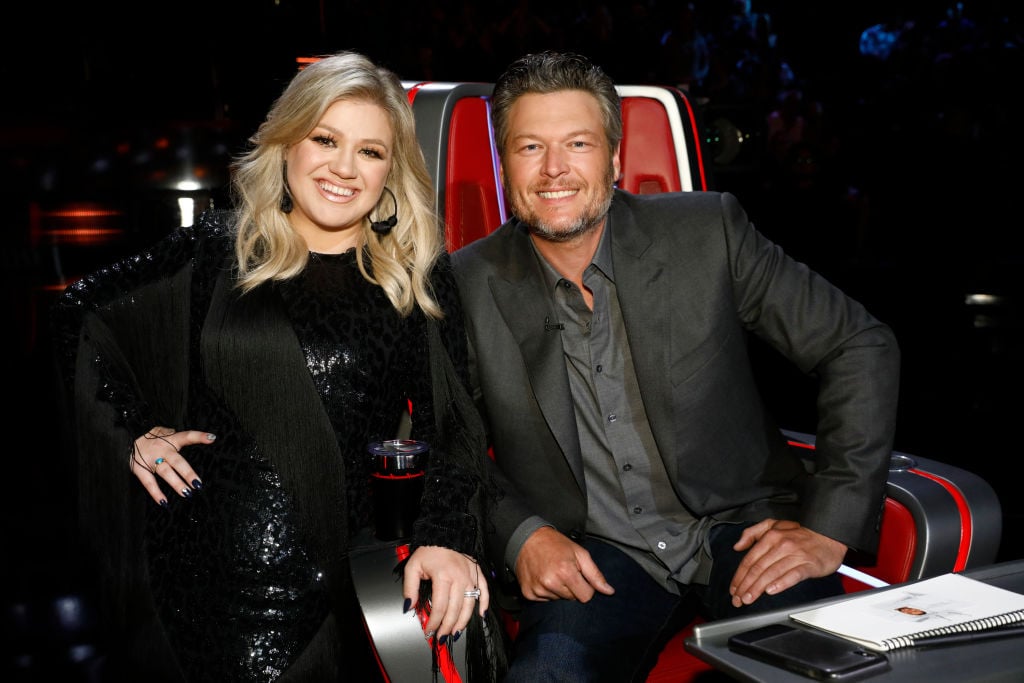 Is the pandemic to blame for Clarkson's divorce?
Clarkson and Blackstock tied the knot in a surprise ceremony in 2013. The couple seemed to be getting along just fine until their recent divorce announcement.
Inside sources claim that the couple had experienced issues in their marriage for a few months, and the coronavirus pandemic didn't help matters. According to Elle, an insider says that the pair hoped that isolating themselves in Montana would give them time to work out their differences — but the exact opposite happened.
"They both hoped quarantining away from LA in Montana would help them work things out in their marriage, but instead the change in environment was actually detrimental," the insider dished.
The source added that being together around the clock made "an already challenging situation worse." After spending the quarantine with each other, Clarkson and Blackstock realized that their marriage was over.
Insiders claim that Clarkson has asked for joint legal and physical custody of the couple's two children. She is also following the premarital agreement they signed in a bid to protect her fortune.
Will Kelly Clarkson cut ties with Blackstock on a professional level?
In addition to their romantic relationship, Blackstock was Clarkson's manager. He inherited the job from his father, Narvel Blackstock, who was the pop star's old manager.
It is unclear if Clarkson and Blackstock will stop working with each other on a professional. According to Talent Recap, Clarkson opened up about their professional relationship in 2018 and revealed that they would be working together even if they were not married.
"He's really talented at what he does and his mind really does work in a completely different way," she stated.
Clarkson has yet to comment on her future working relationship with Blackstock. Regardless of what happens between them, his connections to other people in the music industry could make their split event trickier to navigate.
How will Clarkson's divorce could affect her relationship with Blake Shelton and 'The Voice'
Along with being Clarkson's manager, Blackstock also works with Shelton. In fact, Blackstock was Shelton's manager even before he tied the knot with Clarkson, and the country crooner is the one who encouraged him to get engaged.
Blackstock also has a history with contestants on the show. Brynn Cartelli, who was on Kelly's team in season 14 of The Voice and ended up winning the competition, signed a deal with Blackstock shortly after her time on the show. She has also appeared on stage with Clarkson.
His former stepmother, Reba McEntire, has appeared on the show as a guest coach. Producers were also reportedly looking to hire McEntire as their country coach before settling on Shelton.
There is no telling how Clarkson and Blackstock's split will affect her time on the show, but it certainly makes things complicated for both of them.
Kelly Clarkson spends time alone following divorce news
Following the divorce announcement, Clarkson is back in Los Angeles. According to People, the singer was recently spotted taking her dog on a stroll around her home and sources say that she has spent most of her time with her children.
"Kelly is spending time in L.A. with her kids," an insider said. "She has been low-key and mostly stayed at home."
The source noted that Clarkson "seems to be doing okay," all things considered. Clarkson has not commented on the split, but the pair listed irreconcilable differences as the reason for their divorce.
In recent years, Clarkson and Blackstock have experienced an increase in their daily activities. Along with touring and being a part of The Voice, the couple made the big move from Nashville to LA so that she could work on her talk show, The Kelly Clarkson Show.
In an interview from 2019, Clarkson revealed that Blackstock is the one who pushed for the move, which she admitted took her outside of her "comfort zone."
During their seven years of marriage, Clarkson and Blackstock welcomed two children, River and Remington.