How Long Have the Jonas Brothers Been With Their Respective Ladies? Here's Each Brother's Relationship Timeline
The Jonas Brothers are back. Yes, if you live on planet earth, you're probably aware that the Jonas Brothers have rekindled their pop/rock band's spark and just released a brand new song called "Suckers." But with the song release also came the music video release, which stars each of their three lovely women: Priyanka Chopra, Sophie Turner, and Danielle Jonas. But how long have the guys been with their respective women?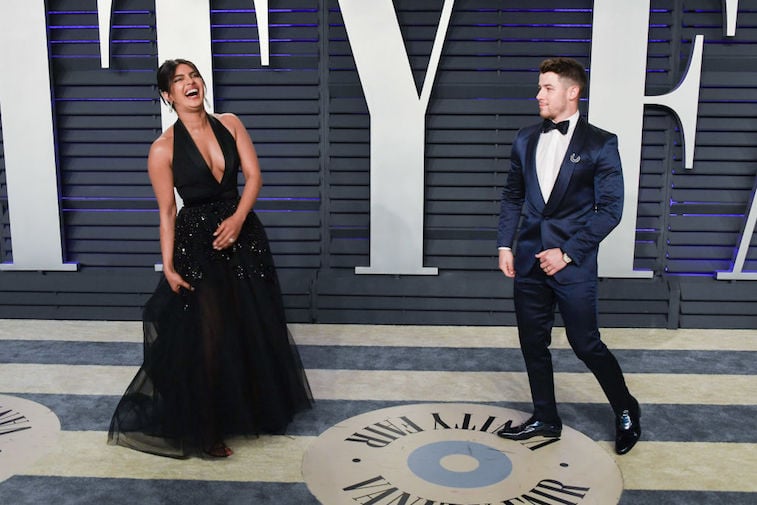 The Jonas Brothers just released a new music video featuring their leading ladies
Heads turned when people heard the Jonas Brothers would be releasing a new song titled "Suckers." The long-anticipated song was released at midnight on March 1, and the video was released as well. And it featured Priyanka Chopra, Sophie Turner, and Danielle Jonas. Priyanka and Nick are married; Sophie and Joe are engaged; Danielle and Kevin are married. The song has lyrics such as, "I'm a sucker for you," and gives each of the women plenty of camera time.
Nick Jonas married Priyanka Chopra in 2018 — but she first caught his eye back in 2016
Nick and Priyanka had a whirlwind relationship. The two only began officially dating in May of last year, but by December, they were married. Priyanka first caught Nick's eye back in 2016, and he took action by sliding into her DMs on Twitter. She asked him to text her instead, and the two hit it off from there. But they didn't officially meet until an Oscars after-party in 2017. They then attended the 2017 Met Gala together, but it was a May 2018 Dodgers game that really sparked the dating rumors. The two were clearly falling in love, and they were married about six months later.
Joe Jonas and Sophie Turner made their debut as a couple in 2016 and were engaged by 2017
Joe and Sophie sparked dating rumors back in October 2016, but it wasn't until they were spotted at a concert together a month later that people truly thought they were dating. Turner made things Instagram official back in January 2017 when she posted a sunny photo of Joe Jonas on a boat. They did their best to keep the relationship private, but the paparazzi were still trying their best to catch a glimpse of the couple. In October 2017, Turner announced her engagement to Jonas when she posted a photo of a ring on her hand to her Instagram feed.
Kevin Jonas married Danielle Jonas at the height of Jo-Bros fame back in 2009
Kevin and Danielle are practically old news; they've been married longer than most celebrity couples, and we couldn't be happier to see they're still so in love. Kevin met Danielle while on a family vacation in the Bahamas back in 2007; Danielle, who is also from New Jersey, instantly fell for the guitarist. The two chose to lay low after the Jonas Brothers broke up in 2013, but it has worked for them; they're still happily married and have two daughters together — Valentina and Alena.
Check out The Cheat Sheet on Facebook!