How Long Have Matthew Broderick and Sarah Jessica Parker Been Together?
In an industry rife with divorce and wrecked relationships, it's refreshing to see a couple that's stayed together for better and for worse. Matthew Broderick and Sarah Jessica Parker have one of those marriages that just seems to work. How long have they been together? Here's what we found out:
On their way to one another
Born March 25, 1965, Sarah Jessica Parker grew up in a blended family with 7 siblings in Nelsonville, Ohio. Classically trained in ballet and singing at the American Ballet School and the Professional Children's School, Parker auditioned for and was cast in a Broadway revival production of the William Archibald play, The Innocents, in 1976. Her family was so supportive of young Parker's dreams of Broadway stardom, the entire family packed up and moved to New Jersey, explains IMDB.
Parker put high school on hiatus for a year so she could star in Annie on Broadway. Upon returning to Dwight Morrow High School, she worked toward graduation while keeping her toe in the acting pool with small roles in made-for-TV movies such as My Body, My Child in 1982. That part inspired director Kim Friedman to cast her in the part of Patty Green on the short-lived sitcom, Square Pegs.
Matthew Broderick was born March 21, 1962, in New York City to actor James Broderick and his wife, playwright Patricia Broderick. As a youngster, Broderick evinced an interest in -and talent for- acting. As a student at the Walden School in Manhattan, the aspiring thespian made his stage debut at the tender age of 17 in a live production of Horton Foote's On Valentine's Day in which he acted opposite his father, James. The part led to numerous job offers, and it wasn't long before young Broderick started making a name for himself in such plays as Harvey Fierstein's Torch Song Trilogy and two Neil Simon productions, Brighton Beach Memoirs and Biloxi Blues.
How they met
Broderick and Parker first met in 1991, shortly after the 5'3″ actress broke off her relationship with Weird Science star, Robert Downey Jr. Prior to her relationship with Downey, Parker was romantically linked with John F. Kennedy, Jr. The blue-eyed actress and the Ferris Bueller's Day Off star were introduced by Parker's brothers Pippin and Toby, who were acquainted with the actor via their theater company, Naked Angels.
Of the early days of their relationship, Parker told Harper's Bazaar that when she and her future husband met, neither of them considered money to be the primary the goal of acting.
"Matthew and I come from a different time and place. When we were young people, all we ever wanted was to be good working actors. We didn't think of fame or money because, honestly, money was never part of the dream."
Going steady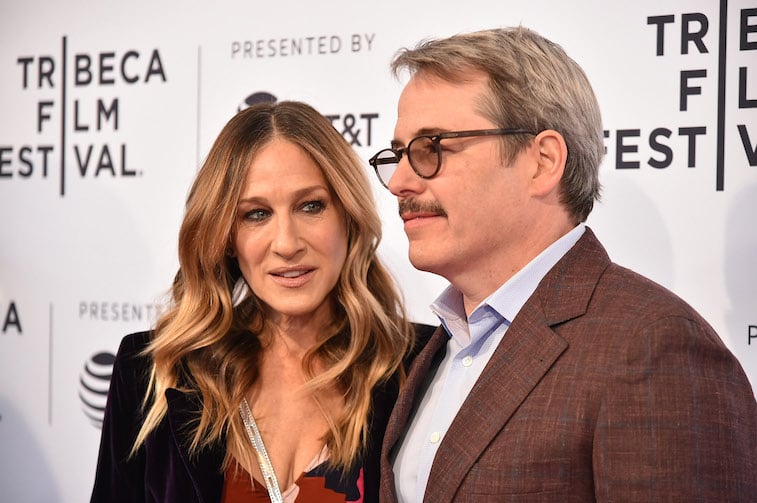 Broderick and Parker took things slow and did not rush right into marriage. Instead, the contented couple dated for a number of years before tying the proverbial knot on May 9, 1997 in a Lower East Side synagogue. The nuptials were a rather hush-hush affair attended by a mere 100 guests who thought they'd been invited to a party, not a wedding. Broderick sported a tux; Parker famously wore a black Morgane Le Fey dress in lieu of a traditional white wedding gown.
They were in no hurry to have kids
Before Parker and Broderick started building a family, they enjoyed one another's company for a leisurely five years. The couple's first child, James Wilkie Broderick, made his earthly debut on October, 2002. In June 2009, the happy family expanded with the help of a surrogate who delivered twin daughters, Marian and Tabitha.
Today, Broderick and Parker have been together for more than 28 years and will celebrate their 22nd wedding anniversary on May 9.