How Many Awards Does 'Shameless' Have?
Showtime dark comedy 'Shameless' has been one of the most popular on the network since 2011. Does the series have any awards? Keep reading to have out.
The premiere of dark comedy Shameless aired on January 9, 2011, on Showtime became the highest-rated series debut in the history of the network.
Even though Shameless has been called "excellent, compelling television from the first moment" by The Hollywood Reporter, and Emmy Rossum has had several standout performances over the past eight years; the show hasn't earned many awards.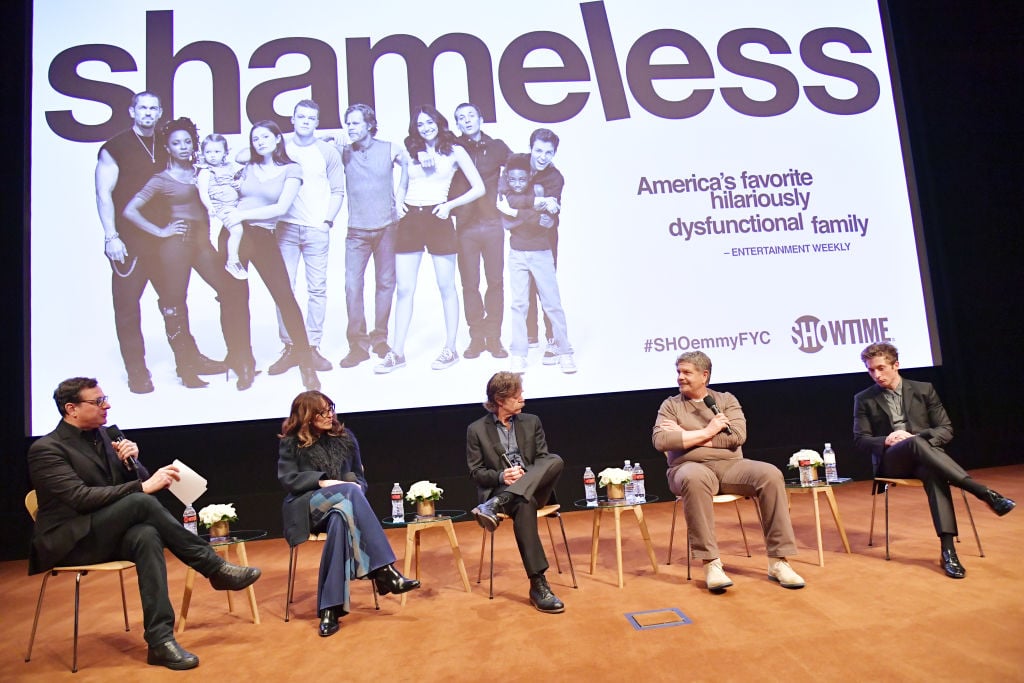 What is the premise of 'Shameless?'
Adapted from the British series of the same name, Shameless revolves around the poor and dysfunctional Gallagher family. The father, Frank, is raising the children on his own as his wife, Monica, has abandoned the family due to her mental illness.
However, the oldest child, Fiona, takes care of her five siblings as Frank spends every day drunk or coming up with the latest scheme to make money. The second oldest Gallagher, Phillip "Lip," is the smartest one but has trouble fighting alcoholism that runs in his family.
Next, middle child Ian was raised as Frank's son, but he is the result of an affair Monica had with one of Frank's brothers. He also suffers from the same mental illness as his mom. Then, there's Debbie, who purposely got pregnant in middle school and goes to great lengths in an attempt to provide for her child.
Carl is the second-youngest child and displayed "psychopathic tendencies" as a child as well as went to juvie after he began selling drugs. However, he attempted to turn his life around by going to military school.
The youngest Gallagher sibling is Liam, who is the only African-American Gallagher despite being both Frank and Monica's child. Still young, he's the only sibling left that's still somewhat loyal to Frank and yearns to learn more about his identity.
The show's creator, Paul Abbott, said he wanted to portray "a much graver level of poverty" where it's "no collar." Showrunner John Wells explained he wanted to depict them as people who could live "four blocks down from you."
'Shameless star' Emmy Rossum requested more pay
Emmy Rossum made her directorial debut in Shameless Season 7 Episode 4 (October 2016). Two months later, she asked for more payment than William H. Macy to compensate for the prior six seasons, where she received less money than him.
The work on Season 8 was delayed until Rossum, and Warner Bros. Television settled. After only a couple of weeks, the lead Gallagher character tweeted that she would return the series.
In August 2018, Rossum announced that Season 9 would be her last. A month later, Cameron Monaghan also said he would also depart from the series, but he did return for Season 10.
Does 'Shameless' have any awards?
While Shameless has received over 40 various award nominations since 2011, including 14 Primetime Emmys, four Critics Choice Television Awards, and two People's Choice Awards, they've only walked with a total of nine wins.
2012 PRISM Award for Comedy Series – Substance Use
2012 PRISM Award for Best Performance in a Comedy Series (William H. Macy)
2013 BMI Cable Television Music Award (Fil Eisler)
2015 Screen Actors Guild Awards for Outstanding Performance by a Male Actor in a Comedy Series (William H. Macy)
2015 Primetime Emmy Award for Outstanding Guest Actress in a Comedy Series (Joan Cusack)
2016 and 2017 Primetime Emmy Award for Outstanding Stunt Coordination for a Comedy Series or Variety Program (Eddie Perez)
2017 and 2018 Screen Actors Guild Award for Outstanding Performance by a Male Actor in a Comedy Series (William H. Macy)
Watch Shameless Sundays at 9 p.m. EST on Showtime