How Many Celebrities Have an EGOT?
Earning an EGOT is a pretty incredible feat and a true testament to a celebrity's talent. The list currently includes John Legend, Rita Moreno, and Audrey Hepburn.
You've heard it before. You've seen it in headlines and during award season. "Will this celebrity get an EGOT?" "That celebrity is one step closer to an EGOT." But what does this really mean? 
Let's dive into the story behind the EGOT, how it originated, and why it's such a big deal. We'll look at who officially has the EGOT. And which of your favorite actors, performers, and entertainers are close to earning the distinction.
What is an EGOT, anyway?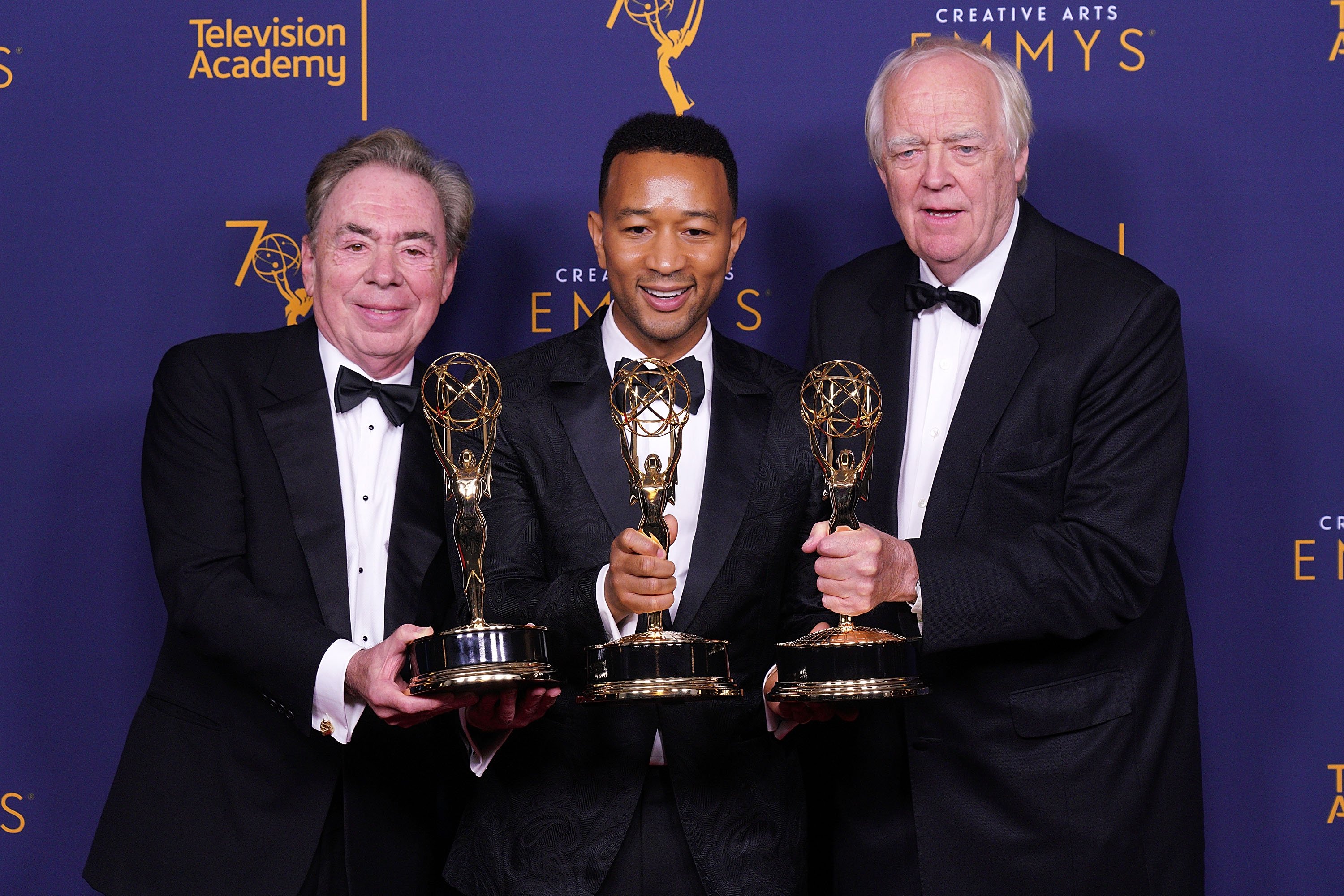 Let's cut right to it. An EGOT is like the ultimate grand slam for anyone in TV, film, recording, theater, or entertainment. It's an acronym that stands for Emmy, Grammy, Oscar, and Tony — the four coveted awards of those industries. Only a select few manage to earn them all, thus being crowned as "having an EGOT."
So, where did the EGOT term come from, anyway? You'll have to flashback to a little show called Miami Vice the mid-'80s for the answer. Philip Michael Thomas, half of the dynamic Miami crimefighting duo, was also trying to make a name for himself in the fashion and music worlds. Thomas was so ambitious about all of his projects that he wore a gold medallion representing his dream, with the four letters, E, G, O, and T. 
As Mental Floss reports, back then, those letters may have stood for energy, growth, opportunity, and talent. But soon, EGOT emerged with a new translation, representing the four big awards most commonly known today.
In more recent years, EGOT made an appearance on the show 30 Rock. So, some believe that's where the acronym began, as The Atlantic points out in its look back into the term's history. But the origins lie with Philip Michael Thomas, with his gold medallion of goals. And no, Thomas has yet to be nominated for any of the big four awards.
16 celebrities have the EGOT distinction as of 2022
The list of official celebrity EGOT earners is pretty short, hovering around 12 if you don't include specialty awards. Most of those distinguished enough to have won all four awards are older or have already died. Here are all 16:
Richard Rodgers
Helen Hayes
Rita Moreno
John Gielgud
Audrey Hepburn
Marvin Hamlisch
Jonathan Tunick
Mike Nichols
Whoopi Goldberg
Scott Rudin
Robert Lopez
Andrew Lloyd Webber
Tim Rice
John Legend
Alan Menken
A few legendary names you'll recognize from the list: Hepburn wasn't alive to celebrate her EGOT status, with her Emmy for Gardens of the World with Audrey Hepburn and her Grammy for Audrey Hepburn's Enchanted Tales coming after she died. She did, however, enjoy her Oscar for Roman Holiday and her Tony for Ondine.
Brooks became the eighth EGOT celebrity in 2001 at 75 years old. He took home three Tony Awards that year for The Producers. His other award-winning works secured the remaining three in the EGOT quad: The Sid Caesar, Imogene Coca, Carl Reiner, Howard Morris Special, Mad About You, and The 2000 Year Old Man in the Year 2000. Brooks is quoted as saying, "I'm an EGOT now," and he didn't need any more awards.
Some other celebrities in this elite category of EGOT fame include Goldberg, Lopez of "Let It Go," and Frozen fame, Tim Rice, Andrew Lloyd Weber, and John Legend. Legend, a more recent honoree, is the first black male to earn an EGOT and also the youngest ever to do so.
Celebrities close to getting an EGOT
The list of official EGOT celebrities may be short, but the roster of almost-EGOT earners is sizable. Because there are non-competitive or honorary awards, a few sort of qualify for EGOT status, including Liza Minnelli, Barbra Streisand, James Earl Jones, and Harry Belafonte.
In the almost-EGOT category, you'll find legends like Jessica Tandy, Robin Williams, and Henry Fonda, who were one award shy of the distinction. Others who still have a shot include Julie Andrews, Cher, Elton John, Martin Scorsese, John Williams, Viola Davis, Randy Newman, and Al Pacino. Even South Park creators Matt Stone and Trey Parker are only one Oscar shy of an EGOT status.
Earning an EGOT is a pretty incredible feat and a true testament to a celebrity's talent. And there will surely be others to join the list, considering the top talent on the almost-EGOT list, too.