How Many Children Does Tiger Woods Have and Are They Following In Their Father's Golfing Footsteps?
Tiger Woods is one of the most popular and successful golfers in the world. He became a household name in 1997 when he won the Masters by a record 12 strokes. He was 21 at the time making him the youngest golfer ever to wear the green jacket and that was just the beginning of his dominance.
But over the years, Woods has made headlines for more than what he's done on the golf course. At a time when his professional career was soaring, the athlete's name was in the tabloids for problems in his personal life. Not only did his reputation take a hit but so did his game. Woods bounced back though and is at the top of the golf world once again and he recently spoke about if we will one day see his kids play the sport their father has dominated for so long.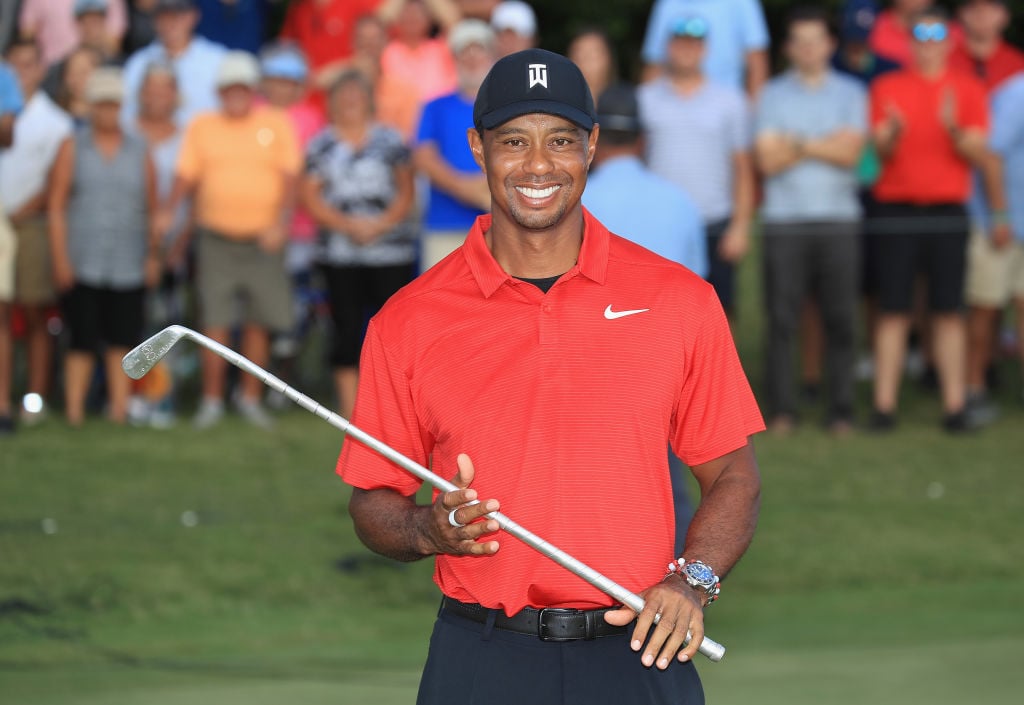 How many children does he have?
Woods has two children with his ex-wife, former Swedish model Elin Nordegren.
In August 2007 they welcomed their first child, a daughter they named Sam Alexis Woods. Many figured that her first name was short for Samantha, but that's not the case. Her name is actually an ode to the golfer's late father, Earl Woods.
"We wanted to have a name that would be meaningful to either side of the family, my side or Elin's side, because she was born [the day after] Father's Day. It just happened to fit. My father had always called me Sam since the day I was born. He rarely ever called me Tiger," Woods explained. "I would ask him, 'Why don't you ever call me Tiger?' He says, 'Well, you look more like a Sam.'"
Nordegren gave birth to their son, Charlie Axel Woods, in February 2009. But that same year the pair's marriage crumbled and played out in the national spotlight.
Woods and Nordegren had a falling out on Thanksgiving after she discovered that he had been cheating on her. She reportedly chased him out of their mansion wielding a golf club. Woods fled their home in his Cadillac Escalade and hit a fire hydrant before crashing into a tree. The rest of the world soon learned about the golfer's infidelity and he took a hiatus from the sport for several months.
The two divorced in 2010 but despite their messy split, Nordegren praised Woods when she spoke about co-parenting with him.
"My relationship with Tiger is centered around our children and we are doing really good — we really are — and I am so happy that is the case. He is a great father," she said in an interview with People.
Golf is taking a backseat to another sport
Even though Sam and Charlie's father is one of the greatest golfers in the world, they may not follow in his footsteps since they're solely focused on another sport at the moment and Woods is okay with it.
"They're keen into soccer," he told Golf.com. "If they want to play golf, that's great. If they don't, that's fine, too. As long as they have a good time playing sports."
Woods continued, "I find that a lot of fun now, to be able to physically get out and pass the ball around with them. I get such a big kick out of watching them compete and play. It's so much fun to see how happy and passionate they are about soccer."
While it may not be their sport of choice now, Sam and Charlie aren't strangers to playing on the golf course. In fact, Woods once talked about how good of a swing his son had.
"He's got some parts in his swing that I'm trying to do," Woods said with a smile.
Charlie played in his first tournament, a U.S. Kids Golf event, in 2016. He shot a 55 for nine holes and came in second, so yes there is a chance that we may see him competing in a major one day.
Read more: Who is Phil Mickelson Married to?