How Many Comedy Specials Does Joe Rogan Have?
Joe Rogan is a public figure that has never quite fit in any one box. Though he is now best known by many for his career as a stand-up comedian and host of his own wildly successful podcast, The Joe Rogan Experience,
Rogan has had a long and winding career that has spanned decades. From martial artist, to comedian, to actor, to host, Rogan certainly has a lot of experiences to draw from for his various shows and performances.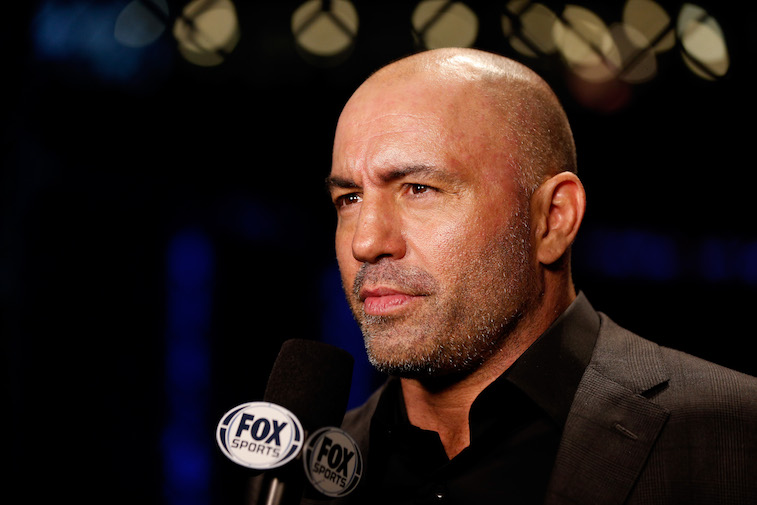 Joe Rogan was a martial arts champion
Rogan was born in Newark, New Jersey and moved around a lot as a kid. He always felt out of place and admits that in his early teen years he was scared of being a loser. At 15 he was embarrassed in front of his peers when a classmate got him in a headlock.
That was it for Rogan. He began learning Tae Kwon Do and was a lightweight champ in the sport by 19.
He quit competing at 21 because of headaches and other health concerns, but taught martial arts for work in addition to doing other odd jobs, like driving around a private detective who had a DUI. It was around this time, in 1988, that he started trying out stand up for fun, and the hobby he picked up on a whim stuck.
Joe Rogan has been doing stand up for decades
Rogan performed stand-up anywhere he could, even bachelorette parties. He took some time off for other career pursuits over the years, but eventually came back to it in the 2000s. His first comedy special, Joe Rogan Live came out in 2007, the same year as his CD Shiny Happy Jihad.
After that, he released a stand-up special every few years, totaling six in all. His two most recent, Joe Rogan: Triggered (2016) and Joe Rogan: Strange Times (2018) are both available streaming on Netflix currently. He also has an earlier CD recording from 2000 called I'm Gonna Be Dead Someday.
How did Joe Rogan become famous?
Rogan has a long since forgotten acting career, so long ago, in fact, that even he doesn't quite remember it now. In a 2017 episode of his podcast, he reminisced about his very first sitcom from 1994, Hardball.
He couldn't remember the names of the show creators or many of the other actors he worked with, but he did remember some details from the experience: "That's when I had to move to California. I was miserable," he said, later adding that when the show was eventually canceled he wanted to move back to New York City but had already signed a lease.
Rogan also had some issues with the showrunner and was brutally honest when he didn't like the script rewrites. That almost got him fired. "I was crazy back then… I had zero filter. I never thought I was going to be an actor in the first place."
Though Hardball didn't take him far, his next show News Radio gave him his breakout role and lasted from 1995-1999.
Joe Rogan has hosted several shows across various platforms
His acting credits after his News Radio days are few and far between, but his hosting career took off. Many reality TV fans may know him from his days hosting the scary and often disgusting show Fear Factor in the early 2000s. He also acted as host on The Man Show, originated by Adam Carolla and Jimmy Kimmel.
Rogan's martial arts experience combined with his hosting acumen also landed him a reoccurring gig as commentator for UFC. UFC president Dana White goaded him into the job, offering him and his friends free tickets his first few times hosting, and then eventually turned it into a paid position for Rogan.
"He's the best fight announcer who has ever called a fight in the history of fighting," White said.
Despite coming a long way from his "crazy" days as a young LA actor, Rogan still manages to ruffle some feathers, however, especially when it comes to his support of drug use.
He told Rolling Stone magazine in 2015: "Like, you're not supposed to be a psychedelic proponent and a cage-fighting commentator at the same time. Those two things joined are just too fucking weird, you know? I mean, I don't get it. And I'm me."