How Many Duggars Are Married and Who Will Get Married Next?
The Duggar family is one of the largest families in the United States. With so many children, it can be difficult to keep track of where everyone is in their lives, including how many are married, how many have babies, and more. Here's how many Duggars have actually tied the knot, plus who fans think will get married next.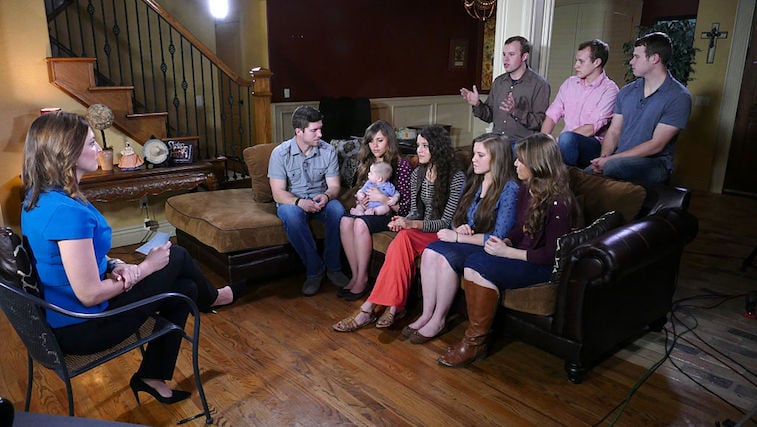 Michelle and Jim Bob Duggar have 19 kids
Michelle and Jim Bob Duggar are the heads of the household in the Duggar family. Together, the couple has 19 children, and they raised all of their kids in a very religious household. The kids had strict rules to follow while growing up, and when it came to relationships, the rules got even tighter. Duggars were not allowed to go on solo dates with people they were courting; chaperones always had to attend as well. Plus, the Duggars weren't allowed to hug or kiss those they were courting; only one-arm side hugs were allowed. Once engaged, couples could then give full hugs. That could be the reason the Duggar children mostly choose to marry so young.
Eight Duggars are currently married
Out of the Duggars' 19 kids, eight are currently married. Josh Duggar, the oldest of the family, was the first to marry; he wed Anna Duggar back in 2008. The couple went through a serious rough patch when Josh's abuse scandal and Ashley Madison accounts both leaked at similar times, but they worked through it and have five children together. Jill and Jessa were also both married on the TLC show 19 Kids and Counting, which was canceled once Josh's past was made public. Since then, five more Duggars have wed on the spinoff show Counting On.
Two Duggar couples will welcome new babies later this year
Now that nearly half the children have married, it's inevitable the family would welcome plenty of babies. Josh and Anna Duggar currently have five children; Jill and Jessa Duggar each have two boys; Jinger, Joy, and Joseph each have one. But in January, Jessa and husband Ben Seewald announced they'll be welcoming their third child in early June. And in April, Joe and Kendra Duggar announced their second baby is on the way. Right now, there are only two babies in the works, but it wouldn't surprise anyone if other Duggar pregnancies were announced later this year.   
Fans suspect Jason Duggar may be next to walk down the aisle
Right now, there aren't any Duggars officially courting (at least not that the public knows of). But fans suspect Jason Duggar may be the next to walk down the aisle, since he was recently rumored to be courting. The rumors flew because Jason had supposedly started courting Lauren Caldwell, who is the younger sister of Kendra Caldwell — Joe Duggar's wife. Right now, it's up in the air whether the two are actually an item, which means right now, it's anyone's guess who might be the next Duggar to get married. Fans also would love to see Jana Duggar tie the knot; she's the oldest Duggar daughter, but she hasn't found "the one" just yet.
Check out The Cheat Sheet on Facebook!