How Many Grandchildren and Great-Grandchildren Does Queen Elizabeth II Have?
When we think of Queen Elizabeth II's grandchildren, Princes William and Harry immediately come to mind, and when we think of Her Majesty's great-grandchildren Prince George, Princess Charlotte, and Prince Louis might pop into our heads. However, they're certainly not her only grandchildren and great-grandchildren.
So just how many grandkids and great-grandkids does the queen actually have?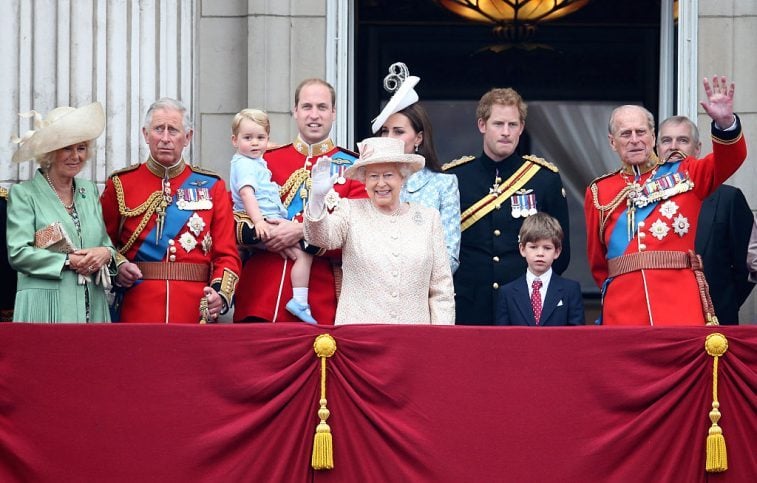 Queen Elizabeth had four children of her own — Prince Charles, Princess Anne, Prince Andrew, and Prince Edward — and today she has eight grandchildren and 12 great-grandchildren.
Grandchildren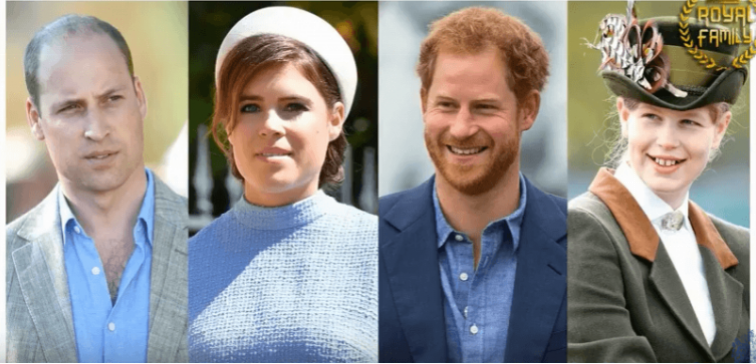 Peter Phillips
Their eldest grandchild is Peter Phillips, who tends to stay out of the spotlight as much as possible. He is the son of Princess Anne and Captain Mark Phillips and is married to Autumn Kelly.
Zara Tindall
Zara Tindall is the oldest of the queen's granddaughters and the only daughter of Princess Anne and Mark Phillips. She is a skilled equestrian and married to former rugby player Mike Tindall.
Prince William
Next is Prince William, who is Princess Diana and Prince Charles' son and the second-in-line to the British throne. He married Kate Middleton in 2011 and the couple received the titles of the Duke and Duchess of Cambridge.
Prince Harry
Then, of course, there is William's brother Prince Harry. He married his wife, Meghan Markle, in May 2018 at which time they were given the titles of the Duke and Duchess of Sussex.
Princess Beatrice
Princess Beatrice is the daughter of Prince Andrew and Sarah "Fergie" Ferguson, the Duchess of York. Unlike her cousins William and Harry, she is not considered a full-time working royal.
Beatrice has a job as the vice president of partnerships and strategy for Afiniti, which is a U.S.-based technology company.
Princess Eugenie
Princess Eugenie is Beatrice's younger sister, who is also not considered a working royal. The princess has a degree in art history and English literature and has worked at an art gallery since 2015 where she is the associate director.
Lady Louise Windsor
Lady Louise Windsor is Prince Edward and Sophie, the Countess of Wessex's daughter. When she was born in 2003, she was eighth in the line of succession to the British throne but today is 12th.
James, Viscount Severn
The youngest grandchild of the bunch is Edward and Sophie's son, James, Viscount Severn. He and his sister are rarely seen in public and his parents say that's because they want them to have as normal of an upbringing as they possibly can.
Great-grandchildren
Savannah Phillips
Queen Elizabeth and her husband's oldest great-grandchild is Savannah Phillips. She was born in 2010 and is the daughter of Peter Phillips and Autumn Kelly.
Isla Phillips
Savannah's little sister, Isla Phillips, was born in 2012. Her middle name is Elizabeth which is believed to be a nod to her great-grandmother.
Prince George
Prince George is the first-born son of Prince William and Duchess Kate. The toddler and his sister are the most visible of the queen's great-grandchildren. When George was born he became the third in line of succession, bumping his Uncle Harry down from the spot he held for years.
Mia Tindall
Mia Tindall is Zara Phillips and Mike Tindall's daughter. She was born in 2014 and does not have a royal title because only a monarch's grandchildren through sons automatically receive royal status.
Princess Charlotte
The adorable Princess Charlotte, who was born in 2015, is William and Middleton's middle child. She is fourth in line to the throne thanks to the Succession to the Crown Act which amended the system so that males no longer take precedence over their older sisters.
Prince Louis
George and Charlotte's brother, Prince Louis, was born in April 2018 and is the Duke and Duchess of Cambridge's third and youngest child. Therefore, he sits behind his siblings at fifth in line.
Lena Tindall
Zara and Mike Tindall's daughter, Lena, was born in June 2018 and just like Isla Phillips and Princess Charlotte her middle name is also Elizabeth.
Archie Harrison Mountbatten-Windsor
Prince Harry and Meghan Markle's son, Archie, was born on May 6, 2019. He is currently seventh in the line of succession to the British throne.
August Philip Hawke Brooksbank
On Feb. 9, 2021, Princess Eugenie and her husband, Jack Brooksbank welcomed their baby boy August. The child is 12th in the line of succession behind his mother.
Lucas Philip Tindall
It was announced on March 21, 2021 that the Tindalls welcomed their third child together. Their son, Lucas Philip Tindall, will be known as Master Tindall and is 23rd in line to the throne.
Lilibet Diana Mountbatten-Windsor
The Duke and Duchess of Sussex's second child was born on June 4, 2021. Harry and Meghan's daughter is eighth in the line of succession behind her big brother Archie.
Sienna Elizabeth Mapelli Mozzi
Princess Beatrice and her husband Edoardo Mapelli Mozzi welcomed their daughter, Sienna Elizabeth Mapelli Mozzi, on Sept. 18, 2021. It's belived that her first name pays tribute to Edo's Italian familial roots while her middle name is of course after her great-grandmother the queen.