How Many Kids Does DJ Khaled Have?
DJ Khaled is known for his big personality. He has a fashion sense to match, and fans are used to seeing him decked out in iridescent colors, or even all gold outfits. It may surprise casual fans to know he comes from humble beginnings.
DJ Khaled was born to Palestinian parents in Louisiana. He wasn't handed his success, he really had to earn it. Some of his tips for success have become memes, and it often seems that the internet community doesn't take his advice seriously. That may be a mistake. DJ Khaled is a self made man. He's more complex than he gets credit for. More than an influencer and a rapper, DJ Khaled is a smart businessman, and a dedicated father. 
DJ Khaled's first son is already famous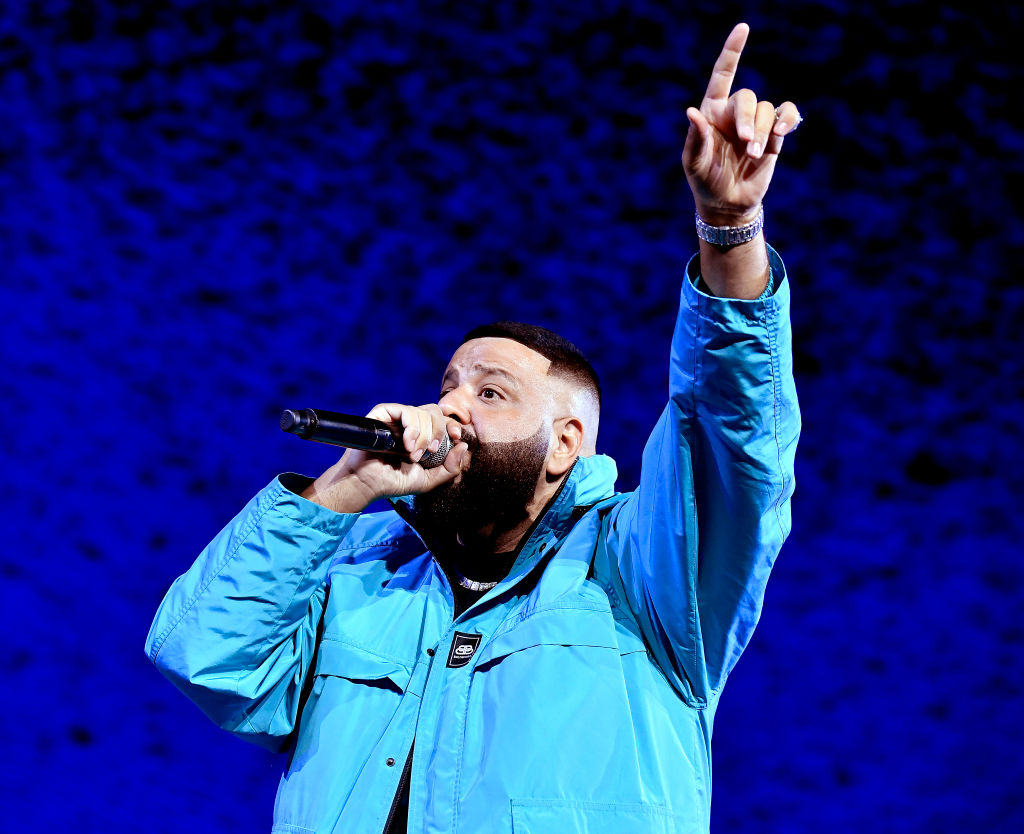 Asahd, DJ Khaled's firstborn was born on October 23rd, 2016. Asahd will be 4 this year, and unlike most 4 year olds, he already has an album named after him.
DJ Khaled was ecstatic when his first son and child was born. In his usual fashion, he first took to social media to thank God and his wife.
His tearful Snapchat post was touching, but a representative of DJ Khaled gave more details to Us Weekly, saying "DJ Khaled and Nicole Tuck welcome their son, a beautiful, healthy young icon, Asahd Tuck Khaled, born at 2:05 a.m., 7 lbs 14 oz., and 21.5 inches long, on October 23rd, 2016. The meaning of Asahd is Lion in Arabic."
DJ Khaled has said many times how grateful he is to be a father. He even produced not one, but two albums in honor of his son. Grateful came out in 2017, and Father of Asahd was released in 2019.
DJ Khaled and Nicole Tuck just had baby number two
Now DJ Khaled has even more reason to be grateful. He and his wife welcomed a second child this January. On the 21st, DJ Khaled posted a picture of himself high-fiving the doctor who delivered his newest bundle of joy.
His caption read "THANK YOU ALLAH ! THANK YOU MY QUEEN NICOLE ! BLESS UP DR JIN ! ANOTHER ONE !!!!!!!!!!!!!!!!!!!!"
This wasn't the first fans had heard about the new member of the Khaled family. DJ Khaled previously announced he and Tuck were expecting another boy in September of 2019. He posted how happy he is to be a father to Asahd, and how he was over the moon at the prospect of another son. "Just when I thought life couldn't get any better, I received another blessing that my queen is expecting an addition to our legacy. I'm feeling more inspired than ever now. … ALLAH I LOVE YOU SO MUCH! MY QUEEN I LOVE YOU SO MUCH! ASAHD I LOVE YOU SO MUCH! And to the little boy in my QUEEN'S BELLY I LOVE YOU SO MUCH!"
His new baby boy is named Aalam, which means world in Arabic.
Who is Nicole Tuck?
DJ Khaled has always expressed gratitude to his wife for bearing his sons. She may be responsible for more than just helping him grow his family. The mother of two is incredibly intelligent and capable. She has a Masters degree in Education, but spends most of her intellectual energy on her husband's career.
They've been married for 11 years, long before DJ Khaled found the notoriety he has today. She helps manage him, but they're very different people. Tuck is not active on social media at all, which is the complete opposite of DJ Khaled.
Somehow these two make things work, and they both seem very excited to welcome Aalam into the family. Based on DJ Khaled's social media posts, Aalam and Asahd are already the best of friends.