How Many Kids Does John Oliver Have?
When he's not acting, doing standup, or working on his popular HBO news commentary show, John Oliver is busy doing all the dad things.
We're so used to seeing John Oliver's blisteringly satiric side on Last Week Tonight that we barely ever think about his family life. Even though we all have a specific persona we know Oliver for, his family life is undoubtedly a lot more serious, as far as we know.
One thing we do know is John Oliver's relationship with his wife was and is very serious. He married an American with a brave and notable background. Together, they've had kids amid many entanglements with Oliver getting his American green card.
Take a minute to look at his family life and how they likely shape the subjects he touches on with LWT.
How John Oliver met his wife, Kate Norley
A lot of comedians have oddball tales about how they met their wives. Oliver's is arguably one of the most ironic in meeting a future wife through sheer fate.
It started when Oliver and company went to cover the Republican National Convention for The Daily Show in 2008. As you might guess, they ran into chaos there, including the fear of being arrested by security.
Because Oliver wasn't an American citizen yet, he worried about losing his job if finding himself in trouble with the law for breaching a restricted area. Nearby was a group of Iraq war veterans who saw Oliver's plight and hid him and his crew away from security officers.
One of those vets was Kate Norley who fought in the Iraq War as a medic. She and Oliver had an instant connection, despite the two being polar opposites politically.
The beauty of a mixed political marriage
If you think a left-leaning comedian and a Republican can't find love, think again. Norley was a Republican, and Oliver sided more with the left back in 2008.
This didn't stop them from falling madly in love, dating for a couple of years, then tying the knot in 2011. While it's certainly not unusual to see mixed political marriages, you don't always see them in the entertainment world.
Some might argue such a marriage is better for the intellect thanks to seeing another side to a political opinion. After all, look how interesting (and sometimes volatile) the marriage of George and Kellyanne Conway is.
Maybe John Oliver gets a lot of his political subject ideas based on discussions with his wife.
John Oliver's children
It took a few years before Oliver and Norley decided to have children. Not until 2015 did she give birth to a son, prematurely. He survived (and named Hudson), yet took another three years before they had another child.
Another son came along in 2018 with Oliver once joking about wanting to keep the birth of his children under the radar. We can see why when his satiric persona is likely very different from his personal life.
Now we have to wonder how his kids will deal with parents promoting differing political views. From all indications, Oliver supports his wife in various ways.
Will Oliver's kids follow in his footsteps?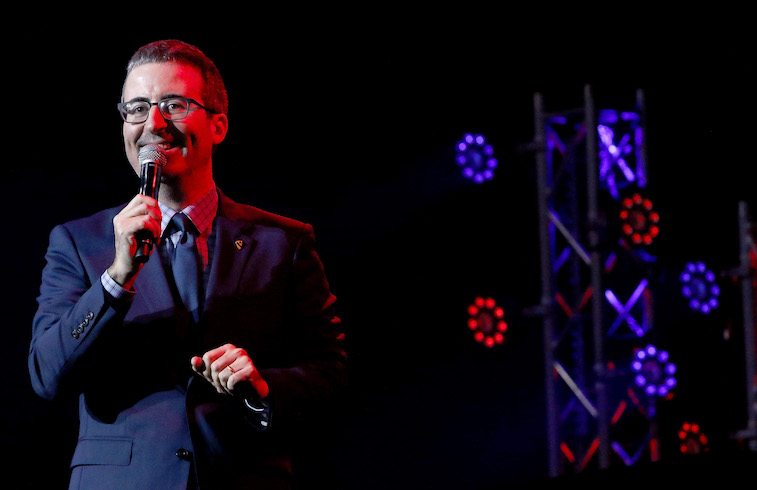 One can only imagine how fun it must be to have a master satirist like John Oliver as your dad. Even if his two sons are too young to understand Last Week Tonight immediately, we hope Oliver is just as funny around the house.
At the same time, we can't help imagine Oliver and Norley taking on heated political debates. With Oliver often wearing a lapel pin representing Norley's 1st Cavalry Division from the Iraq War, they may be more simpatico than we think.
Their marriage may be a good template for getting along in a time when so many other families almost require partitions due to political division.