How Many Kids Does Tristan Thompson Have?
In recent seasons, NBA player Tristan Thompson has appeared in more headlines for his off-court exploits than for his on-court play. While he's a solid contributor for his team, he's also well known for the women he dates. The news regarding his various relationships isn't always flattering for him.
Thompson had a relationship with Khloé Kardashian that generated plenty of controversies. Let's take a closer look at that relationship, as well as how many kids Thompson has.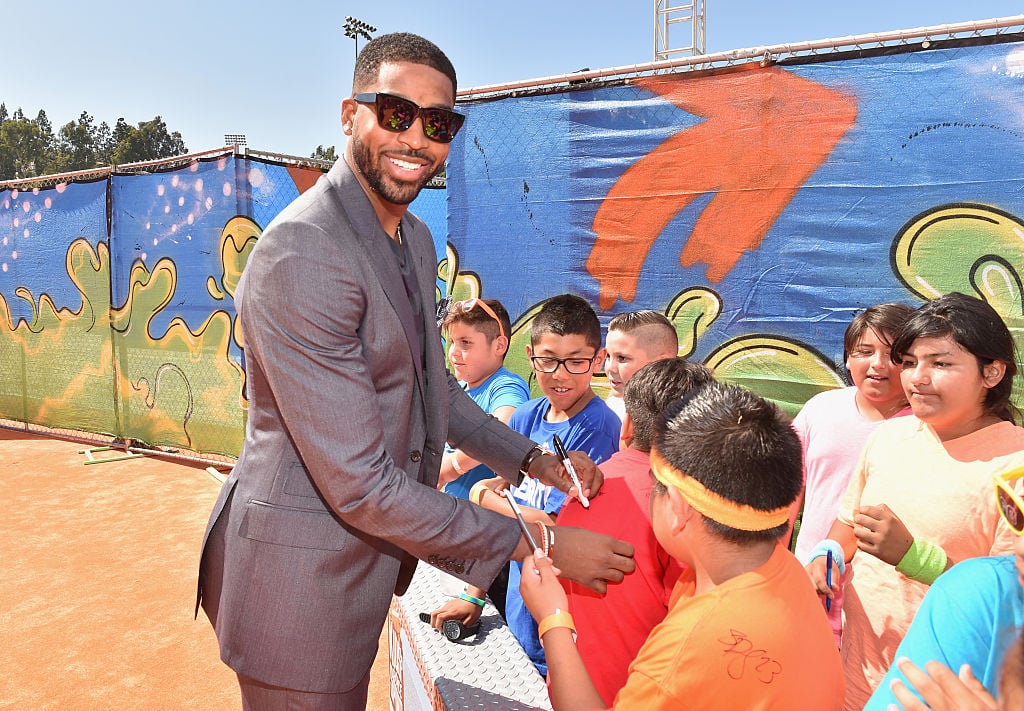 Who is Tristan Thompson?
Thompson is a 6'9″ forward for the Cleveland Cavaliers. According to Basketball Reference, Thompson was the fourth overall pick in the 2011 NBA Draft. He's been with the Cavs for eight seasons and has played in multiple NBA Finals with the team, helping them win one over the Golden State Warriors in 2016.
Here are Thompson's career statistics:
619 games played
9.4 points per game
8.7 total rebounds per game
1.0 assists per game
Shot 51.8% from the field
Player Efficiency Rating of 15.6
43.1 Win Shares
Thompson's main strength is as an offensive rebounder. Since LeBron James left the Cavs for the Lakers a couple of years ago, Thompson has played a bigger role in the offense. He's averaged in double figures for his point-per-game averages the last two seasons.
Tristan Thompson and Khloé Kardashian's relationship
RELATED: This Is How Khloé Kardashian Really Feels About Tristan Thompson's Flirty Instagram Comments
Business Insider reported that Thompson and Kardashian were first linked together in 2016, when TMZ spotted the couple leaving a club together. Later that same year they'd go to Mexico on vacation and announce that they were a couple via social media. According to the Business Insider article, Kardashian said everything was good between the two as late as 2017:
"It's such a great feeling that I have my happy back! It's from a genuine place and the most peaceful place I've been in for longer than I can even remember…I think when you're in love you definitely feel happy and healthy too. I like that my relationship is very normal and doesn't need to be so publicized all the time."
Based on Kardashian's dating history of predominantly dating basketball stars, it seemed like a perfect fit. In September 2017, Kardashian announced she was pregnant with Thompson's baby. Unfortunately, in April 2018 TMZ released footage of Thompson kissing other women. Despite his transgressions, Thompson was present for the birth of their child, True, that same month.
The two tried to make a go of it, but by February 2019 reports began to surface that they'd split. The nail in the coffin for their relationship were reports that Thompson was caught making out with Jordyn Woods, a friend of Kylie Jenner's.
How many kids does he have?
RELATED: Tristan Thompson Reportedly Takes DNA Test After Woman Claims to Have Had His Third Child
According to Who.com, Tristan Thompson has two children: his son Prince, with his ex-girlfriend Jordan Craig, and True, with Kardashian. Prince was born in 2016, two years prior to True.
There's a lot of negative things one can say about Thompson: he's not a great basketball player by NBA standards, and he allegedly cheated on Kardashian frequently. But one thing no one can accuse him of is being a bad parent.
From all accounts, Thompson is an exemplary father and role model for both his children. He takes an active role in their life, ensuring he spends plenty of time with each. Neither mother has had a bad word to say about him as a father. That's not as widely known because it doesn't generate as much attention as a cheating scandal, but it's worth pointing out.
Thompson may get many things wrong, but on the most important thing — being a good Dad — he seems to have gotten it right.