How Many Movies Have Ben Affleck and Matt Damon Appeared in Together?
Ben Affleck and Matt Damon have each had successful film careers in their own right with dozens of films between them, but their joint notoriety has a famed reputation all its own.
Since writing and starring in their 1997 surprise hit, Good Will Hunting, Matt Damon and Ben Affleck have remained one of Hollywood's most enduring friendships and inspiring creative partnerships. Since the late nineties, they have worked on several films and a number of television projects together.
Let's take a look at what they've done so far and what they are still planning to do as a team in the years to come.
Affleck and Damon's early years together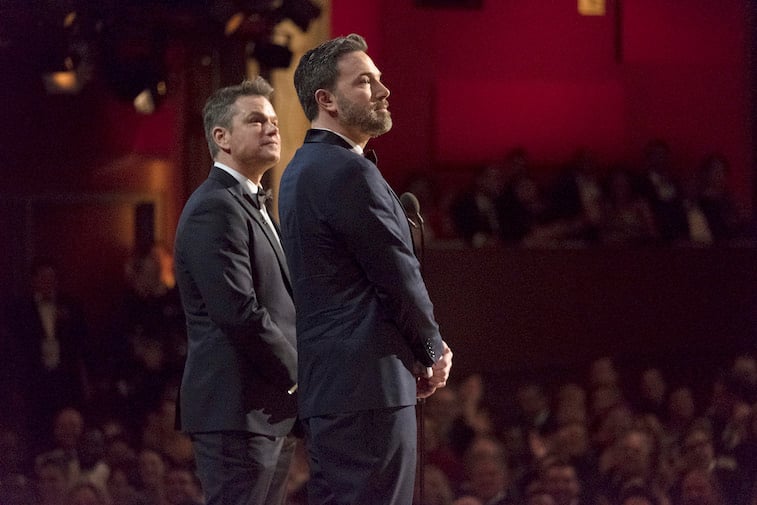 Affleck and Damon grew up together in Massachusetts and have been friends since the ages of 8 and 10 respectively. After some time apart during college, the two were soon together again in Los Angeles, pushing each other to continually audition and pursue their goals in the industry they loved.
It may surprise some to know that Good Will Hunting wasn't the first time the duo had been together on the big screen. In 1989 they both worked as extras in Field of Dreams. In 1992 they worked on the film School Ties where Damon had a lead role alongside Brendan Frasier, and Affleck played a minor part.
In the 1995 film Glory Daze, this dynamic reversed. Affleck was the star of the film, playing an angsty soon-to-be college grad Jack, navigating his way through early adulthood. Damon was only a minor player in this film.
The script for Good Will Hunting began as a college project for Damon, and while the two were living together in LA, Affleck began to help Damon flesh out and improve the script. Their completed final product went on to win them the Oscar for Best Original Screenplay.
'Project Greenlight' and 'The Runner'
In late 2001 the pair released their docu-series Project Greenlight, which aimed to showcase up and coming filmmakers on their journeys to create new films. The show only received two seasons on HBO and was then picked up by Bravo for a third season before laying dormant for ten years. In 2015, HBO picked up one final season of the show but decided not to continue on for a fifth season.
The pair wasn't deterred from continuing to create, however, and were finally able to produce their long-conceived reality show, The Runner, in 2016.
The show followed a single runner as he ran his way across the United States trying to avoid "chasers" on his tail who were given hints as to the runner's whereabouts from the viewers at home.
Affleck and Damon's newest project
In all, Affleck and Damon have appeared in around nine feature films together in the late 90s and early 2000s, eight if you don't count their extra stint in Field of Dreams. Some of the more well-known films they appeared in are Chasing Amy, Dogma, and the Jay and Silent Bob movies. 
Others such as Jersey Girl and The Third Wheel weren't as well-known or well-received. In each film they've appeared in together, usually one or the other has the bigger part, or both appear as minor characters. The two are quite evenly matched in terms of skill and notoriety and seem to have a healthy give and take when they work together.
Despite their many joint on-screen appearances and TV projects, when it comes to writing, they hadn't written a film together since Good Will Hunting. That all changed recently, however.
The pair is back together again and added a third writer into the mix, Oscar-nominated writer Nicole Holofcener (Can You Ever Forgive Me?).
Together they wrote a screen adaptation of Eric Jager's book The Last Duel. The two will star in the film, directed by Ridley Scott, and as of now the release date for the film is set for Christmas 2020.