How Many Movies Have Tina Fey and Amy Poehler Starred In Together?
Tina Fey and Amy Poehler are comedic powerhouses in their own rights, but when you have the two starring in a movie together the results are unrivaled in their hilariousness.
This makes a lot of sense, considering the bubbly blonde and cool brunette have been best friends in real life for over twenty years. They're so close that Fey and Poehler even plan to marry their children off to the other's – that is best friend goals epitomized.
But just how many movies have Tina Fey and Amy Poehler starred in together? We have the answers.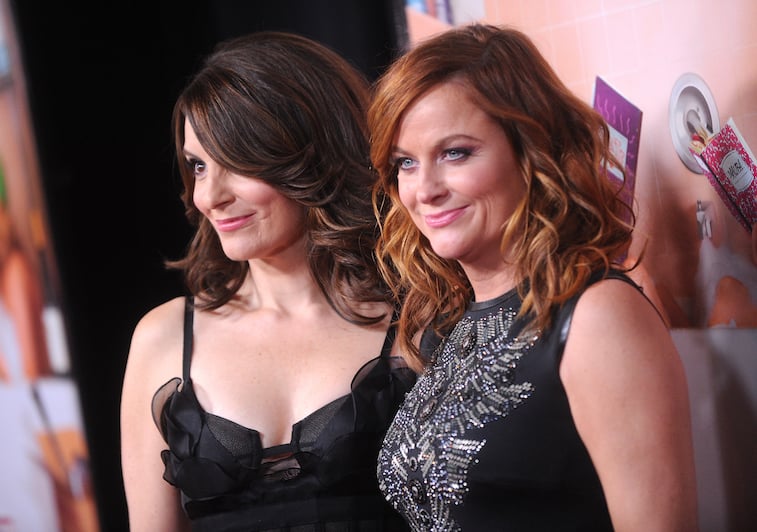 How many movies have Tina Fey and Amy Poehler starred in together?
Fey and Poehler have "starred" in two movies together, which include Sisters and Baby Mama.
They often play supporting roles in the same movies, however, with the most notable having them play important characters in the teenage flick Mean Girls. They both also had cameos in Anchorman 2.
'Baby Mama'
Baby Mama, released in 2008, was a funny yet surprisingly touching film about a well-to-do business woman who wants a child of her own. While considering the sperm donor/artificial insemination route, the woman (played by Tina Fey) learns that she is infertile and cannot have children. Amy Poehler plays the role of the working class, pretty ridiculous woman who agrees to be Fey's unlikely surrogate.
The movie received poor to moderate reviews by critics, but was well-received by fans. It has a 6 out of 10 rating on IMDB, and perfectly showcased the difference in Fey and Poehler's personalities. The climatic middle has fans going "what?" while the ending is both funny and a bit of a tear jerker.
'Sisters'
This 2015 film has Fey and Poehler switching up their normal roles quite a bit. The girls play the roles of sisters, with Poehler being a recently divorced nurse who mostly has her life together nonetheless and is constantly trying to help people. Fey, on the other hand, portrays a woman who's life is a complete mess – so much so that she doesn't even know where her teenage daughter is living.
The plot has the sister's parents selling the childhood home in Orlando, Florida, and asking Poehler's character to tell her sister because "she doesn't take bad news well." Instead of telling her that they're supposed to be getting remnants of their childhood, Poehler's character simply convinces her sister to come home. Here, they aim to throw one last big house party where they grew up before it's gone forever.
'Mean Girls'
This 2004 cult classic may not star Tina Fey and Amy Poehler, but it does have them cast in some fairly important supporting roles. Tina Fey plays Cady Heron's math teacher, who tries to help the new student make the most of herself… but ends up getting accused of selling drugs, right in the middle of her divorce. That's some very bad luck.
As for Amy Poehler? She plays the role of Regina George's "cool" mother, who is portrayed in a typical over-the-top Poehler fashion. She can be spotted offering the girl's alcohol, wearing Barbie pink tracksuits, and letting her tiny dog lick all over her face.
A new Fey-Poehler movie in the works
Fans of Tina Fey-Amy Poehler combo movies will be excited to learn the two have a new movie in the works called Wine Country, which is set to be released in May of this year.
Wine Country is about a group of women who have been longtime friends who take a trip to Napa ("wine country"). Tina Fey will play the role of Tammy, while Amy Poehler has been cast in the role of Abby. There has not yet been much information released about the characters they will portray.