How Many Oscars Did Marlon Brando Win in His 50-Year Acting Career?
Between his film debut in The Men (1950) and his last appearance in The Score (2001), Marlon Brando delivered some of the great performances in screen history. In fact, his work was so powerful that Academy voters had no trouble recognizing it.
Following his electric performance as Stanley Kowalski in A Streetcar Named Desire (1951), Brando earned his first Best Actor nomination. That year, he lost to Humphrey Bogart The African Queen, which even Bogart most fans would concede was a snub.
Yet Brando wouldn't have to wait long for another shot. The following year, he received his second Oscar nod for Viva Zapata! Once again, he went home empty-handed. While co-star Anthony Quinn won in a supporting role for Brando's film, Gary Cooper took Best Actor for High Noon.
The third time wasn't the charm either for Brando, who lost again in 1954 to William Holden for Stalag 17. It took the Academy a fourth consecutive look to get Brando an Oscar (for On the Waterfront) in 1955.
That trophy turned out to be the first of just two the screen legend would win in his career.
Out of 8 nominations, Brando won 2 Oscars.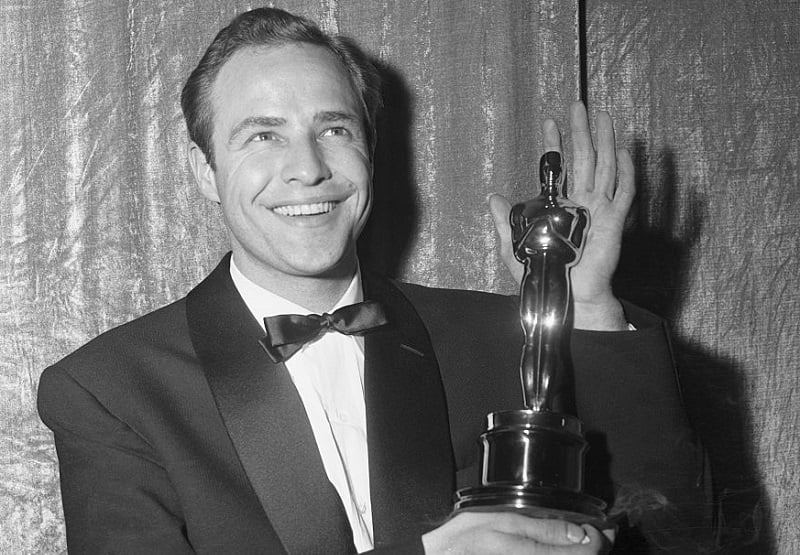 Following a fifth nomination in the (for 1957's Sayonara), Brando would go nearly 15 years before the Academy recognized his work again. (Granted, there were some flops in there.)
When he returned with a nomination for his portrayal of Vito Corleone in The Godfather, there was little question whose name would be announced that night. Even with Laurence Olivier among the list of nominees, it was Brando's to lose.
The following year, he returned among the Best Actor nominees for his work in the groundbreaking Last Tango in Paris. That would conclude his run is the Oscar race as a leading man. His eighth and final nomination came for Best Supporting Actor in 1990's A Dry White Season.
Judging by Brando's response to his win at the 1973 Academy Awards, it's clear that Oscar counts meant nothing to him (at least at the time).
Following his second win, Brando caused a stir at the Oscars.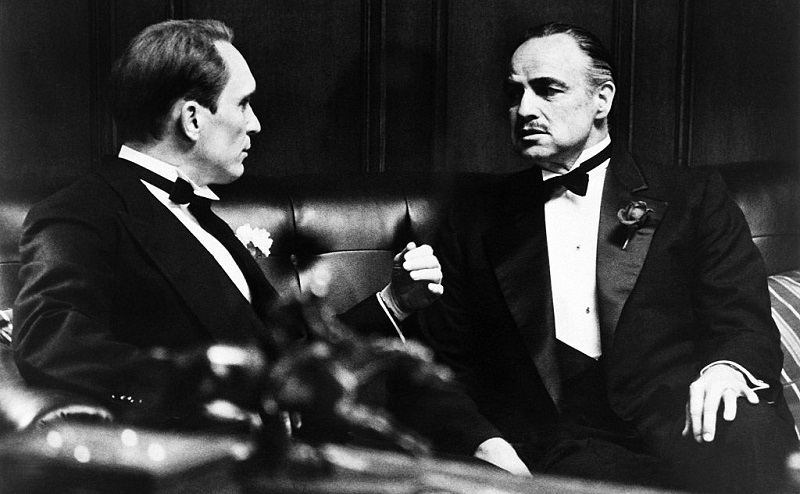 When you're a legitimate iconoclast, you do bold things. In 1968, Brando ended doubts on that front when he eulogized Bobby Hutton at the young Black Panther's funeral. Five years later, with tens of millions watching, he sent a Native American actress to reject the 1973 Best Actor Oscar on his behalf.
Sacheen Littlefeather's short speech and humble plea definitely put the crowd on the defensive that night. (While some booed, others cheered her on while she spoke.)
Forty-six years later, Brando's decision to turn down the Oscar and draw an attention to an issue stilk seems bold. For most actors, the acceptance of the Academy fulfills a lifelong dream.
Brando, who'd already won an Oscar and couldn't care less about acceptance in the third decade of his career, made his final moment under the brightest of spotlights count.
Check out The Cheat Sheet on Facebook!