How Many Siblings Does Demi Lovato Have? She Shares a 'Fun Fact' About Sister Madison De La Garza and Promotes 'Bro' George Navarro's New Song
Like many other celebrities, Demi Lovato shares her successes with her family. But exactly who does that consist of? Here's who Lovato is actually related to, and the musician she recently called her "bro."
Demi Lovato comes from a blended family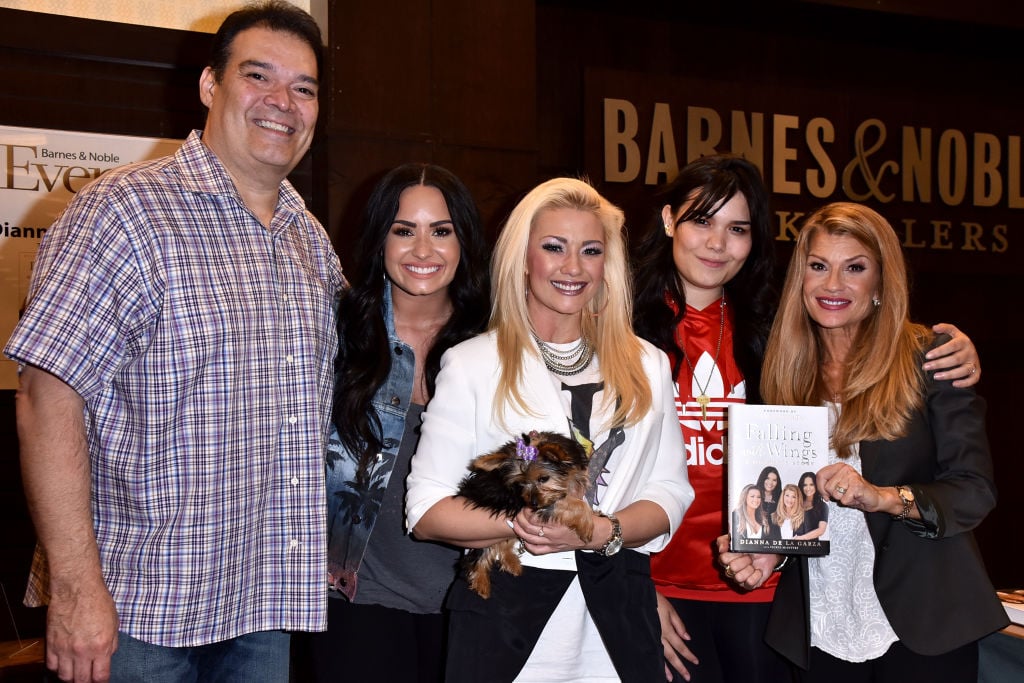 Lovato is the second of two children born to Dianna De La Garza and Patrick Lovato. The pair split when Lovato was very young, and her mother remarried, to Eddie De La Garza. Dianna and Eddie then had a daughter together, Madison De La Garza.
Lovato and her father were not close when she was growing up. Shortly before he passed away in 2013, the singer connected with his other child — her half-sister, Amber. In a radio interview transcribed by E! Online, Lovato said it was "so incredible" to connect with her.
Her sister Madison was on 'Desperate Housewives'
Lovato's younger half-sister, Madison, had a recurring (later main) role on the popular TV drama Desperate Housewives. She portrayed Juanita Solis, the daughter of Eva Longoria's Gabrielle. These days, she goes by Madi. She attends Chapman University in Southern California and is working on short films.
On May 12, 2020, Lovato shared a "fun fact" about a song off her 2009 album Here We Go Again, titled "Solo," on her Instagram Story. She posted a brief snippet from the very beginning of the track and revealed there's a "hidden message" of sorts.
"At 16 I taught my little sister @maddelagarza to say 'What's up my b*tches?!' and recorded her saying it… my producer thought it was hilarious and buried it in the music. So what sounds like a guitar riff is actually little Juanita from Desperate Housewives cursing on my song," Lovato wrote.
She has an older sister, Dallas Lovato
Lovato's other sister, Dallas Lovato, is just a few years older than her. It's unclear exactly what Dallas does for a living, but it looks as though in the past she has sold costumes as well as her services as a coach in the entertainment industry.
While Dallas doesn't appear to be in the business the way her sisters are, she did sort of make a cameo in the "I Love Me" music video. Present-day Lovato passes a woman with her two young daughters on the street, who are thought to symbolize a younger Dianna, Dallas, and Lovato.
Is George Navarro her brother?
Apparently, Lovato's been feeling a lot of love for her family lately. On May 13, 2020, she shared again on her Instagram Story. This time, it was a post of Eddie's, promoting a new song, "When She's Drinkin'" by George Navarro, coming out on May 15.
Lovato wrote, "My bro George is releasing a song that's been stuck in my head for 2 months." Wait — is Navarro her brother? Not exactly. While the two have photos together (above), the country singer appears to be working with Lovato's stepfather as he makes his way into the music business. And with Lovato pulling for him as though he's family, he's likely to do well.