How Many Tattoos Does Miley Cyrus Have?
Fans thought Miley Cyrus had finally changed her ways and settled down after she married her on again/off again boyfriend Liam Hemsworth. It turns out that was not the case. The two split after a short marriage, and Miley seems just as wild as ever. Since her separation from Hemsworth she's already had at least two new relationships.
That's impressive considering that Hemsworth only filed for divorce in August. While he was filling out the paperwork, Cyrus was in Italy taking salacious pics of herself and Kaitlynn Carter kissing poolside.
Some fans thought that Miley's relationship with Carter was just a vacation fling. Cyrus surprised everyone when she brought Carter to meet her mother, Tish Cyrus. Even though it seemed like Carter and Cyrus might be more serious than it first appeared, it turned out to be just a rebound for Miley. 
Now she's been linked to someone new, Cody Simpson. He's Australian, like Hemsworth. And he's a musician, which means he and Cyrus have their love of music in common. The jury is still out on how long she and Simpson will last. 
Although Hemsworth seems to have mourned his relationship with Cyrus a little longer, he didn't exactly go through an extended grieving period after their divorce either. He has been linked to Maddison Brown, a fellow actress, just two short months after filing for divorce from Miley. 
While Miley's relationships may or may not last, her tattoos are forever. How many does the former Hannah Montana star have?
Miley Cyrus has at least 20 tattoos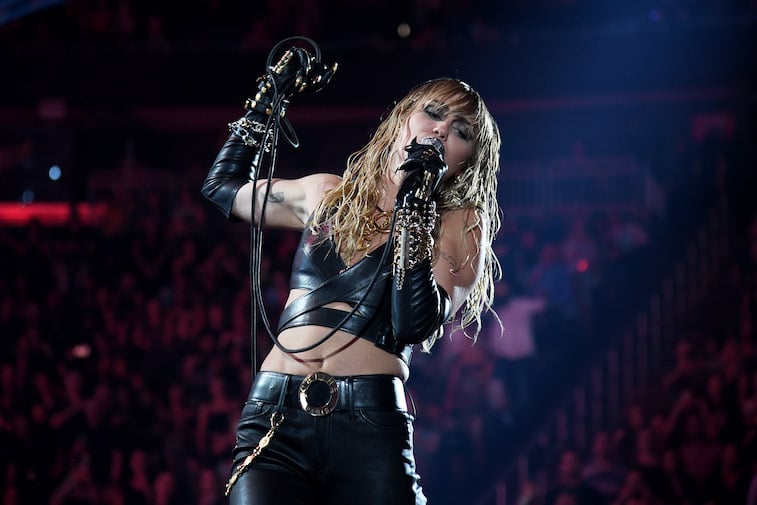 Fans don't usually think of Cyrus as being all tatted up, so the number is surprising. A lot of her tattoos are small, and kind of hidden. For example, she has nine tattoos on her left hand, but most of them are hidden between her fingers, so they're harder to notice.  
Her first tattoo was of the words "Just Breathe" across her ribs. Although it is one of her bigger pieces, it is still relatively small. It's easy to hide under a shirt, so only fans who look at pics of Miley in a bikini would notice it.
The tattoo actually has a deep meaning for Cyrus. She got it in remembrance of a friend who died of cystic fibrosis. Her grandfather also passed away from lung cancer, and Miley uses the tattoo as a way to honor him as well.  
A lot of her tattoos have a deeper meaning
For example, she has the word "Love" written on the inside of her ear. Even though it's small and simple, there's a big meaning there for Cyrus.  
"I have 'Love' right here to block out all the crap that everyone throws into your ears…I don't really care about it. [You're] only supposed to hear the things coming from the people that genuinely love you."
She and Hemsworth got matching tattoos
Around August of 2011, Hemsworth and Cyrus both got sugar skull tattoos on their ankles. It's kind of awkward to have a permanent reminder of your ex on your body, but she and Hemsworth are probably used to it by now.
Their relationship was always rocky, and they broke up a few times before getting married in December of 2018. That means that they both kept the tattoo despite having broken up with one another. 
Aside from these, Cyrus has an equal sign, a peace symbol, and a heart, all on her fingers. She has the word "Bad" written on a finger too,  which is likely a tribute to Michael Jackson.
Her biggest piece is a dream catcher on her side. She has an anchor on one ankle, and a bunch of others, too many to list here. Now that she's single, maybe she'll get another one to mark the occasion?