How Many Times Has Jennifer Lopez Been Engaged?
Jennifer Lopez's love life has been filled with dating, proposals, engagements, and marriages. She recently uploaded a photo to Instagram showing off her ring from her latest engagement to Alex Rodriguez after a beach trip that ended with a beautiful proposal. Before this, how many times has Lopez been engaged? Let's take a walk down memory lane and revisit some of JLo's prior proposals and engagements that we know about.
Jennifer Lopez and Ojani Noa
Back in 1997, Jennifer Lopez's first engagement and marriage was to Ojani Noa, a Cuban waiter. Though Lopez thought this marriage was forever, it turned out to be short-lived and tumultuous, ending just one year later in 1998. In 2006, Noa attempted to publish a book about their relationship, but Lopez filed a lawsuit to stop that from happening. Even as recently as last year, Lopez has had to intervene in Noa's plan to release intimate video from their honeymoon. Not the greatest first impression of what marriage can be like!
Marriage to Cris Judd
After JLo dated P. Diddy (though they were never engaged), she started seriously dating Cris Judd, a backup dancer who stole her heart. The two ended up getting engaged and then married in 2001, though their relationship only lasted about two years.
Engagement to Ben Affleck
When Cris was out of the picture, JLo began seriously dating actor Ben Affleck. Their relationship followed JLo's divorce quickly and was therefore met with a lot of public backlash. The two truly believed it was love, and became engaged with plans to marry in September of 2003. They never made it down the aisle, however, and ultimately ended things in 2004.
JLo and Marc Anthony
Later in 2004, Lopez ended up dating, getting engaged to, and ultimately marrying Marc Anthony. The two had been friends for years but took things to a romantic level after the split with Ben Affleck. They remained married for 10 years and, during that time, welcomed twins in 2008. The couple sadly announced their split in 2011, filed for divorce, and finalized everything in 2014. Though they are no longer together, the kids they share are most likely what keeps them together as friends, as they are still close to this day.
A sxith (and final?) proposal
Five years have passed since JLo's divorce with Marc Anthony was finalized, and she is engaged once again! She and Alex Rodriguez have been dating since 2017 and a recent trip to the Bahamas was the catalyst for A-Rod to get down on one knee and officially propose. For everyone keeping track, Lopez has been proposed to six times and engaged five times, that we know about.
In a 2016 episode of James Corden's Carpool Karaoke, JLo and James get to discussing her love life, and Lopez reveals that there have been some proposals she's turned down! "So how many proposals, total, have we had?" James asks, to which JLo responds: "I've been married three times, I've been proposed to five times." This was before she started dating A-Rod, so as you can tell from our list, it seems like JLo has said "no" at least once!
This engagement with Rodriguez is different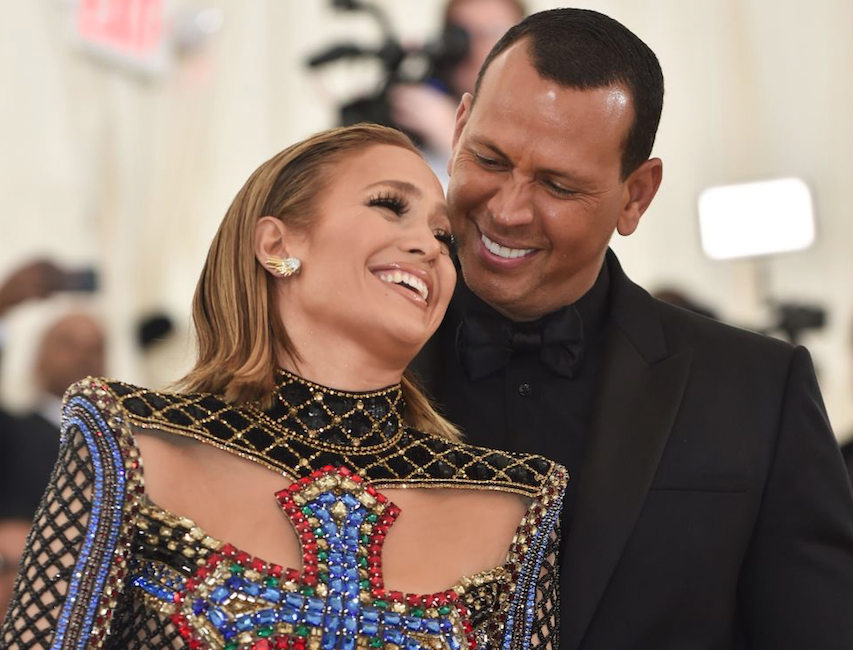 On Ellen in 2018, JLo discusses her budding relationship with A-Rod and how the two met. "He's a great guy," JLo gushes about her soon-to-be fiancé. From Instagram pictures to interviews, it appears the couple are truly in love and this may be the guy that she's been waiting for! Though they haven't announced anything in the way of dates, this active Instagram couple is certain to keep the public updated on information regarding the when and where of their upcoming wedding! Here's to hoping JLo has truly met "the one" and that their love is forever!