How Many Times Has Scottie Pippen Been Married and How Many Children Does He Have?
In the late '80s and through much of the '90s, Scottie Pippen played a key role on the Chicago Bulls alongside the best player in the world. Today, he is the most-celebrated "No. 2" in NBA history and widely considered one of the greatest small forwards of all time.
It's hard to think of Pippen and not think of Michael Jordan and the six Bulls championships. While his accomplishments on the court are well-documented many fans want to know more about his life off the court. Read on to find out how many children he has and what his relationship is like with them, as well as many times he's been married and where you recognize his estranged wife from.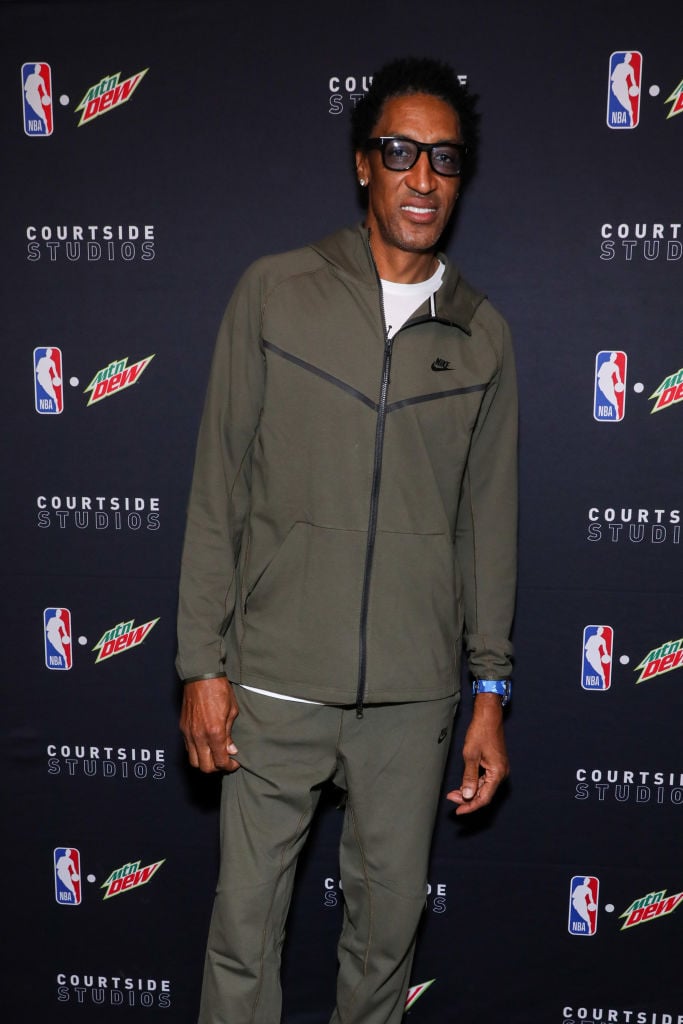 RELATED: Who Is Steve Kerr's Wife, Margot Kerr?
How many times has Scottie tied the knot
Scottie has been married twice.
His first marriage was to Karen McCollum. They said "I do" in 1988 but divorced two years later.
Not too much is known about his first wife, but his second wife had a stint on a popular Bravo series.
In 1995, Scottie met Larsa. They began dating and got hitched in 1997. Larsa was on The Real Housewives of Miami briefly and is also known for being Kim Kardashian West's best friend. The model has appeared on Keeping Up with the Kardashians as well as episodes of Kim and Kourtney Take Miami.
RELATED: How Many Times Has Dennis Rodman Been Married and How Many Children Does He Have?
Scottie and Larsa filed for divorce twice
Scottie and Larsa are now estranged after filing for divorce twice.
In 2016, the police were called to their home when Larsa stated that Scottie was being aggressive. Days later, the NBA Hall of Famer filed for divorce.
This came along with allegations that Larsa was unfaithful during their marriage with the rapper Future. Larsa denied that the cheating accusations were part of the divorce. The filing was later dismissed as the pair tried to work things out but in 2018, Larsa filed for divorce.
"It is with deep sadness that Scottie and I announce that we are legally separating," she said in a statement to TMZ. "We have both tried very hard for a long time to make our marriage work and have ultimately come to the conclusion that it is best that we live separate lives."
Their divorce case is still active.
How many children Scottie has
Scottie has seven children by four women.
His oldest son, Antron Pippen, is with McCollum. He was born in 1987 and played college basketball at Texas A&M International University and later signed with the World Basketball Association.
The former Bulls star also has a daughter, Taylor Pippen, with his ex-girlfriend Sonya Roby. Taylor was born in 1994. She is a twin but her sister, Tyler, died in the hospital shortly after her birth. Taylor said her relationship with her father is nonexistent because she doesn't know him.
"He never wanted to meet me. He decided that, and I prefer not to think about it too much," she told Gigantes. "I know how much my last name weighs. I know that people expect a lot from me, but I have learned that Pippen is just that, a last name."
Scottie has another daughter, Sierra Pippen, with his ex-fiancee, Yverre De Leon. Sierra was born in 1995. Scottie initially denied paternity but a DNA test proved otherwise.
The legendary NBA player reportedly has a good relationship with the four kids he shares with Larsa.
They welcomed Scotty Pippen Jr. in 2000. His name is spelled with a "y" which is actually how Scottie's is spelled on his birth certificate. Scotty Jr. shares his father's love for basketball and plays for Vanderbilt University. His brother, Preston Pippen, was born in 2002 and also plays the game. He attends Sierra Canyon High School where he is a guard on the team.
Scottie and Larsa's youngest children are Justin and Sophia Pippen. Like his brothers, Justin enjoys playing the game his dad played while Sophia is following in her mother's footsteps with modeling. She is currently signed to Wilhelmina Models, the same agency Kendall Jenner signed with when she was a teenager.