How Megan Thee Stallion Made History at the Oscars
Megan Thee Stallion further etched her name in the history books on Sunday night at the Oscars ceremony. She became the first female rapper to perform on stage at the Academy Awards.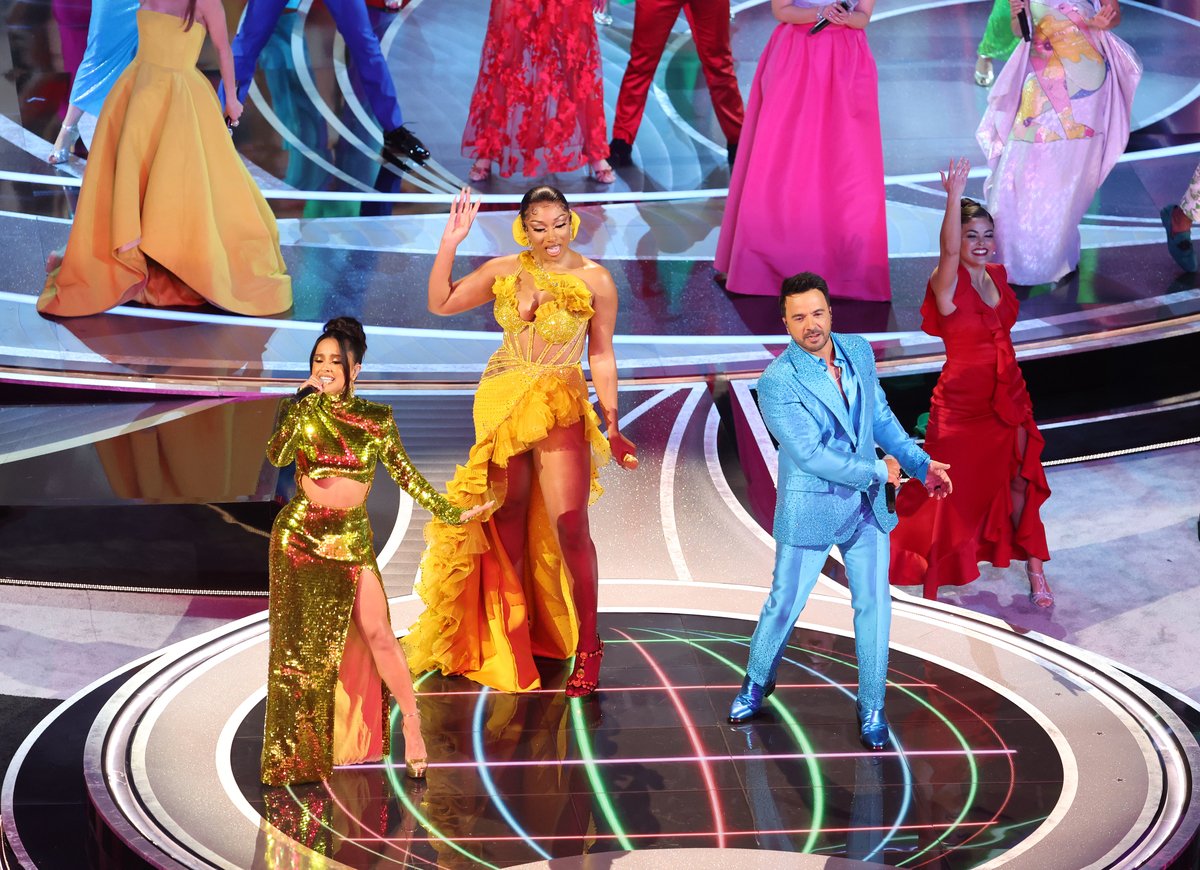 Megan delivers an energetic verse during 'We Don't Talk About Bruno'
Megan Thee Stallion joined Adassa, Stephanie Beatriz, Mauro Castillo, Carolina Gaitan, Diane Guerrero, Shelia E, Becky G, and Luis Fonsi for the first-ever live performance of "We Don't Talk About Bruno" from the animated film Encanto.
Megan wrote her verse specifically for the Awards show. She even mentioned Euphoria star Zendaya who enthusiastically responded from her seat in the Dolby Theater.
"Magic everywhere/ Stars everywhere/ I know you see Oscar's Zendaya over there."
Clad in a bright yellow dress, Megan The Stallion also manifested a future Oscars win, rapping, "Believe I'm up next/ I'm coming for that gold/ You can add it to my shelf/ Academy Award."
She performed at the Afro Nation Festival in Puerto Rico less than 24 hours prior. After the performance, she took to Twitter to celebrate, writing, "that was thee FIRST FEMALE RAP PERFORMANCE at the OSCARS ever ! Im definitely in grind mode."
Some fans were unhappy with the Oscars remixed version of the 'Encanto' hit song
"We Don't Talk About Bruno" spent five weeks at number one on the Billboard 100 chart but was not submitted for the Best Original Song category at the Academy Awards. Instead, "Dos Oruguitas," another original Encanto song, was submitted and later earned a nomination.
Variety reported it's almost unprecedented for a song that could have been nominated but wasn't to get a performance over the nominated song from the film. This happened on Sunday night with "Dos Oruguitas" being left out in favor of "We Don't Talk About Bruno."
Fans felt the performance should have been the original song, not a remixed version. They cut characters, Dolores and Camilo's part to fit in Megan's verse.
The overall large-scale, celebrity-packed performance left some feeling less is more. One wrote, "They cant even do We Don't Talk About Bruno correctly I am at my limit."
The response wasn't all negative. Actor Kerry Washington had nothing but praise for Megan thee Stallion, tweeting, "I guess we don't HAVE to talk about Bruno but can we talk about @theestallion!?!"
Hip-hop history at the Oscars
While Megan Thee Stallion made history as the first female rapper to perform on the Oscar stage, other MCs have been invited to rap in previous years.
In 2006, Three Six Mafia made history performing Original Song winner "It's Hard out Here for a Pimp" from the film Hustle and Flow.
Common and John Legend performed their collaboration "Glory" from Selma in 2015.
Although Eminem won an Oscar in 2003 for the hit song "Lose Yourself," he was not invited to perform for the Academy Awards audience. This slight was fixed in 2020 when Eminem surprised the crowd with a passionate performance off of the 8 Mile soundtrack.
RELATED: 'Oscars 2022': Chris Rock's 'G.I. Jane' Joke That Outraged Will Smith, Explained