How Meghan Markle Gave New Moms Everywhere Subtle Hints While Showing Off Baby Archie
When Prince Harry and Meghan Markle introduced their newborn to the world, royal fans immediately fell in love with the sweet face of Archie Harrison Mountbatten-Windsor. However, there was one thing that Markle did during the brief introduction that had moms all over the world cheering.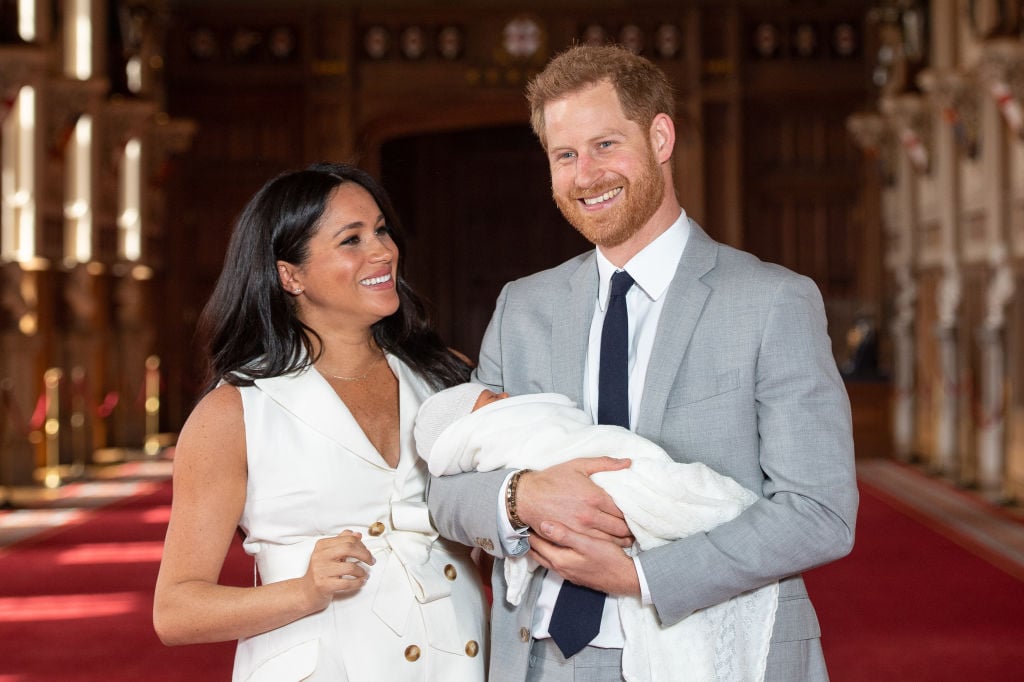 Meghan's subtle hint
Just two days after giving birth, Meghan Markle looked stunning as she stood beside her husband and son at Windsor Castle. The Duchess of Sussex wore a sleeveless, double-breasted white dress from British designer Wales Bonner that featured brown buttons and a tie-waist, along with sky-high beige Manolo Blahnik heels.
Markle was absolutely glowing during the photo op, and she made zero effort to hide her postpartum body. In fact, the tie-waist of her dress accentuated her post-baby bump, and it allowed her to subtly tell the world that this is the reality of what a woman's body looks like after she gives birth.
Meghan Markle is keeping it real
New mothers always look to their friends and family for advice or do research about what to expect when they're expecting their first baby, but what happens to their body afterward is not usually a topic of discussion.
Baby's take up a lot of room inside a woman's belly, and when they exit, things don't immediately go back to the way they were. The baby bump hangs around for a while, and new moms often still feel and look pregnant.
It's something that most celebrities try to hide, but Meghan Markle wasn't afraid to show the truth about her post-baby body.
As Madhulika Sikka from the Washington Post pointed out, "Meghan showed the world something that many of her royal predecessors have covered up: what a woman's body looks like a mere 48 hours after birth. Her simple and understated white dress did not hide what her body had gone through. A simple belt tied high above her waist, in fact, seemed to be an intentional signal."
Moms noticed right away
The dress immediately had moms everywhere talking. It's not every day that a female celebrity who just gave birth doesn't pretend like her baby bump disappeared in the delivery room.
"LOVE that Meghan has come to her photo call without trying to hide the 'after birth baby bump.' Absolute icon. This is how 99% of women look after birth, and she is helping normalize it. She looks amazing and is absolutely glowing. Power to her and all new mothers!" wrote a fan on Twitter.
All throughout social media, women praised Meghan Markle for embracing her after-childbirth body. Even with the puffiness and the bump, the Duchess still looked beautiful, and it's what many women loved the most about Meghan's first public appearance as a mom.
Sending a message
Meghan Markle's first appearance after giving birth was very different from her sister-in-law, Kate Middleton, in a lot of ways. But, there was one similarity. While the Duchess of Sussex avoided the famous steps of the Lindo Wing at St. Mary's Hospital, she followed in Kate's footsteps with her post-pregnancy fashion.
After she gave birth to each of her three children, Kate never tried to hide her bump, but her dresses didn't show it off like Meghan's did. Kate was also holding her newborns during the photo calls, and their blankets always hung in front of her.
Both Meghan Markle and Kate Middleton showed off their postpartum body in their own way. And, the Duchesses seem to be telling new mothers that their bodies need time to recover after giving birth and there's no reason to hide it.
If you're still wearing maternity clothes weeks after your baby arrived, embrace that reality. It happens to everyone, even famous royals.