How Michael Jackson Fans are Reacting to 'Leaving Neverland'
Michael Jackson super fans are sticking by the pop star's side despite 'Leaving Neverland.'
Ever since the debut of Leaving Neverland on HBO, viewers have been surprisingly divided as to where they stand concerning Michael Jackson.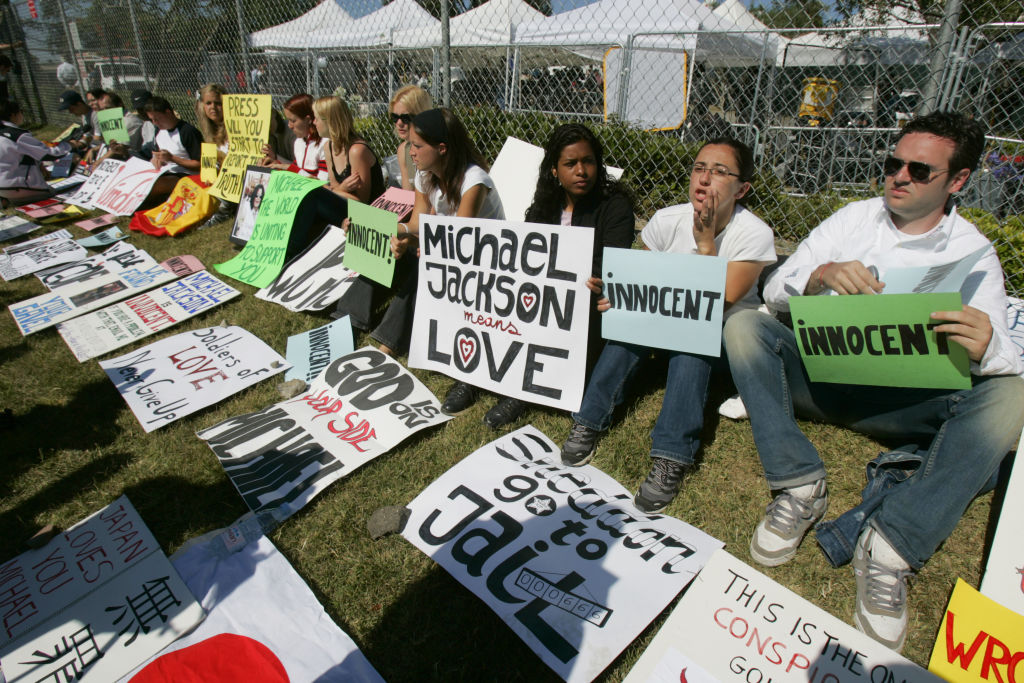 When the two-part documentary first debuted at Sundance, the doc's crew was nervous about how the public would react.

"We didn't know how people were gonna react at the end cause there were people kind of crying in the audience and there were people kind of mumbling to each other and we had no idea what this all meant. The credits came up and we went on stage and there was this incredible standing ovation," said the film's director and producer, Dan Reed, in an interview with Billboard.

Reed went on to say that he knew this was going to be a turning point in both Wade Robson and James Safechuck's lives because people finally believed them.

After viewing the documentary, many people, including celebrities, have spoken out about their drastically changed views of Jackson. Drake is no longer featuring a Michael Jackson song on his UK tour, the Lakers have dropped their MJ song from their in-game entertainment line-up, and Oprah Winfrey hosted an interview with Robson and Safechuck to show her support.

Michael Jackson's die-hard fans

If you've seen the documentary yourself, it's hard to believe that Jackson is anything but guilty. And yet, die-hard MJ fans are sticking by their idol's side.

Some fans have even taken to the streets to publicly protest.

Besides blatantly posting their general support for Jackson, they're also posting about why they believe the personal accounts featured in Leaving Neverland are false.  

The responses to the above post even feature a theory that Robson and Safechuck went to sexual abuse support groups so that they could better lie in their documentary interviews.

Many Jackson super fans seem to be getting hung up on the fact that both Robson and Safechuck swore under oath that Jackson had never sexually abused them as children. Were they to watch (or maybe just really hear) Leaving Neverland, they'd learn that Jackson had allegedly been grooming both men, since they were young boys, to lie in a trial like the ones that came about. He told them that if anyone were to ever find out about what they were doing, they would both go to jail forever.

Robson and Safechuck also both discussed how deeply they loved Jackson, amidst the abuse, how deeply the manipulation ran. They spoke about how, at one point, they had both felt replaced by other boys. Jackson had made them feel special and loved–and then one day he just stopped calling. When Jackson got back in touch with Robson and Safechuck so he could ask them to testify at his first trial, they both said they felt relieved and happy to just hear his voice again.  

The Michael Jackson Machine

If Michael Jackson fans don't believe the pop star was a pedophile after seeing Leaving Neverland, they never will. As Reed said in his interview with Billboard, the Michael Jackson machine is capable of almost anything.

"You wonder what the Michael Jackson machine has got up its sleeve, what it can do. It has tremendous power and has always been a source of fear for a lot of people. People love Michael's music but behind Michael is a machine that shuts down anyone who tries to speak out about what Michael was doing with little children."

Read more: Did the 'SNL' Audience Like Pete Davidson's R. Kelly Joke?
Check out The Cheat Sheet on Facebook!