How Miley Cyrus Really Feels About Liam Hemsworth After Their Divorce
Miley Cyrus and Liam Hemsworth had more than a whirlwind romance: They were engaged for years, married for only a short time, and then divorced. Cyrus was 17 when she first met Hemsworth, and there has been media attention and drama in all kinds of light surrounding the couple. That kind of scrutiny would be difficult for anyone to live under. But Cyrus had already been through the media scrutiny after growing up on television. It took many other events and upsets to break up this power couple. 
Miley's romance with Liam began with 'The Last Song'
In 2009, when Cyrus was fresh out of the Disney life, she and Hemsworth met on the set of The Last Song. In true rom-com fashion, they got to know each other and denied all the dating rumors in an official capacity. It wasn't until the red carpet debut when they walked together, literally attached at the hip, that all the rumors were confirmed. 
The couple officially makes up and breaks up twice, once in April 2011 reported as "just a break," before they are photographed together at several parties. Finally, in 2012, the rumors of engagement circulate. Cyrus and Hemsworth grace the red carpet during events for Hemsworth's role in The Hunger Games and they deny all the rumors once again.
Miley Cyrus and Liam Hemsworth had an on-again-off-again romance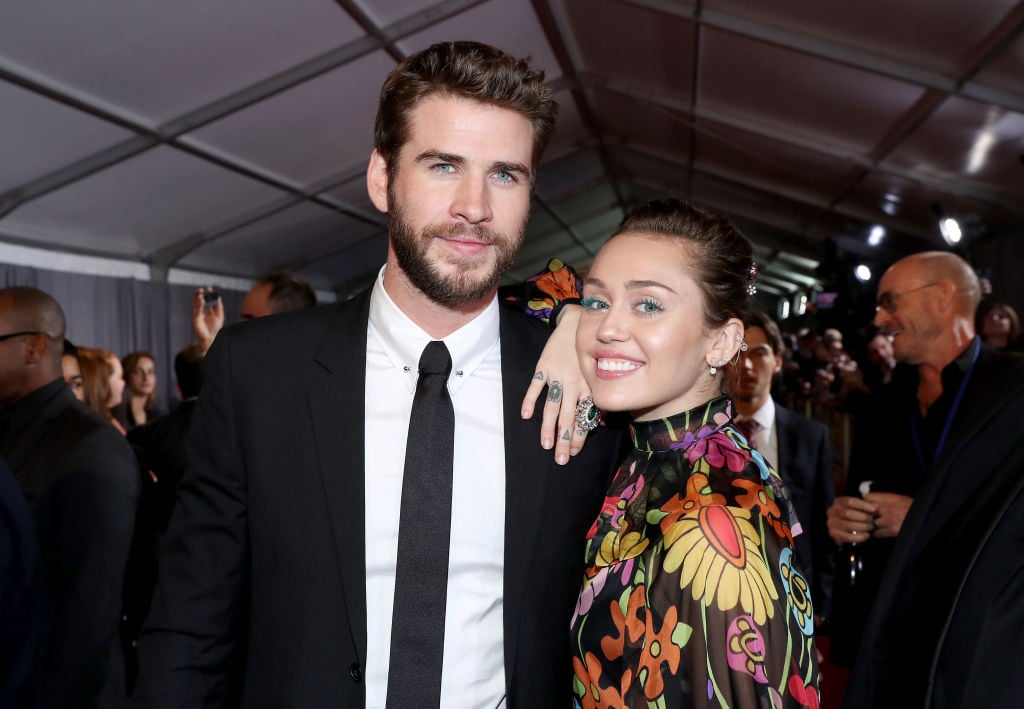 In June 2012, Cyrus and Hemsworth announced their engagement. It's at this point in the timeline of their relationship that they appear to be showing people "we're in this for good."
But they were both creative people that were always changing. Throughout their long engagement, Cyrus is accused of cheating, intentionally leaving her engagement ring out of photos to prove a point, and of putting lyrics in her songs that allude to a breakup.
In September 2013, it was confirmed that the engagement was called off. 
A little over a year later, in November 2014, Cyrus and Patrick Schwarzenegger began a relationship. Once again, the paparazzi spread rumors that Cyrus's vacation with her female friend was more than just a girls' trip.
Schwarzenegger is seen partying at Spring Break without Cyrus and rumors abound about him as well. The couple stays together until April 2015, only a few months before Cyrus starting spending time with Hemsworth again. 
In November of 2015, Cyrus helped Hemsworth find his new best friend, a giant dog that he named Dora the Explorer. After that, Cyrus is seen all around Australia via Instagram accounts from the Hemsworth family and their mutual friends. The engagement is officially back on in 2016 but the couple doesn't tie the knot for another two and a half years at the end of 2018!
In an iconic photo, Cyrus and Hemsworth are both devastated when their home is claimed by the California wildfires in November 2018. Many believe this was the push that led them to finally get married a month later. Their wedding was pretty low key and in the months following, the couple appeared to be happy and in love.
Miley Cyrus and Liam Hemsworth split up for good
In August of 2019, after being married for about eight short months, Cyrus and Hemsworth officially called it quits. Near the end of their relationship, Hemsworth talked a lot about wanting children and Cyrus came out about her views on being a wife.
It was clear that neither of them wanted the same things anymore. So, after a decade of back and forth and ups and downs, they went their separate ways. 
Despite the drama that surrounded their relationship, the ending seems more like a couple of very exhausted humans who were done and ready to move on. In an interview with Elle, Cyrus confirmed that she is a different person and that's a big reason why the couple broke up,
She wrote on Twitter: "I've said it before & it remains true, I love Liam and always will. BUT at this point I had to make a healthy decision for myself to leave a previous life behind. I am the healthiest and happiest I have been in a long time. You can say I am a twerking, pot smoking, foul mouthed hillbilly but I am not a liar. I am proud to say, I am simply in a different place from where I was when I was a younger."
Now, more than half a year after their split, both Cyrus and Hemsworth have moved on. Cyrus is dating Australian singer Cody Simpson and Hemsworth is dating Australian model Gabriella Brooks.
Elle reports, citing Entertainment Tonight, that Cyrus "just wants Liam to be happy." Cyrus reportedly comprehends that she and her ex want different things.
"She knows how important love and marriage are for him, but she just needed her independence," the source explained. "Miley and Liam have moved on and it seems they're both where they most want to be in life."
It's clear that she harbors no ill will toward her ex, that she is over this breakup, and that she is more than ready to move on to the next phase of her life.