How Much Do 'The Ellen Degeneres Show' Producers Make?
On July 27, WarnerMedia launched a full investigation into misconduct complaints via The Ellen DeGeneres Show. The producers of the show released a joint statement expressing their apologies. The news is still developing. How much do The Ellen Show producers make?
Ellen DeGeneres pulls in a hefty amount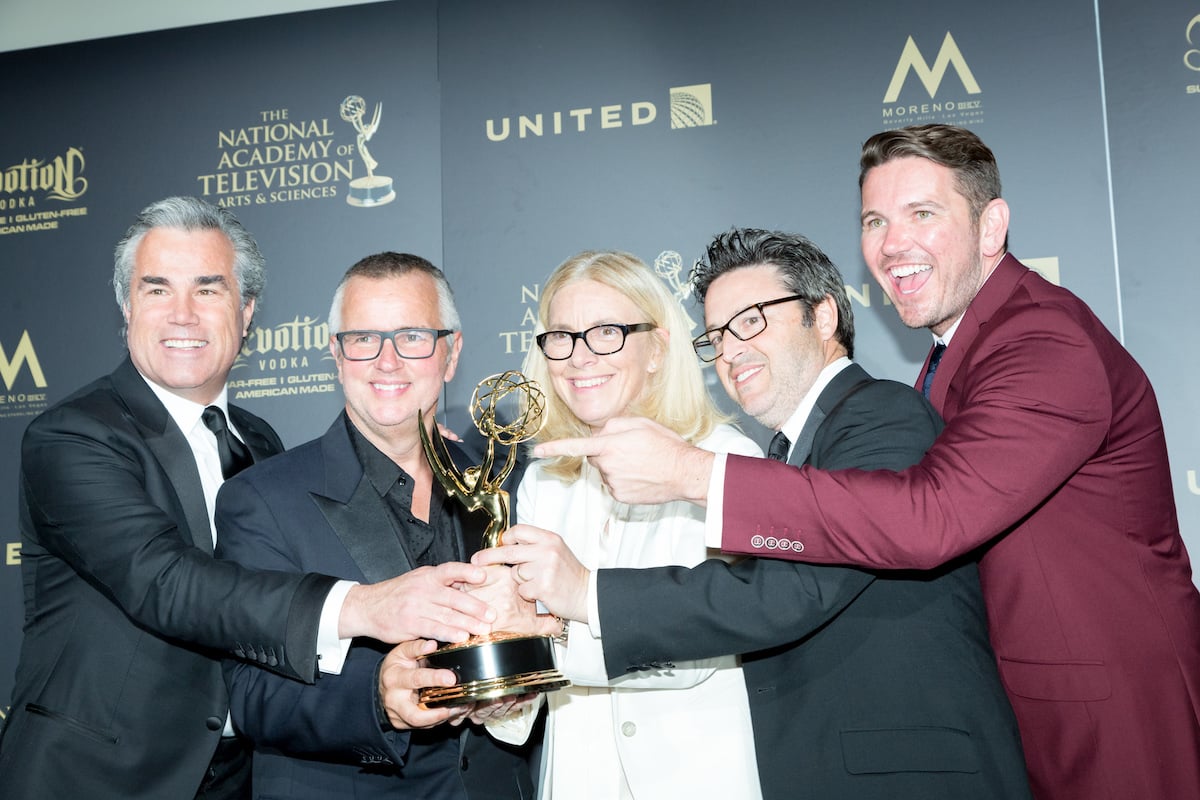 RELATED: What Other 'Misconduct' Complaints Has WarnerMedia Investigated Aside From'The Ellen Degeneres Show'?
For 17 seasons, Ellen DeGeneres has been the name and face of the daytime TV talk show, The Ellen DeGeneres Show. The stand-up comic comes from humble Louisiana beginnings, along with her brother, Vance DeGeneres.
Despite a few odd jobs while attending the University of New Orleans for a single semester, DeGeneres began touring nationally in the comedy circuit. Soon after, DeGeneres entered a Showtime-sponsored content in which she snagged the title of "The Funniest Person in America."
That was only the beginning. The win garnered DeGeneres a spot on The Tonight Show Starring Johnny Carson, opening the door to acting in various shows, including her own sitcom, Ellen. However, when the Emmy winner's character came out as gay, ratings dipped and the show was canceled.
DeGeneres stayed mostly out of the spotlight but returned to her comedy roots until landing The Ellen Show in 2001 (which was also canceled), and finally, The Ellen DeGeneres Show in 2003 — the job she still hosts and produces to this day.
The show has since won a slew of Emmy Awards and put DeGeneres back on the map. She serves as an executive producer on the show, as well as the producer for projects such as Little Big Shots, Momspalining With Kristen Bell, Splitting Up Together, Ellen's Game of Games, and many more.
With all of her projects combined, DeGeneres' net worth runs around $330 million, according to the latest Forbes list. $75-$77 million per year comes from her hosting duties.
Ed Glavin
RELATED: Ellen DeGeneres' Home Burglarized Amid 'Toxic Work Environment' Claims and Fans Aren't Sympathetic
One of The Ellen Show's producers, Ed Glavin, is a self-proclaimed lover of Philadelphia sports teams and music, according to Twitter. The family man has been an executive producer on the show since 2006.
Before that, Glavin worked with other talk shows such as The Caroline Rhea Show, The Jenny Jones Show (where he met his wife, Deborah Emily Harwick), and The Larry Elder Show. He also serves as EP on DeGeneres' other projects such as Heads Up! and Ellen's Game of Games.
"Those bookings are very important to us," Glavin told The Wrap about the success of the talk show. "We have people who all day long are on YouTube, are on EllenTube, are on the Internet all day every day looking for those stories. And when they break, we pounce."
Glavin's estimated net worth is somewhere between $200,000 to $10 million, which is quite a range. Considering Glavin's responsibilities and a number of top-rated projects, it's likely closer to the latter amount.
Mary Connolly
RELATED: Ellen DeGeneres 'Lives in an Incredibly Privileged Bubble' Source Claims
Another of DeGeneres' longtime executive producers is Mary Connolly. Since 2001, the URI Psychology alum has maintained her position on The Ellen Show. Like Glavin, Connolly also produces DeGeneres' other shows like Heads Up!, Ellen's Game of Games, and more.
Before joining the Ellen ranks, Connolly worked as a page for NBC. She worked her way up as segment producer for Late Night With David Letterman and Whose Line Is It Anyway before moving to all of DeGeneres' projects.
"Ellen has been an entertainer since she was a teenager," Connelly told TheWrap. "She knows how long an audience should wait before the talent comes out, what temperature the studio should be, and how to bring along an audience so that they have a great time."
According to multiple outlets, Connolly's net worth is somewhere between $900,000 to $5 million. Considering her time with the show, and her credits combined, it's likely closer to $5 million, or higher.
Andy Lassner
RELATED: Ellen DeGeneres Gets Slammed After Video Reemerges of Her 'Forcing' Mariah Carey to Reveal Her Pregnancy Weeks Before Miscarrying
Of everyone who works on The Ellen Show, executive producer, Andy Lassner, has the most familiar name and face. Lassner — also known as "Average Andy" — joined the talk show in 2003 after producing The Rosie O'Donnell Show.
Lassner also produces DeGeneres' games shows and has worked as her consultant for the 2014 Oscars. The married father of three can be seen lurking outside DeGeneres' window while she films the show from home, due to the coronavirus (COVID-19) pandemic.
 "Andy is an amazing producer because he has one of the quickest minds I've ever seen," DeGeneres told Variety. "What I admire most about Andy is that he has a very good sense of right and wrong. He is a decent person. He loves his family and friends and I know I can trust him with anything."
According to Celebrity Net Worth, Lassner is worth an estimated $12 million, with an annual salary of $5 million.
Lauren Pomerantz and Kevin Leman II
RELATED: Ellen Degeneres Is Reportedly Not Handling the 'Mean' Rumors Well
Plenty of others contribute to the daily workings of The Ellen Show. Two other producers, Lauren Pomerantz and Kevin Leman II have also been featured on the show in comedic skits or otherwise.
Pomerantz producers and writes for the show. She previously wrote for Saturday Night Live, Community, and the MTV Video Music Awards, among other things.
The wife of Elizabeth Higgins Clark — granddaughter of author, Mary Higgins Clark — also scored her own EllenTube digital series, Not Great With Lauren. Her net worth is somewhere between $500,000 to $3 million, according to multiple sources.
As for Leman, he's been with the show since its inception as writer and producer. He also serves as the Creator and Executive Producer of the new animated series Little Ellen and is a part of DeGeneres' games shows.
According to IMDb, Leman "oversees Ellen Digital Network (EDN), which encompasses ventures such as EllenTube." His estimated net worth ranges somewhere between $1.69 million to $7 million, depending on the source.
Payscale notes that an executive producer can make anywhere from $46,000 to $192,000 annually. This doesn't account for salaries earned from DeGeneres' other projects, bonuses, or any other added pay. Considering DeGeneres' net worth, it's likely her EP's make far more than what is reported on any site.