Celebrity / Movies / Music / TV
How Much Does Jennifer Lopez's Iconic Green Versace Dress Cost?
Jennifer Lopez recently gave the iconic green Versace dress a second life. Find out how much the dress costs.
Jennifer Lopez is a fashion icon who often turns heads with her bold outfit choices. However, even after many years, there still has been no clothing item that is as iconic as J.Lo's green Versace dress that she once wore in the early 2000s.
It is so legendary, in fact, that people are still talking about the iconic dress even almost 20 years later. Fortunately, for those who would like to get their hands on Lopez's famous dress, there is a way, though it is not a cheap one.
Jennifer Lopez wore the famous Versace dress at the 2000 Grammy Awards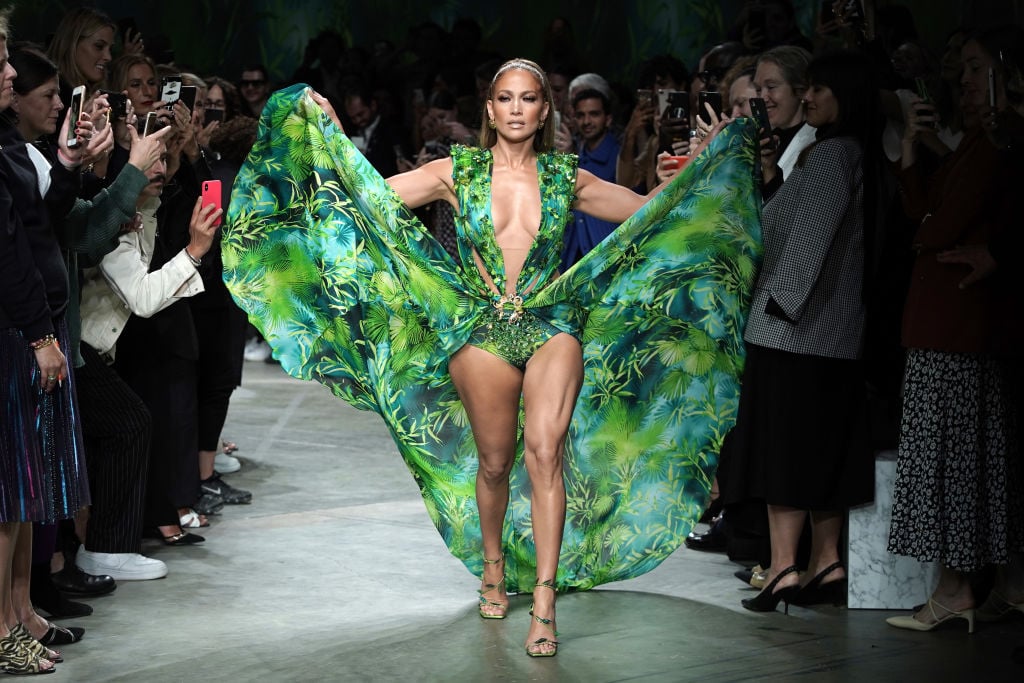 Lopez first made headlines when she wore the plunging Versace gown to the 2000 Grammy Awards. At the time, Lopez was just beginning to make a name for herself in the entertainment industry with some movie roles and a hit song.
However, after she wore "the dress," magazines and newspapers began talking a lot about Lopez. And her pictures were plastered all over different publications for months on end.
It was interesting because Lopez initially did not think much about the dress, which was designed by Donatella Versace, during her fitting. Going to the Grammy's was already a big deal for her that it wasn't even really her goal to get people talking about her fashion choices.
"I really didn't think about it," Lopez shared. "I didn't think it was all that risqué, to be honest."
Even Lopez's stylist, Andrea Lieberman, objected to the dress since it was already worn before by Geri Halliwell from the Spice Girls, Sandra Bullock, and even Donatella Versace herself. However, Lopez wanted to wear it anyway, and it was no doubt a great decision in the end.
Jennifer Lopez's famous dress inspired Google Images
After Lopez made waves at the Grammy Awards, people at home wanted to see more photos of her in the dress. Google existed at the time, though its image search function was not available yet. Yet, the commotion surrounding Lopez's dress was what got Google to launch the popular Google Images we still use today.
This was confirmed by Eric Schmidt, the executive chairman of Google, who once said: "At the time, it was the most popular search query we had ever seen. But we had no sure-fire way of getting users exactly what they wanted: J-Lo wearing that dress. As a result, Google Image Search was born."
Jennifer Lopez wore a newer version of the dress at fashion week
At a recent Versace runway show for their spring 2020 collection, Lopez took the stage in a newer, reimagined version of the dress. The runway show centered around a palm tree theme, so it is not surprising that the fashion house decided to pay tribute to Lopez's dress, which would arguably one of their Versace's most famous palm tree designs.
According to reports, before Lopez began walking, there was a special homage to her 2000 Grammy's appearance.
WWD wrote: "After the models exited the runway at Friday's show, a voiceover of Donatella Versace filled the room, stating 'Google, show me pictures of that green Versace dress.' Images then flooded the video screens and Versace's voice was back to ask to see the real thing. Lopez then took the runway in the reimagined Versace green dress, walking down the runway with Donatella Versace herself to a standing ovation."
How much does Jennifer Lopez's green Versace dress cost?
After the show, the dress that Lopez modeled went on sale at Moda Operandi for $9,795. It is currently sold out.
The original version that Lopez wore to the 2000 Grammy Awards is reportedly still in her possession. Meanwhile, there are duplicates on display at the Grammy Museum in Los Angeles as well as the Fashion Museum in Bath, England.