How Much Does John Oliver Make Hosting 'Last Week Tonight'?
Those of us who write for a living realize the writing team of Last Week Tonight possibly don't get paid nearly enough for the supreme material they put out every week. Host, John Oliver, is obviously just as great, so we won't knock any pay disparity. This still makes us hope there's a process of equal pay going on there.
One thing for sure is Oliver certainly deserves any raise himself if HBO gave him one. He and the writers continue to make hilariously cogent points about our current state of politics and world in 30 minutes without losing comedic momentum.
As you might guess, John Oliver is doing ok financially, but his salary is still lower than his late-night counterparts.
HBO truly knew what Oliver's worth is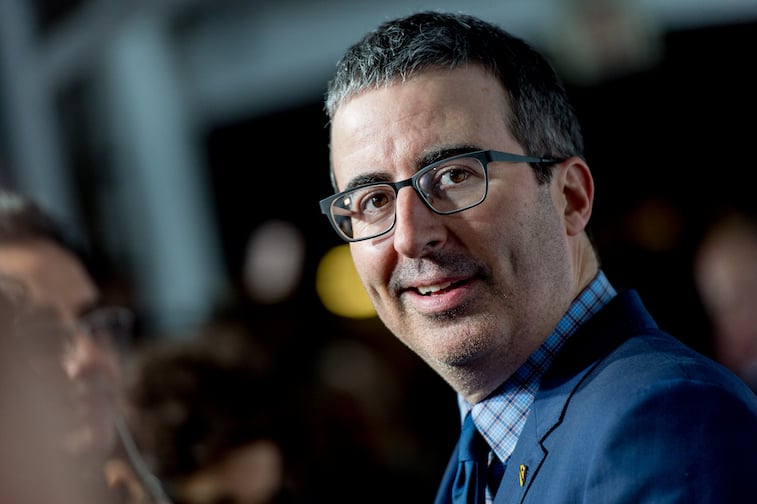 Back in the days when John Oliver worked for The Daily Show, the clincher he'd be a bigger star was when he subbed for Jon Stewart during latter's brief hiatus directing a movie. Oliver nearly stole the show away from Stewart at the time.
Working as a correspondent/fill-in host for TDS likely meant working for a fraction of what most of the staff were worth. No wonder Oliver agreed to take an offer from HBO not long after this guest-hosting gig.
Had he not have moved to HBO, Oliver would have easily been the successor to Stewart and likely hosting TDS now. Let's be glad Oliver landed his own show, because many of the segments there probably wouldn't have received clearance through Comedy Central's network suits.
Having his own TV universe allowed him to thrive as one of the most trusted TV hosts of recent years.
How much does HBO pay John Oliver?
When John Oliver made his deal with HBO, the network offered him a $5 million per year contract. The contract still holds, according to official reports, though doesn't represent his total net worth.
As we've seen, he's been expanding Last Week Tonight properties with books and other media, much like TDS has and does. We're also seeing Oliver expand into movies, mostly doing voice work in popular CGI animated projects.
All of this pushed his total net worth to $10 million so far. Even this seems small based on how much he and LWT have literally changed how we look at politics and even influencing real policy.
It makes us root for him receiving a raise when he ups his contract.
He'll likely receive more when extending his contract in 2020
Oliver extended his LWT contract in 2017 up into the next Presidential election next year. By then, we can expect some serious negotiations to take place considering the show will have six solid years of changing political satire forever.
Rarely can we say a satiric news show made real changes influencing governmental decisions and proving the significant power of the public. All it takes is an astute satirist like John Oliver to fire people up to make change possible.
Should he be able to change the 2020 Presidential election for the better, he'll be worth a lot more than $5 million per year. Consider this a shoutout for him to double, triple, or even quadruple his salary then so he'll become an equal with his late-night contemporaries.
Even if some critics argue a once-a-week Sunday night show is different from normal late-night TV, the show goes beyond what other shows like it typically achieve.
While we're at it: Give the writers a raise
We can't end without again saluting the writing team at Last Week Tonight. Beyond all the Emmys they're winning (including Oliver himself), awards don't mean a thing if they can't afford to buy bling.
May this supremely researched and whip smart writing group be able to make just as many bucks as their excellent host.