How Much Does Nicki Minaj Make From 'Queen Radio'?
Here's what we know about Nicki Minaj's 'Queen Radio' salary.
There's not a thing Nicki Minaj can't do. She can rap, sing, act, and now she's taking over the airwaves on her Apple Beats 1 show Queen Radio. The show was a big hit upon its August 2018 debut and has earned her recognition as a dynamic radio personality. But how much does she actually take home from the program?
Unfortunately, Nicki Minaj's Queen Radio salary is not yet known, but we've dug around and found some information that might offer a little insight.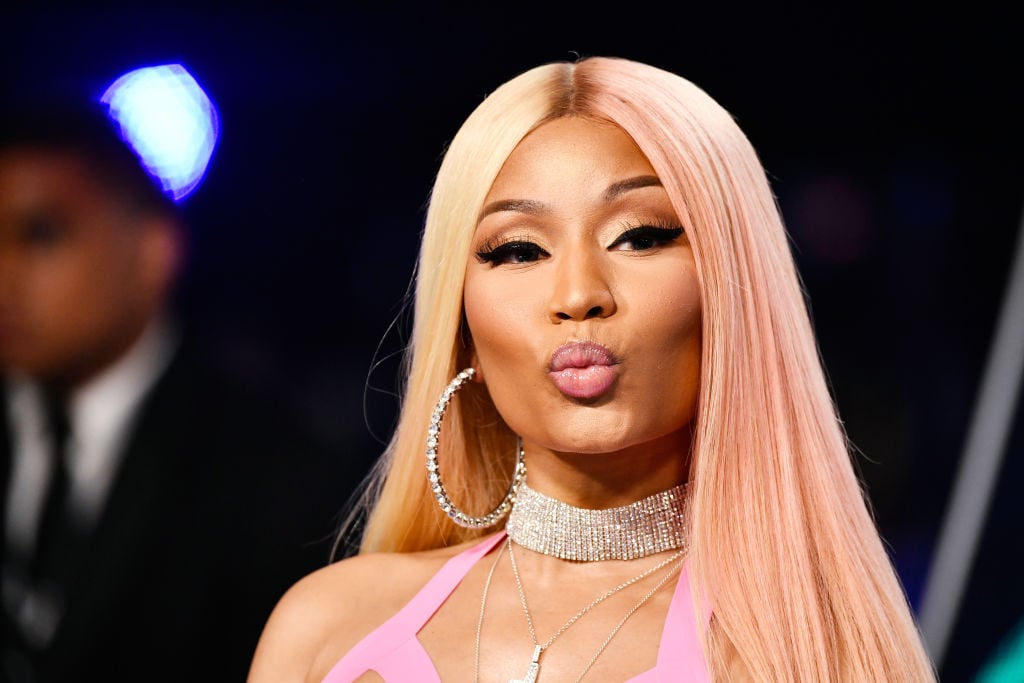 A history of 'Queen Radio'
Queen Radio was supposed to be nothing more than a promotional effort for Nicki Minaj's fourth studio album, Queen (2018). But it became so popular that it grew into a semi-regular program.
The show features the "MEGATRON" rapper playing her favorite tunes, engaging in playful banter with her fans (who she affectionately calls the "Barbz"), and delving into all sorts of topics — from relationships to pop culture. She also shares personal updates with her followers, including her upcoming projects, dramas, and relationship with childhood friend Kenneth Petty.
In under a year, Queen Radio became the most-listened-to show on Apple Music.
"I started doing #QueenRadio to have a lil fun w/my fans. I now have the most-listened to show on Apple Music," Nicki Minaj tweeted on July 24, 2019.
She continued: "Don't put limits on yourself. Please. I love you guys so much for the love & support. I'm from South Side Jamaica Queens, NYC. like what?"
What is Nicki Minaj's 'Queen Radio' salary?
Although her salary is not yet known, it seems likely that she receives a hefty paycheck.
Industry insiders told the BBC around the Beats 1 launch in 2015 that Apple was willing to "pay large amounts to attract star guest presenters." The company later hired BBC Radio 1 host Zane Lowe, who reportedly made over $160,000 a year at his old station, per The Sun (via The Guardian). While his current salary is unknown, Apple's alleged will to make large payouts might be an indication that he received a similar — over even bigger — salary.
If so, it seems possible that someone with even more star power like Nicki Minaj would receive six-figures, too, especially considering that's what she allegedly charges for a rap verse alone. But at the same time, she isn't a regular host so the circumstances could be different. We'll update here when more information becomes available.
How to listen to 'Queen Radio'
Queen Radio is exclusively on Apple Music. Given there's no regular schedule for the show, we can't say when the next one will come out, but Nicki Minaj usually provides updates on her Instagram and Twitter accounts.
While you wait for new episodes, the old ones can be found on the platform now. The most recent show, which premiered in February, saw Nicki Minaj talking about her upcoming album and era. There is no title or official release date just yet, but The Pinkprint rapper said on Twitter that it will feature a new alter ego called Queen Sleeze.
Stay tuned to Showbiz Cheat Sheet for future updates.
Read more: Megan Thee Stallion Shows Off Gift From Beyoncé In Honor of the 'Savage Remix' Going No. 1